NFL to spend $100M more on new technology, research for head injuries
September 14, 2016 - 10:39 am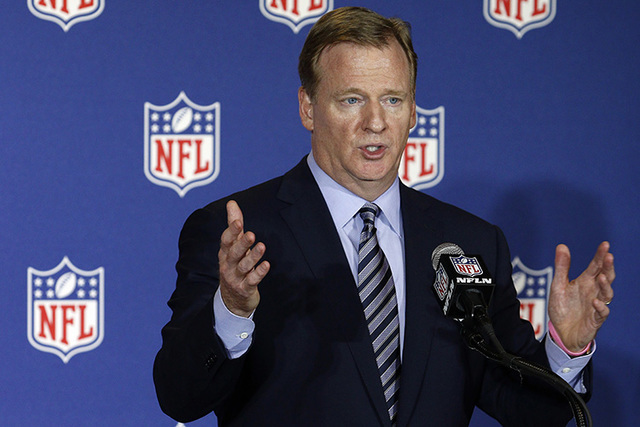 NEW YORK — The NFL says it will spend an additional $100 million to develop new technology and support more medical research into the growing problem of head injuries.
Commissioner Roger Goodell announced the "Play Smart. Play Safe" initiative in an open letter Wednesday.
A letter from @nflcommish regarding player health and safety: https://t.co/N5BKnpm5hl pic.twitter.com/GG1jBydmBN

— NFL (@NFL) September 14, 2016
He writes: "When it comes to addressing head injuries in our game, I'm not satisfied, and neither are the owners of the NFL's 32 clubs. We can and will do better."
Under the initiative, $60 million will be devoted toward developing technology such as improved helmets and $40 million will be allotted for medical research. There will be four pillars to the program: protecting players, advanced technology, medical research, and sharing progress with the public.
The NFL and its partners already are spending $100 million on research and new technology.
Despite that, the league has been heavily criticized in its handling of head trauma over the decades. It reached a settlement that will pay about $1 billion over 65 years to more than 20,000 retired players.
Goodell writes that the NFL has "made important progress in health and safety. We've made safety-related rules changes, encouraged advancements in equipment, improved medical protocols and care and changed the way we teach the game.
Rightfully, much of the public discussion is about concussions — how they happen, how they can be prevented and treated and what is known about their long-term impact."
Under Play Smart, Play Safe, the league will establish an independent, scientific advisory board comprised of doctors, scientists and clinicians to "identify and support the most compelling proposals for scientific research into concussions, head injuries and their long-term effects," Goodell writes.
Today the @NFL launches a new $100M initiative to improve player health & safety. Learn about our goals here: https://t.co/BW2Vdgjsul

— Roger Goodell (@nflcommish) September 14, 2016
Previously, the NFL announced it was hiring a chief medical officer who will work with each team's medical staff, the medical committees of the NFL and the players' union, and outside scientific and medical communities.
Goodell believes this will "help ensure that our clubs have access to the most up-to-date information, that our research funds are effectively advancing science and sports medicine, and that our players and team staffs receive timely and comprehensive information on injury prevention, diagnosis and treatment."
Goodell emphasizes in his letter the need for transparency.
"We know there is skepticism about our work in this area. That's why both the process and the results of our work will be shared with the medical community and the public at large," he writes.
Noting the rise in reported concussions in 2015 — caused in part by new rules, enhanced protocols and technology — Goodell reasons that "more screening, self-reporting and collection of concussion data will inform increasingly reliable preventive measures. This is an important culture change for all of us."