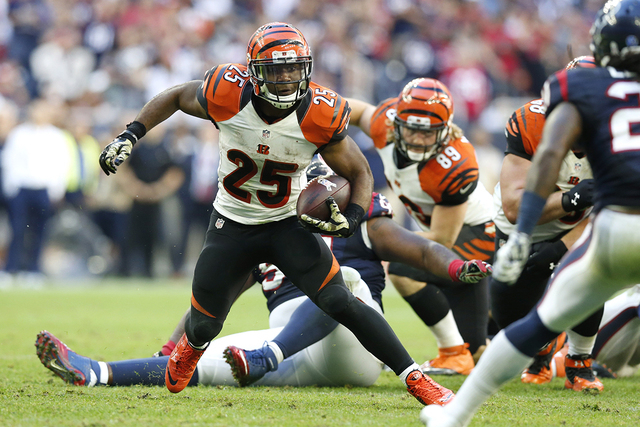 Carolina Panthers (3-7-1) at Minnesota Vikings (4-7)
Sunday, 1:00 p.m. ET, at TCF Bank Stadium, Minneapolis – TV: FOX
TV announcers: Chris Myers, Ronde Barber, Jennifer Hale
Keys to the game: The Panthers haven't won a game since Oct. 5, yet come off their bye week a half game out of first place in the NFC South and technically in control of their own playoff destiny. Whether the time away allowed the Panthers to refocus and address issues on both sides of the ball remains to be seen.
What is known is Carolina will have a seventh different offensive line combination with RT Nate Chandler going on IR. The fluxuation has certainly contributed to the Panthers averaging just 3.7 yards per carry and QB Cam Newton getting sacked 32 times. The Vikings' defensive front is the strength of the team, and Minnesota will likely control field position in a low-scoring game unless Newton is recharged coming off the bye and shows more explosion in his mobility. The return of FB Mike Tolbert (knee) could also prove significant in short-yardage situations.
Vikings rookie QB Teddy Bridgewater has also been hampered by poor offensive line play. RB Ben Tate has a full week in the offense and could be added to the mix. It's important for Bridgewater to get help from the ground game because his protection doesn't often hold up long enough for his pedestrian receiving corps to gain separation.
Matchup to watch – Panthers DE Charles Johnson vs. Vikings RT Mike Harris: Harris has made 12 career NFL starts, all with the Chargers during his first two NFL seasons, and steps in for the injured Phil Loadholt. Johnson is tied for the team lead with 5.0 sacks, all coming in the past seven games, as he has adjusted to additional attention with Greg Hardy still out due to his off-field issue.
Player spotlight – Panthers OL Amini Silatolu: He has started 25 games at left guard over the past three seasons, but the former left tackle out of Midwestern State is a candidate to slide to right tackle. However, the team is concerned about Silatolu's tendency to be too aggressive, which can be exposed by the Vikings' defensive end, and Chris Scott, David Foucault and Mike Remmers are also in the mix.
Fast facts: Panthers WR Kelvin Benjamin is tied for the NFL lead among rookies with eight TD catches. … Vikings LT Matt Kalil has allowed 11 sacks this season, according to Pro Football Focus. He is also the brother of Panthers C Ryan Kalil.
Panthers coach Ron Rivera spent the bye week reviewing reports from each of his coaches. What he likely concluded is Carolina has flaws across the board and Minnesota will be able to capitalize on shorter fields.
Our pick: Vikings 23-20
Cincinnati Bengals (7-3-1) at Tampa Bay Buccaneers (2-9)
Sunday, 1:00 p.m. ET, at Raymond James Stadium, Tampa, Fla. – TV: CBS
TV announcers: Spero Dedes, Solomon Wilcots, Chris Fischer
Keys to the game: All of a sudden the Bengals are loaded for bear offensively and back to their brass-knuckle ways on defense. Rookie RB Jeremy Hill ignited the offense during Giovani Bernard's month-long recovery from a hip injury and has surprised even his own coaches' expectations with his combination of burst and power. Bernard eased back into the lineup last week but is a big-play threat the Bucs must key on when he's on the field.
Coach Lovie Smith's teams strive to take care of the running game first, but the Bucs are likely to play it safe with Cover 2 to contain WR A.J. Green, who had a career-high 12 receptions in Week 12.
Tampa's defensive numbers are improved since the bye – 19.2 points allowed per game – five weeks ago. The offense is still shaky, unable to set the running game as the foundation Smith envisioned. Charles Sims, a rookie the team views as a three-down back, has impressed in flashes but the Bucs will stay with a rotation. Rookie WR Mike Evans gets a major test this week. Bengals defensive coordinator Paul Guenther flips his corners and makes receivers work to get off the line. Evans is making major strides in all areas of the game.
A season-long issue for the Bucs, blocking up front is a central focus with the Bengals growing more active in the trenches. QB Josh McCown lost the ball last week due to limited awareness and must get the ball out on time.
Matchup to watch -Bucs OG Logan Mankins vs. Bengals DT Geno Atkins: Line stunts and twists from the Bears led to four sacks of McCown in Week 12. Atkins is relentless and Mankins had an awful time with Bears DT Stephen Paea last week.
Player spotlight – Bucs DE Jacquies Smith: The left end is emerging as a potential difference-maker with three sacks and a forced fumble in the past two weeks. His timing might be perfect as the Bengals adjust to the loss of RT Andre Smith to a season-ending injury last week.
Fast facts: The Bucs have won the past six meetings. … Evans is averaging 17.2 yards per receptions with eight touchdowns.
Cincinnati's personnel brings a certain chameleon capability that is serving QB Andy Dalton well.
Our pick: Bengals 28-14
Cleveland Browns (7-4) at Buffalo Bills (6-5)
Sunday, 1:00 p.m. ET, at Ralph Wilson Stadium, Orchard Park, N.Y. – TV: CBS
TV announcers: Greg Gumbel, Trent Green, Evan Washburn
Keys to the game: Browns head coach Mike Pettine is familiar with much of the personnel he will face Sunday, having served as the Bills' defensive coordinator last season. While that may not have a direct impact on Sunday's gameplan, Pettine knows the Browns must contend with the league's No. 4-rated defense.
Buffalo's defensive strength begins with the line, and it will be critical for RBs Terrance West and Isaiah Crowell to have early success. QB Brian Hoyer threw three interceptions last week and while the Bills' secondary lacks dynamic playmakers, Hoyer will face a very good pass rush that will pressure him to make quick decisions. He'll also have another week of practice with WR Josh Gordon, who poses a difficult matchup for Buffalo downfield if Hoyer has the time to stretch the field.
The Bills are certainly familiar with Pettine's defensive philosophy, but Cleveland doesn't enjoy the same personnel up front. The Browns are allowing 134.9 rushing yards per game and Buffalo will pound away with RBs Boobie Dixon, Fred Jackson and Bryce Brown in an attempt to control the field and the clock. QB Kyle Orton rarely pushes the ball further than 10 yards downfield, so it's critical for the Browns to take him out of his comfort zone.
Matchup to watch – Browns CB Buster Skrine vs. Bills WR Robert Woods: With teams beginning to shadow electric rookie Sammy Watkins, who will likely duel Joe Haden most of the day, the Bills need Woods to step up. He was targeted 11 times last week, coming up with nine catches for 118 yards and a touchdown.
Player spotlight – Browns S Donte Whitner: Buffalo's first-round pick in 2006 drew the ire of some current Bills this week with some comments he made over Twitter, including "Can you say Toronto Bills?!?!?!?!" in reference to the team's unsettled ownership and long-term stadium situations.
Fast facts: Crowell, who went undrafted, leads all NFL rookies with seven rushing TDs. … Dixon is the first Bill to block two punts in the same season since Steve Tasker in 1990.
The quiet intensity in the Rust Belt rivalry has taken on an extra edge this week, and Buffalo returns home after its Monday night detour in Detroit to make yet another statement with a defense that can stop the run and create more QB unrest in Cleveland.
Our pick: Bills 19-16
New Orleans Saints (4-7) at Pittsburgh Steelers (7-4)
Sunday, 1:00 p.m. ET, at Heinz Field, Pittsburgh – TV: FOX
TV announcers: Thom Brennaman, Donovan McNabb, Charissa Thompson
Keys to the game: Rob Ryan figures to join his brother, Rex, in the unemployment line in five weeks barring an unlikely turnaround from his woeful Saints defense.
New Orleans ranks 23rd against both the pass and run, and 27th in overall defense. The Saints don't tackle well and suffer far too many assignment breakdowns – a lethal combination with the Steelers at home, fresh off their bye and featuring an offense that can be alternately explosive with RB Le'Veon Bell or QB Ben Roethlisberger leading the charge. The biggest problem for Pittsburgh is they rarely click at the same time, leaving the offense too skewed toward one side or the other.
The Saints are known for their vertical shots in the passing game, but the table must first be set by the league's sixth-ranked ground game. Pittsburgh allows 4.3 yards per carry, but does get SS Troy Polamalu back in the lineup. Saints QB Drew Brees has not received strong protection in passing situations and will be vulnerable even against the Steelers' modest pass rush if New Orleans falls in an early hole.
Matchup to watch – Saints WR Marques Colston vs. Steelers CB Ike Taylor: The pair of wily veterans will see plenty of snaps against each other on the left side of the Saints' offense. Taylor returns for the first time since suffering a fractured forearm in Week 3.
Player spotlight – Saints NT John Jenkins: With Broderick Bunkley suffering a quad injury, Jenkins was a nonfactor who too often lost leverage and was push backward against Baltimore on Monday night. Look for the physical Bell to do plenty of damage against the interior of the Saints' defensive line.
Fast facts: Saints RB Mark Ingram leads the NFL with 486 rushing yards since Week 8. … Bell needs four receiving yards to pass Merril Hoge (487 in 1988) for the most by a Steelers' running back in the Super Bowl era.
The NFL schedule makers did the Saints no favors sending them on the road following a Monday night game to play an opponent coming off its bye week. More important, New Orleans has one road win all season and a defense powerless to contain a Steelers offense that can be explosive running or passing.
Our pick: Steelers 31-24
New York Giants (3-8) at Jacksonville Jaguars (1-10)
Sunday, 1:00 p.m. ET, at EverBank Field, Jacksonville – TV: FOX
TV announcers: Justin Kutcher, David Diehl, Laura Okmin
Keys to the game: After a tough post-bye stretch of four losses against winning teams, the Giants travel to Jacksonville simply looking to put together four solid quarters of football. It begins up front in the running game on both sides of the ball.
The Giants' shuffled offensive line has an opportunity to gain some traction against the league's 28th-ranked run defense and keep QB Eli Manning from forcing the issue against one of the Jaguars' few team strengths — its pass rush. If RBs Rashad Jennings and Andre Williams are even moderately productive, it will set up play-action shots down to emerging star WR Odell Beckham and others against a Jacksonville defense ill equipped to hold up in man coverage.
The Jaguars are hopeful of establishing manageable passing situations for QB Blake Bortles with the Giants bringing the league's second-worst run defense to town allowing an average of 142.6 yards per game. Bortles has regressed in recent games and admitted he might be overthinking things.
Matchup to watch – Giants linebackers vs. Jaguars RBs Denard Robinson & Toby Gerhart: Who will be healthy enough to line up for the Giants is the first question, with LBs Jameel McClain and Jacquian Williams both uncertain. The Jaguars attempted to run early last week, but the Colts stuffed the box and Bortles struggles when forced to move the ball through the air. The Giants may make a similar challenge, but it will only be effective if they can play sound assignment football — which has not been the defense's strong suit of late.
Player spotlight – Giants DE Damontre Moore: Coach Tom Coughlin wants to get increased snaps for Moore, who is third on the team with 3.0 sacks. However, Moore has been limited to primarily pass-rushing situations until the second-year player shows during practice he can handle various assignments on earlier downs.
Fast facts: The Giants are winless this season against teams that currently have a record of .500 or better, and undefeated against losing teams. … Coughlin, who began his NFL career in Jacksonville, will coach his 300th career game Sunday.
Jacksonville's defense has allowed just six first possession points all season. If Bortles can avoid turnovers, the Giants' defense provides his best opportunity to play free and rebuild some confidence.
Our pick: Jaguars 23-21
Oakland Raiders (1-10) at St. Louis Rams (4-7)
Sunday, 1:00 p.m. ET, at Edward Jones Dome, St. Louis – TV: CBS
TV announcers: Andrew Catalon, Steve Beuerlein
Keys to the game: The Raiders' first victory of the season displayed the blueprint interim coach Tony Sparano wants to replicate – a strong running game to support rookie QB Derek Carr and a consistent defensive effort.
Oakland's defense has shown spurts of being a strong unit for much of the season, but too often wears down with the offense failing to control the ball. A key for the Raiders could be the availability of RB Latavius Murray, who showed a combination of power and speed in ripping off a pair of touchdown runs against the Chiefs, only to suffer a concussion from which he is still going through the league's protocol. Regardless, he has only 14 carries and Darren McFadden (3.4 yards per carry) will likely receive the bulk of the work against a Rams defense with one vulnerability — St. Louis allowis an average of 115.8 rushing yards per game.
If the Rams stop the run, look out. Carr has been beat up in long passing situations all season and St. Louis' pass rush is on a tear.
St. Louis' offense received some stability with QB Shaun Hill back behind center in Week 11, only to watch the veteran throw an ill-advised crippling interception in San Diego. The Rams want to feed RB Tre' Mason and keep Hill out of the teeth of an underrated secondary that will mix pressure and coverage packages.
Matchup to watch – Raiders OLB Khalil Mack vs. Rams LT Greg Robinson: Mack, the No. 5 overall pick in the 2014 draft, moves around the defense but generally lines up over the left tackle in nickel situations. He has only one sack, but continues to generate consistent pressure. Robinson, the No. 2 overall pick, slid from guard to tackle to replace injured Jake Long, and this will be a matchup of two of the premier young talents at their respective positions.
Player spotlight – Raiders CB TJ Carrie: Not only is he the slot corner, Carrie is the Raiders' punt returner. Minus Carrie last week, the Raiders had to send S Charles Woodson to return punts after Denarius Moore muffed one. Carrie (ankle) is expected back this week.
Fast facts: Woodson is the first player since sacks became an official statistic in 1982 to have 20 sacks and 50 career interceptions.
Credit both teams for continuing to play hard in the face of lost seasons. The Raiders got in the win column, but they face an uphill battle with Carr trying to throw in the face of the league's most potent pass rush.
Our pick: Rams 20-9
San Diego Chargers (7-4) at Baltimore Ravens (7-4)
Sunday, 1:00 p.m. ET, at M&T Bank Stadium, Baltimore – TV: CBS
TV announcers: Ian Eagle, Dan Fouts, Jenny Dell
Keys to the game: Chargers RB Ryan Mathews returned to the lineup last week with 102 rushing yards and gives QB Philip Rivers a reliable receiver in the flat when edge rushers Elvis Dumervil (12.5 sacks) and Terrell Suggs (5.5 sacks in his past six games) push Rivers up in the pocket. Inside pressure can be San Diego's biggest bother – understandably with the Chargers working with their fourth-string center – and a weakness the Ravens will test early and often. With time, Rivers has the targets to peck his way down the field with mostly possession-type receivers.
LB Donald Butler gets sidekick Manti Te'o back near full strength just in time as the Ravens are running with a vengeance recently. RB Justin Forsett had 182 yards at New Orleans on Monday and the approach taxes the entire front seven because of the zone-based blocking system. Teams are still more concerned with QB Joe Flacco, who has the arm strength to tear up a secondary locked into stopping the run.
Matchup to watch – Chargers C Chris Watt vs. Ravens NT Haloti Ngata: The Ravens credit Ngata's improved play with his improved conditioning and his comfort playing more inside. Grasping Ngata's quickness on film is one thing – seeing the 335-pounder zip through the line up close is another. Watt, a rookie, held up fine against the Rams but knows he's in for a new challenge. "There's not many guys like (Ngata) in the NFL," he said.
Player spotlight – Ravens S Will Hill: With physical play and more than enough speed, Hill drew raves for his showing against Saints TE Jimmy Graham in Week 12. A similar test awaits Sunday in Gates, who has nine touchdowns among 40 catches this season.
Fast facts: Gates' next touchdown reception would make him the first tight end with four 10-TD seasons. … Suggs is the first 100-sack player in Ravens history.
The Chargers can make the game interesting by slowing down Forsett, but San Diego's margin for error is thinning by the week.
Our pick: Ravens 29-23
Tennessee Titans (2-9) at Houston Texans (5-6)
Sunday, 1:00 p.m. ET, at NRG Stadium, Houston – TV: CBS
TV announcers: Kevin Harlan, Rich Gannon
Keys to the game: Arian Foster might spend extra time in the trainer's room this week to return from a two-game absence because of a groin injury. His history against the Titans, including 173 total yards and three touchdowns in a 30-16 win on Oct. 26, should be ample enticement to play this week. The Texans need their stabilizer with Ryan Fitzpatrick returning as the starter in place of Ryan Mallett (torn pectoral), but lead the league in rushing attempts per game (32.2) and will pound the ball with Alfred Blue should Foster sit again.
With two starting offensive linemen out, the Titans are in a bind, especially if they fall behind big in the first half. QB Zach Mettenberger's bravado can be applauded, though the obvious preference is to get more from a stable of running backs that showed much more in the first month of the season.
Matchup to watch – Titans TE Delanie Walker vs. Texans S D.J. Swearinger: Walker has 43 receptions for 667 yards and is the emergency raft for Mettenberger when blocking crumbles. Swearing is physical and aggressive, which leads to him being caught peeking in the backfield and giving up vertical passes.
Player spotlight – Texans DE J.J. Watt: Teammates thought Watt got "into Mettenberger's head" in the first meeting. Watt had two sacks and pantomimed a "selfie" shot in response to Mettenberger posting self-portraits pregame. "My goal is to get in people's head with my play," Watt said.
Fast facts: Houston is 4-1 in the past five meetings. … Fitzpatrick started nine games for the Titans last season. … Foster averages 131.1 yards from scrimmage in seven games in the series.
Houston gets back to .500 by playing field position and waiting to catch the Titans' mistakes.
Our pick: Texans 26-22
Washington Redskins (3-8) at Indianapolis Colts (7-4)
Sunday, 1:00 p.m. ET, at Lucas Oil Stadium, Indianapolis – TV: FOX
TV announcers: Kenny Albert, Daryl Johnston, Tony Siragusa
Keys to the game: The anticipated matchup between 2012 No. 1 and No. 2 overall picks Andrew Luck and Robert Griffin III went in the can when Redskins coach Jay Gruden turned to Colt McCoy at quarterback on Wednesday.
McCoy will not match physical skills with Luck, but gets high marks from Gruden for his preparation. McCoy gets the game manager label because he knows not to force what isn't there, but he attacked downfield with WR DeSean Jackson in his only other start (20-17 win at Dallas) this season.
Critical for the Redskins is slowing the game down with RB Alfred Morris. He could get 25-30 carries if the Redskins execute their plan to throw the first punch with Morris, who is averaging 4.3 yards per carry.
While Luck distances himself from any draft debate, he's third in the NFL with 29 touchdown passes because of an underperforming rushing attack that misses the physical inside running of RB Ahmad Bradshaw.
Tackling is a recurring shortfall for the Redskins, and their injury-thinned secondary matches up poorly with a productive fleet of Colts receivers.
Matchup to watch – Colts LB D'Qwell Jackson vs. Redskins C Kory Lichtensteiger: Jackson leads the Colts with 94 tackles and has a career-best four sacks. With S LaRon Landry back on the field, Jackson is blitzing more — and getting home — and Lichtensteiger and McCoy must be on the same page with pre-snap calls. Washington has allowed 16 sacks in the past three games.
Player spotlight – Redskins WR DeSean Jackson: Sudden off the snap and quick with his first move, Jackson averages 20.4 yards per catch and had six receptions for 136 yards in McCoy's previous start.
Fast facts: Morris leads the NFL with 3,714 rushing yards since he entered the NFL in 2012. … McCoy is completing 85.7 percent of his passes in two games this season (36 of 42).
Change might be good for the Redskins, but with hurting cornerbacks and slingshot offense, Washington is no match for Luck and the Colts.
Our pick: Colts 38-22
Arizona Cardinals (9-2) at Atlanta Falcons (4-7)
Sunday, 4:05 p.m. ET, at Georgia Dome, Atlanta – TV: FOX
TV announcers: Kevin Burkhardt, John Lynch, Pam Oliver
Keys to the game: This is not going to be an old-school ground-and-pound slugfest. The Cardinals enter with the league's 31st-ranked ground game at 78.4 yards per carry, while the Falcons are only a notch better at No. 26 (93.1), while faced with the daunting task of dealing with Arizona's third-ranked run defense.
The Cardinals face a bit of a dilemma with RB Andre Ellington averaging a mere 3.3 yards per carry and little in the way of other options until recently signed Michael Bush gets up to speed. Forced to move the ball through the air, QB Drew Stanton has thrown three interceptions against no touchdowns in his past seven quarters. But the opportunity for a breakthrough game is there against the Falcons' last-ranked pass defense – although much hinges on the availability of WR Larry Fitzgerald (knee).
Establishing the ground game is far more critical for the Falcons. QB Matt Ryan already struggles to stretch the field behind a makeshift offensive line, and the Cardinals bring an aggressive and creative blitzing team that racked up seven sacks last week – against a Seattle offense that knows Arizona's scheme as well as any team in the league.
Matchup to watch – Cardinals FS Rashad Johnson vs. Falcons QB Matt Ryan: Ryan has thrown nine interceptions in the past two meetings, with Johnson on the receiving end of three of those picks.
Player spotlight – Falcons S William Moore: Moore is set to return after missing seven games due to a shoulder injury. He would replace second-year safety Kemal Ishmael, and Atlanta's last-ranked defense would receive a big boost with Moore's experience back in the lineup.
Fast facts: Cardinals DE Calais Campbell has five sacks in his past three games, and is the first lineman in team history to have six-plus sacks in six different seasons. … The Falcons have allowed 100-plus rushing yards seven times this season, and 120-plus in four games.
The Falcons won't get much going against the Cardinals' strong run defense, and Arizona's exotic blitz packages magnify Atlanta's issues up front – making for a welcomed post-game ice bath for Ryan.
Our pick: Cardinals 26-16
New England Patriots (9-2) at Green Bay Packers (9-2)
Sunday, 4:25 p.m. ET, at Lambeau Field, Green Bay, Wisc. – TV: CBS
TV announcers: Jim Nantz, Phil Simms, Tracy Wolfson
Keys to the game: How badly do the Patriots need a fast start in Green Bay? In the first half of their past four home games, the Packers outscored opponents 115-9. To slow down QB Aaron Rodgers, coach Bill Belichick and the Patriots will side with following the recent lead of Vikings head coach Mike Zimmer and do everything to try to stifle the explosiveness of Rodgers and the passing game. The Patriots figure to focus on coverage more than pressuring Rodgers. The counter? A hefty dose of Packers RB Eddie Lacy, who is also rounding into a better receiver on short dump-off passes.
The Patriots all but abandoned the run last week, but rarely does New England follow a trend for consecutive weeks. Tom Brady averages 7.2 yards per pass because of his biggest targets, TE Rob Gronkowski and WR Brandon LaFell. Bringing in power back LeGarrette Blount to go with speed backs Shane Vereen and recent overnight sensation Jonas Gray may cause Green Bay's hit-and-miss run defense fits, particularly if the Packers are consumed with trying to get after Brady.
Matchup to watch – Packers WR Jordy Nelson vs. Patriots CB Darrelle Revis: Matt Stafford's nightmare day last week was a credit to a great collective effort by the Patriots' secondary, and Revis was all over the field. CB Brandon Browner is a closer body type to Nelson but with limited long speed, would be done if Nelson beats the jam.
Player spotlight – Packers OLB Julius Peppers: Speculation within the locker room was that Peppers, at 6-7, 280, might get his chances to shadow the indefensible Gronkowski. While Peppers is moving off the line more often, his primary niche is to disrupt Brady.
Fast facts: The Patriots are one of six NFL teams in NFL history with 14-plus consecutive winning seasons, and the first since the 49ers from 1983-98. … The Packers leads the NFL at plus-15 turnover margin. New England is second at minus-11.
Possibly the best game on the 2014 NFL schedule is too close to call, but a great performance from one or both quarterbacks could tip the scales.
Our pick: Packers 28-26
Denver Broncos (8-3) at Kansas City Chiefs (7-4)
Sunday, 8:30 p.m. ET, at Arrowhead Stadium, Kansas City, Mo. – TV: NBC
TV announcers: Al Michaels, Cris Collinsworth, Michele Tafoya
Keys to the game: The Broncos' schizophrenic ground game pounded out 201 yards on 35 carries against a strong Dolphins defense last week, while the Chiefs were gashed for several big plays on the ground in their shocking loss to the Raiders. Denver can't count on matching that production, but every yard on the ground helps as protection around QB Peyton Manning has been sketchy on long passing downs. Manning threw for 242 yards and three touchdowns in the first meeting, a 24-17 victory at Kansas City on Sept. 14, and he'll have plenty of opportunities against the Chiefs' shuffled secondary if given the time.
Kansas City lost running back Jamaal Charles to a first-half injury in the Week 2 meeting, but still pounded out 133 yards on 31 carries in keeping the game tight down to the wire. That was back when the Broncos' defense was considered vastly improved. Denver is still second in the league allowing 75.5 rushing yards per game, but has allowed 58 combined points the past two weeks against the Rams' and Dolphins' middling offenses. QB Alex Smith will stick to the underneath passing game, content to move the chains while avoiding turnovers and keeping Manning looking for the bench heaters. That places a premium on red-zone production.
Matchup to watch – Broncos receivers vs. Chiefs SS Ron Parker: Parker moves back from corner to replace SS Eric Berry, who was diagnosed with possible lymphoma. The domino effect puts Phillip Gaines into the starting lineup at left corner, although Chris Owens may return from his knee injury.
Player spotlight – Chiefs WR Jason Avant: Signed last weekend and reunited with Andy Reid, his former head coach in Philadelphia, Avant doesn't need much time to get up to speed on the playbook. He could play an immediate role, particularly in the slot, and the Chiefs also get Donnie Avery back into the receiver mix.
Fast facts: Broncos RB C.J. Anderson is averaging 157.7 yards from scrimmage over his past three games. … Smith has not thrown an interception in his past 169 pass attempts, but has also yet to throw a touchdown to a wide receiver this season.
The Chiefs have played the Broncos extremely tough in each of the past three meetings before losing late. K.C. can control the clock to keep the score within reach, but ultimately lacks the firepower in the passing game to keep pace with Manning for four quarters.
Our pick: Broncos 27-23
Miami Dolphins (6-5) at New York Jets (2-9)
Monday, 8:30 p.m. ET, at MetLife Stadium, East Rutherford, N.J. – TV: ESPN
TV announcers: Mike Tirico, Jon Gruden, Lisa Salters
Keys to the game: The first of two meetings in the final month of the season finds franchises moving in polar opposite directions. The Jets have flatlined under coach Rex Ryan, who admitted Wednesday he is likely done as the team's boss at the end of the regular season. The Dolphins still have hopes for a playoff bid — a pair of games against the Jets might help — after losing a tight one at Denver in Week 12.
Miami quarterback Ryan Tannehill is evolving into a solid starter. He is still not connecting regularly with Mike Wallace, but rookie Jarvis Landry (three touchdowns in the past two games) is starting to perform as a lead-type receiver. That helps hide the staggered running game, which is doing just enough to balance the West Coast system.
The Jets can mash or dash with a versatile front seven, but unless Geno Smith sustains drives, the defense cannot hold up. Smith is back behind center after Michael Vick went 1-2 and was ineffective Monday in the blowout loss to Buffalo. Smith's return to the lineup likely means a reliance on the running game and Chris Ivory, who averages 4.5 yards per carry. The Dolphins were ripped by the Broncos last week but Miami is still fifth in the NFL in total defense.
Matchup to watch – Jets WR Percy Harvin vs. Dolphins CB Brent Grimes: Harvin won't stay still but Grimes is likely to follow him all over the formation unless Harvin slots in the backfield. Grimes leads the NFL with nine interceptions and Smith had 12 turnovers in the first eight games.
Player spotlight – Dolphins LT Ja'Wuan James: Branden Albert's rookie fill-in left last week's game with a stinger. If he's not totally right, DEs Sheldon Richardson and Muhammad Wilkerson, along with ROLB Quinton Coples, could make it a long night for Tannehill.
Fast facts: Tannehill has completed 70.6 percent of his passes with 16 touchdowns and six interceptions in his past eight games. … The Jets had just one sack in 83 pass attempts by the Dolphins in two meetings in 2013.
WHO WILL WIN AND WHY
A trademark of Ryan's Jets teams has been they always play hard. That was, until they appeared to quit on him during last week's embarrassing loss to the Bills. Minus the passion for the game, the Jets are no match for the quickly improving Dolphins.
Our pick: Dolphins 20-17