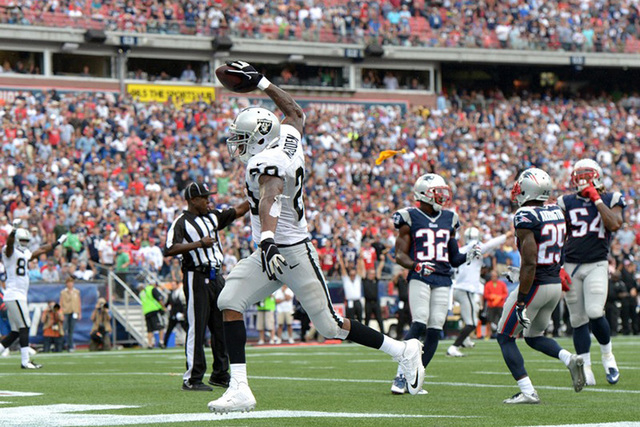 (Byes: Arizona, Cincinnati, Cleveland, Denver, Seattle, St. Louis)
Buffalo Bills (2-1) at Houston Texans (2-1)
Sunday, 1:00 p.m. ET, at Reliant Stadium, Houston — TV: CBS
Keys to the game: Both teams' surprising strong starts came to screeching halts with blowout Week 3 losses in which preseason concerns about their respective passers were major factors.
The Bills' strength lies in their deep backfield, and the Texans know to expect a constant dose of C.J. Spiller and Fred Jackson after getting trucked over for 176 yards on 34 carries by Giants journeyman Rashad Jennings last week. QB EJ Manual struggled to move the ball when playing from behind against San Diego. He has largely been avoiding turnovers, but the inability to make quick reads and a lack of accuracy continue to hold the passing game down. The offensive line also struggled against San Diego, with a stiffer test on tap against Houston's strong pass rush.
The Texans found out just how vulnerable their offense is minus RB Arian Foster, who remains day to day after missing last week's loss with a hamstring injury. Houston quickly fell behind and QB Ryan Fitzpatrick's history as a streaky and turnover prone passer reared its ugly head. In what could amount to a field position game, production from the ground game is critical after the Giants started five of their 13 drives inside Houston territory.
Matchup to watch — Bills CB Nickell Roby vs. Texans WR Demaris Johnson: After a strong rookie season as the nickel back, Roby has had a tough opening month to his sophomore campaign.
Player spotlight — Bills DE Mario Williams: The No. 1 overall pick in the 2006 NFL Draft by the Texans, Williams is now in his third season with the Bills and returns to Houston still the primary focus of opposing offensive coordinators.
Fast facts: Bills rookie WR Sammy Watkins is tied for the AFC lead with seven third-down receptions. … Fitzpatrick spent four seasons with the Bills (2009-12), and is third in franchise history with 80 touchdown passes.
Much depends on the health of Foster, who admitted the difficulty in returning from hamstring injuries. With him, the Texans play the field position game and protect Fitzpatrick. Without him, the Bills steal a page out of the Giants' playbook and steadily hammer with their own ground game.
Our pick: Texans 21-19
---
Carolina Panthers (2-1) at Baltimore Ravens (2-1)
Sunday, 1:00 p.m. ET, at M&T Bank Stadium, Baltimore — TV: FOX
Keys to the game: The Panthers' 29th-ranked ground game is in rough shape with QB Cam Newton not as mobile as normal as he nurses his rib injury, short-yardage back Mike Tolbert on short-term IR and RBs Jonathan Stewart (ankle), DeAngelo Williams (hamstring) and Fozzy Whittaker (quad) all in various stages of their own ailments. Who out of the trio will be available Sunday might not be known until game day, but Newton has largely been left to move the ball through the air to TE Greg Olsen and his revamped group of wideouts in a one-dimensional attack.
Meanwhile, the Panthers' run defense is coming off the third-worst performance in franchise history in allowing Pittsburgh to rumble for 264 yards. Carolina gets another physical test from the AFC North in the Ravens, who have been effective plugging and playing a trio of running backs in Bernard Pierce, Justin Forsett and now rookie Lorenzo Taliaferro. That makeshift offensive line from 2013 is now paving good running lanes and setting the table for QB Joe Flacco to distribute the ball to new favorite target Steve Smith.
Matchup to watch — Panthers CBs Melvin White and Antoine Cason vs. Ravens WR Steve Smith: Smith admitted to circling this date on his calendar upon signing with Baltimore following his controversial release by Carolina after 13 seasons. He has 18 catches for 290 yards through three games and knows the weaknesses of White, who he went up against in practice last season, while Cason is a free-agent addition trying to prove he is a legitimate starter.
Player spotlight — Ravens FB Kyle Juszcyzyk: The 6-foot-1, 248-pounder has a burly frame and is key presence in the Ravens' power ground game. He has also displayed good hands, catching three passes for 58 yards and a touchdown against Cleveland in Week 3.
Fast facts: After allowing one 100-yard rusher in their previous 22 games, the Panthers allowed two in their Week 2 loss to Pittsburgh. … Ravens quarterback Joe Flacco will be without his good friend and starting tight end Dennis Pitta, who dislocated his hip against the Browns and will miss the rest of the season.
A motivated Steve Smith has always been an especially dangerous weapon. With Baltimore hammering away at a front seven that was exposed in Week 2, it creates opportunities for Smith to make his statement with big plays courtesy of play-action.
Our pick: Ravens 20-17
---
Detroit Lions (2-1) at New York Jets (1-2)
Sunday, 1:00 p.m. ET, at MetLife Stadium, East Rutherford, N.J. — TV: FOX
Keys to the game: Jets coach Rex Ryan likes to take the hits for his players in front of the media, but he can't protect his overmatched secondary against the Lions' passing attack. On a short week after watching Bears QB Jay Cutler largely eschew the ground game in favor of slinging the ball downfield at will, the Jets draw QB Matthew Stafford, WR Calvin Johnson and the Lions' merry crew of playmakers. New York's hope lies with its strong defensive line — if Muhammad Wilkerson and Sheldon Richardson can be consistently disruptive, Stafford is still a turnover waiting to happen under pressure.
Ryan has also come to the defense of QB Geno Smith, who continues to make a few backbreaking decisions with the ball every game. The Lions rank first in the NFL in total defense, but it's early and the unit still has plenty to prove. Jets RB Chris Ivory had career-highs with four catches for 52 yards last week, showing versatility to go with his battering-ram running style. Depending on the health of WR Eric Decker (hamstring), the Jets might be forced to pare down the passing playbook, ask Smith not to lose the game and hope Ivory and Chris Johnson can control the clock and keep the score within reach into the fourth quarter.
Matchup to watch — Lions linebackers vs. Jets RBs Chris Ivory and Chris Johnson: Lions LB DeAndre Levy began his career in the middle and moved there following Stephen Tulloch's season-ending knee injury last week. The Lions could also opt to move Tahir Whitehead inside and play Ashlee Palmer in his strong-side spot.
Player spotlight — Lions PK Alex Henery: Detroit's experiment with Nate Freese was short-lived, cutting the rookie after he hit just three of seven field-goal attempts in three games. Henery made 28 of 31 attempts for the Eagles last season, but was released largely due to concerns over short kickoffs.
Fast facts: Calvin Johnson has had at least 100 receiving yards in 22 of his past 36 games. … Smith leads all NFL quarterbacks with seven rushing touchdowns since 2013.
It's easy to overreact to early-season results, but entering the season we knew the Jets' secondary was thin while the Lions were loaded with playmakers. And both units have performed as expected.
Our pick: Lions 27-23
---
Green Bay Packers (1-2) at Chicago Bears (2-1)
Sunday, 1:00 p.m. ET, at Soldier Field, Chicago — TV: CBS
Keys to the game: Green Bay returns to the scene of a 33-28, playoff- and division-clinching Week 17 win last season with plenty of offensive worries. QB Aaron Rodgers has dominated the series. He'll see a healthy diet of cover-2 shells that strive to take away WR Jordy Nelson. Rookie CB Kyle Fuller is a physical, stout ball magnet and the first-round pick is not skipping a beat filling the shoes of veteran Charles Tillman (triceps).
Two keys for the Packers' offense: more from the running game and better blocking on the edges. Eddie Lacy was stuffed repeatedly and fumbled again last week at Detroit. The blocking should be better with RT Bryan Bulaga returning to the lineup. This week, head coach Mike McCarthy took some of the onus off the offensive line saying "Eddie has to play better."
Chicago's offensive line is nicked up, and C Robert Garza remains out. The worry is edge protection with OLBs Julius Peppers and Clay Matthews presenting a major challenge for QB Jay Cutler and the front wall. Cutler is showing some ease and confidence in his second year in the Marc Trestman offense with a string of 84 consecutive passes without an interception.
Matchup to watch — Packers RB Eddie Lacy vs. Bears RB Matt Forte: Neither player is off to a special start. Forte is averaging 3.2 yards per carry and the Packers are at the back of the pack in the NFL with a mere 78.7 yards per game on the ground. Getting RT Bryan Bulaga back closer to full health should boost Green Bay's ground game.
Player spotlight — Bears WRs Brandon Marshall and Alshon Jeffery: Marshall stood out in the teams' two games last season with a combined 13 receptions for 181 yards and two touchdowns. Jeffery grabbed eight passes for 140 yards and a touchdown in last season's two games.
Fast facts: As a member of the Bears, Cutler is 1-7 against the Packers with nine touchdowns and 17 interceptions. … Rodgers has seven interceptions at Soldier Field, his highest total in any opponents' stadium.
The Packers intend to pick up the pace but getting a strong effort from Eddie Lacy is essential. If Chicago slows Lacy, it strolls to 3-1.
Our pick: Bears 25-20
---
Miami Dolphins (1-2) at Oakland Raiders (0-3)
Sunday, 1:00 p.m. ET, at Wembley Stadium, London — TV: CBS
Keys to the game: Dolphins coach Joe Philbin let QB Ryan Tannehill twist in the wind for a few days before announcing the third-year quarterback would get at least one more start despite struggles with accuracy and pocket presence early this season. Miami has run the ball well and the Raiders gave up 400 rushing yards through two games before buckling down against New England last week. Tannehill is averaging a league-low 5.03 yards per attempt, so he'll have to complete a few vertical shots to keep Oakland's safeties from playing downhill in support of the banged up linebacking corps.
The Raiders traveled to London on Monday, a full four days earlier than Miami, and have had time to adjust to the time change. QB Derek Carr continues to show steady development, although he will be without injured WR Rod Streater. Oakland wants to provide Carr with a power ground game, but RB Darren McFadden is averaging just 3.3 yards per carry, leaving the rookie quarterback in too many long passing situations.
Matchup to watch — Dolphins QB Ryan Tannehill vs. Raiders S Usama Young: Tannehill's accuracy has been fleeting, as has his ability to stretch the field. Young, a former cornerback, steps in for injured starter Tyvon Branch. While he doesn't bring the same physical presence as Branch, Young has good instincts and could cash in on any mistakes by Tannehill downfield.
Player spotlight — Dolphins TE Charles Clay: A key, and versatile playmaker, in 2013, Clay has largely been a nonfactor with 12 catches for 79 yards and no scores through three games. Offensive coordinator Bill Lazor has said he wants to use Clay more, and he has the ability to be the high-percentage option the Dolphins' passing game is lacking.
Fast facts: The Raiders will travel an NFL-high 36,078 miles this season, with Miami No. 2 at 24,740. Their combined miles represent 12.7 percent of the league total among all 32 teams. … This will mark Oakland's first game played outside of the United States.
Putting an ocean between them and their increasingly vocal critics at home for a few days, embattled coaches Joe Philbin and Dennis Allen face critical opportunities to generate positive momentum before returning stateside.
Our pick: Dolphins 20-19
---
Tampa Bay Buccaneers (0-3) at Pittsburgh Steelers (2-1)
Sunday, 1:00 p.m. ET, at Heinz Field, Pittsburgh — TV: FOX
Keys to the game: The Buccaneers had 10 days to lick their wounds after a 56-14 shellacking at Atlanta and limp in to Heinz Field with Mike Glennon at quarterback. The Bucs are not effective running the ball, which will put Glennon on a tough track. Running back Bobby Rainey, who had 143 yards against the Rams, started against the Falcons on Sept. 18 and lost two fumbles, giving him three turnovers on the year. He is expected to be replaced by Doug Martin, who missed the past two games with an ankle injury.
Glennon also has the arm talent to drive the football to his outside receivers, Vincent Jackson and Mike Evans, attacking a defense hit hard by injuries.
The top priority for Tampa's defense is containing RBs Le'Veon Bell and LaGarrette Blount, who each had more than 100 yards rushing last week. Bucs DT Gerald McCoy returns to the lineup and should help an anemic pass rush. Even if defensive end Michael Johnson plays, the Bucs will have a tough time pressuring Steelers quarterback Ben Roethlisberger.
The Steelers would love to follow last week's game plan — run the ball and mix in the pass as much as necessary. The no huddle should again be a big tool in their arsenal, especially at home.
Matchup to watch — Steelers RB Le'Veon Bell vs. Buccaneers LB Dane Fletcher: Bell leads the AFC in rushing but the Buccaneers defense is allowing just 3.8 yards per carry. Fletcher is a backup forced into a bigger role and will need help keeping tabs on the shifty and strong back.
Player spotlight — Steelers LB Arthur Moats: He will make his first start at right outside linebacker for the Steelers. He recorded his first sack since 2011 last Sunday when he replaced the injured Jarvis Jones.
Fast facts: Bell has a NFL-high 416 yards from scrimmage. … The Steelers are 7-0 when Bell has 20-plus carries. … Since 2013, Bucs LB Lavonte David is the only player with 150-plus tackles (169), five or more sacks (seven) and five interceptions (five).
The Steelers control the ball to protect a pliable defense and deal the Buccaneers their ninth loss in 10 all-time meetings.
Our pick: Steelers 28-14
---
Tennessee Titans (1-2) at Indianapolis Colts (1-2)
Sunday, 1:00 p.m. ET, at Lucas Oil Stadium, Indianapolis — TV: CBS
Keys to the game: It's not a full-blown revival but the positive signs and strong commitment to RB Trent Richardson is making life a little bit easier for QB Andrew Luck behind an offensive line still coming together. Luck leads the NFL with nine touchdown passes and will see seams in Ray Horton's 3-4 defense to attack. He has been sacked five times, and most of the Titans' pressure comes from the interior defensive line, where Tennessee sees likable matchups. DT Jurrell Casey had two sacks in the last meeting.
The Titans' ability to attack Indianapolis downfield depends on QB Jake Locker's status. He was out midweek with a wrist injury with Charlie Whitehurst, a game manager, has not thrown a pass in a regular-season game since 2011. The Titans are in a major funk, scoring just 17 points total in the past two games. If Locker can't go, the Titans will lean on their running game and hope that the likes of Shonn Greene and Bishop Sankey can run effectively and keep the ball out of Andrew Luck's hands as much as possible.
Matchup to watch — Titans NT Sammie Hill vs. Colts C A.Q. Shipley: Shipley has done such a good job filling in for Khaled Holmes that the Colts are sticking with him. Hill needs to be strong at the point of attack on the inside to help the Titans stop the run and get pressure on Andrew Luck.
Player spotlight — Colts WR Donte Moncrief: A third-round pick in May, Moncrief has caught six passes through the first three games for 80 yards. He saw extensive playing time over the final two quarters of last week's win at Jacksonville and could play a major role if T.Y. Hilton (ankle) sits.
Fast facts: The Cots have won five consecutive meetings. … Tennessee has not scored in the first quarter this season.
The Colts are becoming more balanced and that's bad news for opponents like the Titans, who don't have the firepower to keep pace.
Our pick: Colts 32-21
---
Jacksonville Jaguars (0-3) at San Diego Chargers (2-1)
Sunday, 4:05 p.m. ET, at Qualcomm Stadium, San Diego — TV: CBS
Keys to the game: Missed tackles are becoming an epidemic for the Jaguars, who had 31 in the past two games. More of the same could cripple the Jaguars against a ball-hogging offense like the Chargers.
In Blake Bortles' first NFL regular-season start, the Jaguars will simplify the game plan. Bortles will be allowed to make the downfield throws but he won't be asked to do too much and try to win the game by himself. The Jaguars desperately want to get some kind of running game going. Look for Denard Robinson to get double-digit carries in this game after turning in a solid performance against the Colts. Toby Gerhart is still trying to show he was worth the millions that the Jaguars paid for him in the offseason, even though he had never started an NFL game.
QB Philip Rivers brings veteran calm to the San Diego huddle even without his top two backs available. Donald Brown (31 touches last week) is likely in line for another heavy workload.
Matchup to watch — Chargers TE Antonio Gates vs. Jaguars secondary: The Jaguars allowed three tight ends for Indianapolis to combine for 11 catches, 102 yards and two scores last week and in Jacksonville's last 17 regular-season games, opposing tight ends have caught 110 passes for 1,257 yards and 13 scores. Gates is back playing at a peak level and will see extra attention from the Jaguars.
Player spotlight — Chargers ILB Kavell Conner: He'll slide into the starting role vacated by Manti Te'o (foot), who is likely to miss several weeks. Conner will be tested by a Jacksonville offense that wants to establish the run.
Fast facts: Gates has 29 catches in five career games against the Jaguars. … Rivers can set a franchise record with a touchdown pass in 22 consecutive games Sunday.
The Jaguars allow 466 yards per game and while Blake Bortles might bring a ray of hope, Jacksonville is no match for the San Diego offense.
Our pick: Chargers 27-13
---
Atlanta Falcons (2-1) at Minnesota Vikings (1-2)
Sunday, 4:25 p.m. ET, at TCF Bank Stadium, Minneapolis — TV: FOX
Keys to the game: The Vikings slowed the Saints significantly on the road last week despite ample distress over on and off-field issues. Next up is Atlanta, which put up 42 points behind a nearly perfect Matt Ryan effort. Matching up with Ryan's three-wide receiver packages is a concern for the Vikings, who plan to shoot gaps with pressure from the front seven.
It will be up to rookie QB Teddy Bridgewater to keep the Vikings in the game after generating only field goals at New Orleans. The Falcons know WR Cordarelle Patterson is a dangerous player, who could change the game and will bring him extra attention.
With their running game nonexistent, the Vikings must change their identity in a hurry. Bridgewater showed tremendous mobility in three quarters of action against the Saints, so look for offensive coordinator Norv Turner to use that as a way to keep the Falcons from blitzing as much as you'd expect in a rookie's starting debut. If Bridgewater can run effectively without getting hurt, the Vikings should be able to make some plays with receivers Greg Jennings and Patterson.
Matchup to watch — Falcons WR Julio Jones vs. Vikings CB Captain Munnerlyn: Jones leads the NFL in receiving yards with 365 and a 15.9-yard average, and Munnerlyn, the former Carolina Panther, will be making his 11th start against the Falcons. Jones has the distinct physical advantage being six inches taller and 25 pounds heavier. Munnerlyn moves to the slot in the nickel, and the Vikings don't have a great matchup for Jones in those situations.
Player spotlight — Falcons DT Ra'Shede Hageman: Homecoming week is nigh for Hageman, who played high school and college football in Minneapolis — on this very field. Hageman, who was selected in the second round, played 37 percent (22 of 60 snaps) of defensive plays last week but only 20 percent (15 of 75 snaps) against New Orleans and 15 percent (11 of 71 snaps) against Cincinnati. Head coach Mike Smith said he'll get more playing time this week.
Fast facts: Falcons WR Devin Hester has nine career touchdowns against the Vikings. … Munnerlyn has four pick-6s, tied for the NFL lead, since 2012.
Atlanta's defense is no bully, but QB Teddy Bridgewater will get heat from the Falcons without a strong running game. QB Matt Ryan's offense is clicking, and the Vikings are not capable of matching up.
Our pick: Falcons 27, Vikings 17
---
Philadelphia Eagles (3-0) at San Francisco 49ers (1-2)
Sunday, 4:25 p.m. ET, at Levi's Stadium, Santa Clara, Calif. — TV: FOX
Keys to the game: The Eagles are the first team in history to rally from double-digit deficits in each of the first three games of the season. Why Philadelphia has been outscored 34-6 in the first half is up for debate, but coach Chip Kelly does need to get RB LeSean McCoy (2.9 yards per carry) untracked to keep QB Nick Foles from absorbing constant punishment. The concern is a depleted offensive line turning to its backup center and third-string left guard.
The debate in San Francisco centers on the increasing use of four- and five-receiver formations on offense. RB Frank Gore is not happy about his declining workload, while coach Jim Harbaugh steadfastly defends taking advantage of the team's personnel. The 49ers have been the polar opposite of the Eagles, outscoring opponents 59-16 in the first half this season, but crumbling in the second half each of the past two weeks. With TE Vernon Davis expected to return this week, expect the 49ers to feature more three-wideout formations and attack the vulnerable Eagles secondary.
Matchup to watch — Eagles LG Matt Tobin vs. 49ers DL Justin Smith: Making his first career start with David Molk sliding over to fill in for C Jason Kelce (sports hernia), Tobin goes up against one of the best 3-4 defensive linemen in the game. Smith has cupboard full of moves, and the 49ers will also run stunts to test Tobin against faster pass rushers.
Player spotlight — 49ers S Jimmie Ward: The rookie has been charged with getting beat for four touchdowns while struggling to cover slot receivers the past two weeks. He'll need to tighten his coverage against WR Jordan Matthews, a fellow rookie coming off a two-touchdown game.
Fast facts: Foles has a 129.2 passer rating with 22 touchdowns against just two interceptions in his past eight road games. … The 49ers are 14-1 when Colin Kaepernick has a passer rating of at least 100.
The Eagles' inability to stop the run consistently sets up too many short-yardage situations for opponents. That's where 49ers QB Colin Kaepernick's versatility becomes a back-breaker.
Our pick: 49ers 34-27
---
New Orleans Saints (1-2) at Dallas Cowboys (2-1)
Sunday, 8:30 p.m. ET, at AT&T Stadium, Arlington, Texas — TV: NBC
Keys to the game: Saints QB Drew Brees has owned Dallas with seven touchdowns, no interceptions and a 127 passer rating in the past two games. The stage is set for a shootout, however, given Tony Romo's recent history against the Saints. The Cowboys know what is coming from defensive coordinator Rob Ryan, who worked for Jason Garrett two years ago, and it starts and ends with blitz packages.
To calm his offensive line, the Cowboys are likely to lean on a newly established mashing approach up front, featuring RB DeMarco Murray early and often.
The Saints don't have the same luxury. While stressing the run early in the season, the Saints are cycling through ball carriers without a featured back until Mark Ingram (hand) comes back. Brees is capable of moving the ball with controlled passing and extended drives, but big plays are there to be had with TE Jimmy Graham and speedy rookie receiver Brandin Cooks causing major matchup issues outside.
Matchup to watch — Saints LCB Keenan Lewis vs. Cowboys WR Dez Bryant: In their 2012 meeting, Bryant had his way with Saints cornerbacks and safeties with nine receptions for 224 yards and a pair of 58-yard TD grabs. That convinced the Saints they needed help and resulted in the signing of Lewis, who is their best cover corner. When they played last season, it was a different story: Bryant had one reception for 44 yards and that came with less than 90 seconds remaining in the third quarter when the Saints held a 35-10 lead.
Player spotlight — Cowboys S J.J. Wilcox: Graham is off to another good start with 25 catches and two touchdowns in the first three games. The Cowboys have been shredded by tight ends all season. Wilcox has been the primary defender in most situations and has failed miserably. San Francisco's Vernon Davis had two touchdown receptions in the season opener. Tennessee's Delanie Walker had 10 catches for 142 yards and a touchdown in Week 2 and St. Louis' Lance Kendricks and Jared Cook combined for 13 catches for 104 yards and a touchdown. Cook also dropped a pass in the end zone.
Fast facts: Saints coach Sean Payton is 7-0 in Sunday night games. … Tony Romo's streak of 31 consecutive games with a TD pass is sixth-best in NFL history.
Two teams averaging a smidgen over 25 points per game with little pop in their defense beckons a shootout Sunday night in Arlington, and history points to Drew Brees being the last cowboy standing.
Our pick: Saints 33, Cowboys 26
---
New England Patriots (2-1) at Kansas City Chiefs (1-2)
Monday, 8:30 p.m. ET, at Arrowhead Stadium, Kansas City, Mo. — TV: ESPN
Keys to the game: Patriots TE Rob Gronkowski has played fewer than 50 percent of the snaps through three weeks, but said he is ready for an increased role. And QB Tom Brady would certainly benefit from having another reliable target underneath as he faces a constant barrage of pass rushers behind his struggling offensive line. Brady hasn't been able to consistently get the ball to anyone other than WR Julian Edelman and wants to spread the ball around more, while coordinator Josh McDaniels struggles to find the right personnel mix along the offensive line or in the wideout group.
New England's defense has forced eight turnovers through three games, and ball security is an issue for Chiefs RB Knile Davis, who fumbled twice last week despite rushing for 132 yards. Jamaal Charles is likely to return to at least share the backfield load, and QB Alex Smith is careful with his decisions downfield if nothing else. The Chiefs will be content to play a field position game and take their chances in the fourth quarter.
Matchup to watch — Patriots LT Nate Solder vs. Chiefs OLB Tamba Hali: Solder has suffered from some uncharacteristic lapses in technique this season. He has little room for error Monday night, as the Patriots can't afford much help against Hali considering the inconsistent play throughout the interior of the o-line.
Player spotlight — Chiefs WR Dwayne Bowe: He has 12 catches for 136 yards and a touchdown in two career meetings, but Bowe continues to be a nonfactor thus far in 2014 with six catches for 72 yards in two games.
Fast facts: Brady has thrown 44 career
touchdown passes to Gronkowski, tying them for the third most among QB/TE tandems in history, trailing New England's own pair in Drew Bledsoe/Ben Coates (45) and San Diego's Philip Rivers/Antonio Gates (63). … Charles leads the NFL among running backs with at least 500 attempts with a 5.6-yard average since entering the league in 2008.
The Chiefs put together a very strong effort in Miami last week and will be charged up for a Monday night bout at home. Their ground game will keep the clock in their favor, and the Chiefs catch the Patriots at the right time with New England's offense nowhere close to operating on all cylinders.
Our pick: Chiefs 24-20
---
New York Giants (2-2) at Washington Redskins (1-3)
Giants: 45-14
Eli Manning threw four touchdown passes and enjoyed his best performance in more than a year as the New York Giants thrashed the Washington Redskins 45-14 on Thursday.
Manning had not produced a four-touchdown effort since the first game of last season. He finished with 300 passing yards and also scored a rushing touchdown in the fourth quarter.
"His confidence has risen and his confidence in his team has risen," Giants' coach Tom Coughlin said of Manning and the quarterback's development in new coordinator Ben McAdoo's offense.
Receiver Victor Cruz had six catches for 108 yards while the running game churned out 154 yards on the ground.
Giants' tight end Larry Donnell was Manning's preferred target in the first half when he caught three touchdown passes to give New York a 24-7 lead.
Washington opened the second half with a 20-yard rushing score by Alfred Morris, but New York then capitalised on turnovers to close the game with 21 unanswered points.
Washington quarterback Kirk Cousins, who thrilled fans last week against Philadelphia, gave away four interceptions and also had a fumble.
"We were abysmal offensively and defensively," said Redskins coach Jay Gruden. "(Kirk) was trying to create a spark, and there was no spark there and he just forced a few throws.
"By no means can we put the blame on Kirk for this game. This was a total team debacle."
The Giants lost their opening two games this season but things are beginning to look brighter thanks to the play of Manning.
The two-time Super Bowl champion endured possibly his worst season in 2013 when he tossed a league-high 27 interceptions.
Manning got off to a similarly slow start this season, but has thrown six touchdowns and just one interception in their last two victories.