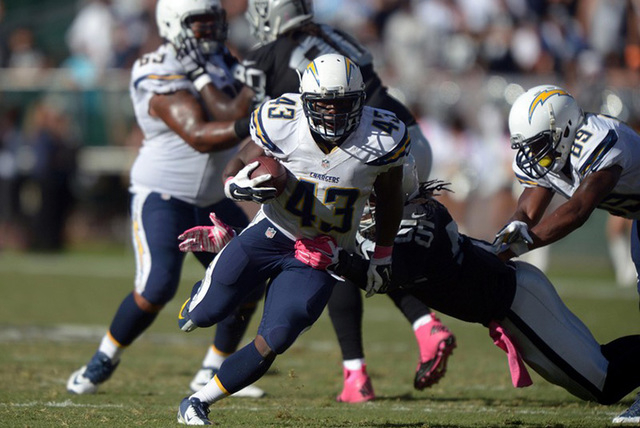 (Byes: Philadelphia, Tampa Bay)
Atlanta Falcons (2-4) at Baltimore Ravens (4-2)
Sunday, 1:00 p.m. ET, at M&T Bank Stadium, Baltimore – TV: CBS
TV announcers: Justin Kutcher, David Diehl, Laura Okmin
Keys to the game: Standing in the path of a Falcons team intent on establishing the run to spare its own sinking 31st-ranked defense is a Ravens 3-4 scheme capable of winning — if not dominating — every matchup up front. Atlanta's edge is on the perimeter with WRs Julio Jones and Roddy White, who had 12 catches in his last game against the Ravens. QB Matt Ryan makes too many throws eye-to-eye with pass rushers and more horizontal patterns and dump-offs to RBs Antone Smith and Steven Jackson spreads Baltimore's attacking linebackers.
The Ravens are capable of balance. WR Steve Smith, the team's most consistent performer with four 100-yard outings in six games, has begun dragging safeties away from the line of scrimmage. Atlanta will gear up to stop a running attack averaging 133 yards per game behind Justin Forsett's 6.4 yards per carry.
Matchup to watch — Falcons LT Jake Matthews vs. Ravens LB Elvis Dumervil: Matthews' lateral slide and ability to anchor is impacted by his nagging ankle injury. Dumervil leads the Ravens with 5.0 sacks and there is no help available with two blockers needed to contain LB Terrell Suggs and, occasionally, DL Haloti Ngata.
Player spotlight — Ravens S Will Hill: Eligible to return from a six-game suspension, Hill could shore up a pass defense allowing 271 yards per game.
Fast facts: Ryan became the fifth quarterback in NFL history with 25,000-plus passing yards in his first 100 games. … The Falcons are 1-10 on the road the past two seasons, including six straight losses. … Baltimore is second in the NFL with a point differential of 11.2 per game.
This isn't the 1976 Steelers — or 2000 Ravens — defense but Baltimore's battle-tested personnel is getting the job done in a supporting role. For Atlanta, defense starts when the game ends.
Our pick: Ravens 32-24
Carolina Panthers (3-2-1) at Green Bay Packers (4-2)
Sunday, 1:00 p.m. ET, at Lambeau Field, Green Bay, Wisc. – TV: FOX
TV announcers: Sam Rosen, John Lynch, Pam Oliver
Keys to the game: Panthers QB Cam Newton is coming off his first 100-yard rushing game of the season, surviving the twisting Burfict Storm in the process, and gives life to a Carolina running game that had been non-existent. The Packers have been historically bad against spread systems that incorporate zone-read plays and are piloted by mobile quarterbacks. With injuries thinning the secondary, Newton should also be able to move from the pocket to throw downfield, where Greg Olsen has ILB A.J. Hawk's number.
QB Aaron Rodgers is rolling of late, and Panthers coach Ron Rivera figures to gamble with blitz pressure to attempt to dictate the tempo. If the Panthers don't get there, Rodgers is likely to pick apart the Carolina secondary. Jordy Nelson has nine catches or more in four of the first six games and Randall Cobb isn't easily checked out of the slot. Carolina also has been a pushover against the run, allowing an average of more than 140 yards per game.
Matchup to watch — Packers OLB Clay Matthews vs. Newton: Production for Matthews is near an all-time low and while he claims to be over a groin injury, the Green Bay sackmaster has been mostly silent. He is critical in coordinator Dom Capers' design to push Newton to the sideline, where a four-man rotation at outside linebacker will be one-on-one to bring Newton down.
Player spotlight — Panthers MLB Luke Kuechly: The former top-10 draft pick leads the league with 394 tackles since his rookie season and is the 2014 league leader for tackles through the first six weeks. Packers coach Mike McCarthy is looking to get a lot of carries from the rotation of Eddie Lacy and James Starks, who combined for an average of 23.5 the past two games.
Fast facts: Newton set a franchise record with 432 passing yards against Green Bay on Sept. 18, 2011. … The Packers are first in the NFL with a plus-nine turnover margin.
Containing Newton just became more difficult for the Packers with the Carolina quarterback looking healthy and Green Bay's secondary nicked with injuries. Smell a shootout?
Our pick: Panthers 31-30
Cincinnati Bengals (3-1-1) at Indianapolis Colts (4-2)
Sunday, 1:00 p.m. ET, at Lucas Oil Stadium, Indianapolis – TV: CBS
TV announcers: Ian Eagle, Dan Fouts, Jenny Dell
Keys to the game: Pierced by Cam Newton and the Carolina Panthers for 37 points last week, the Cincinnati defense is reeling in part due to penalties (13 for 119 yards vs. Carolina) but has also been gouged by big plays.
Colts QB Andrew Luck, whom Bengals coach Marvin Lewis said does more at the line of scrimmage pre-snap to find mismatches than any quarterback in the league, leads the NFL in touchdown passes (17) but is also capable of scooting out of harm's way as Newton did last week.
Already thin at linebacker with starters Emmanuel Lamur and Rey Maualuga unlikely to play after leaving the Carolina game with injuries, look for the Bengals to spend most of the game in their nickel package to try to deal with the Colts' high-powered passing attack.
Minus WRs A.J. Green (foot) and Marvin Jones (IR), the Bengals will try to build on a running game that has looked much better the past two weeks. Not only will that offset missing Green for a second consecutive game, it will limit the number of touches Luck and Co. can have and lower the likelihood of the game turning into a shootout, which would not favor the Bengals.
Protecting QB Andy Dalton, sacked a league-low two times, remains a focus with the Colts coming from all angles. Three players have three sacks and the Colts have 17 total. But the Bengals are morphing into a run-first outfit with Giovani Bernard and rookie Jeremy Hill forming a potent 1-2 punch.
Matchup to watch — Colts C Jonotthan Harrison vs. Bengals DT Geno Atkins: Harrison is an undrafted rookie who took the starting job from A.Q. Shipley on merit but is still making a few mistakes, coach Chuck Pagano acknowledged. Luck has been sacked seven times and is too willing to stare down the pass rush at times. Atkins is agile and powerful but is still working his way back from a 2013 knee injury.
Player spotlight — Bengals WR Mohamed Sanu had a career day (10 catches, 120 yards, touchdown) last week with Green out. He draws clingy Colts CBs Vontae Davis and Greg Toler, who have combined for four interceptions this season. Sanu is unlikely to see bracket coverage with the Colts concerned about Bernard's versatility.
Fast facts: WR Reggie Wayne needs 20 receiving yards to surpass James Lofton (14,004) for eighth place all-time. … Bernard is the only player in the NFL with at least 375 rushing yards, four rushing touchdowns and 175 yards receiving. He had 148 yards from scrimmage against the Colts last season.
The Colts are over their old ways of waking up in the second quarter and with a fast start at home, take the Bengals out of a run-heavy game plan.
Our pick: Colts 27-17
Cleveland Browns (3-2) at Jacksonville Jaguars (0-6)
Sunday, 1:00 p.m. ET, at EverBank Field, Jacksonville, Fla. – TV: CBS
TV announcers: Andrew Catalon, Steve Tasker, Steve Beuerlein
Keys to the game: When the teams met just under 11 months ago, a back-and-forth 32-28 shootout went to the Jaguars. Jacksonville has lost nine consecutive games, and Cleveland's defense is showing muscle of late. Winless Jacksonville has yet to put together a complete four-quarter game.
The Jaguars gave RB Storm Johnson his first start against Tennessee because Toby Gerhart was out with an ankle injury, and the rookie rushed for just 21 yards on 10 carries. Getting consistent traction from the running game, where Gerhart is not expected to play again, is a must for the Jaguars. Jacksonville is generating just 69.5 rushing yards per game. QB Blake Bortles, who makes his fourth career start, was their leading rusher last week with 38 yards on five carries. The lack of a running game is making it difficult to utilize play-action, and the Browns will get after Bortles, who coach Mike Pettine compares to Ben Roethlisberger.
Injuries along both lines bring some doubt for the Browns, but QB Brian Hoyer said this week the team is extremely confident in its run scheme. Jacksonville will work to contain RB Ben Tate, a player they know from his time in Houston, but Tate is averaging over 100 yards per game since returning from a knee injury.
Matchup to watch — Jaguars WR Cecil Shorts vs. Browns CB Joe Haden: Shorts was targeted 16 times last week and caught 10 passes, bringing a reliable lead receiver the team lacked while Shorts was sidelined by a hamstring injury. Haden is regaining confidence at corner and is willing to work on an island against the deep threat.
Player spotlight — Browns C John Greco: A veteran guard who slid to the pivot to replace Alex Mack (leg) last week, Greco is expected to start there for the first time in his career while working to smooth communication with Hoyer and master his new role in a zone-based running game.
Fast facts: The Browns last won a road game in October in 2010. … Jacksonville has not scored more than 20 points during its current nine-game losing streak.
Limited by injuries on both lines, the Browns put the game on their defense and running game, which is an option the Jaguars would love to have.
Our pick: Browns 24-14
Miami Dolphins (2-3) at Chicago Bears (3-3)
Sunday, 1:00 p.m. ET, at Soldier Field, Chicago – TV: CBS
TV announcers: Greg Gumbel, Trent Green, Evan Washburn
Keys to the game: The Bears' defense has been gaining confidence on a weekly basis with a more physical mindset, starting up front with a defensive line setting the tone for the league's 10th-ranked run defense. Miami averages 137 rushing yards per game, but RB Lamar Miller, expected to shoulder the load with Knowshon Moreno lost for the season, is nursing a sore knee, which could leave more carries to Daniel Thomas and unproven Damien Williams. QB Ryan Tannehill continues to be highly inconsistent, and the Bears have handled the read-option well against Colin Kaepernick and Geno Smith in recent weeks.
With a dinged-up offensive line, the Bears may have trouble regularly pushing the ball vertically. QB Jay Cutler has found RB Matt Forte 22 times out of the backfield over the past two games and an NFL-high 46 times on the season, providing a trusted outlet to thwart Miami's formidable pass rush. Chicago may also resort to leaving a tight end back to help chip rushers. Eventually, however, the matchups on the outside will be too compelling and Cutler will attempt to stretch the field, which in turns opens running lanes.
Matchup to watch — Dolphins CBs Brent Grimes and Cortland Finnegan vs. Bears WRs Brandon Marshall and Alshon Jeffery: Miami's starters each stands 5-10, giving up five inches to their counterparts. Marshall, who spent two seasons with Miami from 2010-11, appears over an ankle injury after catching six passes for 113 yards last week.
Player spotlight — Dolphins CB Jamar Taylor: Cutler will attack the size mismatches outside, which would include Taylor playing the boundary cornerback spot and Finnegan sliding inside in nickel packages if S Jimmy Wilson (hamstring) is sidelined.
Fast facts: After totaling 69 receptions, 759 yards and six touchdowns last season, Dolphins TE Charles Clay has only 17 receptions for 146 yards and no touchdowns this season. … Cutler has a 104.6 passer rating on the road this season, but just 84.7 at home while throwing a pair of interceptions in both defeats.
The Bears entered the season with a potent offense, but it's the physical defense that has been able to impose its will on several opponents despite a string of injuries that continues to impress — and Tannehill is a turnover waiting to happen with his 74.1 third down passer rating.
Our pick: Bears 31-23
Minnesota Vikings (2-4) at Buffalo Bills (3-3)
Sunday, 1:00 p.m. ET, at Ralph Wilson Stadium, Orchard Park, N.Y. – TV: FOX
TV announcers: Tim Brando, Brendon Ayanbadejo, Peter Schrager
Keys to the game: The Vikings are fragile on the heels of a stomping at the hands of the Detroit Lions, and the bad news for Minnesota and rookie QB Teddy Bridgewater is the Bills have the same strength. Sacked eight times last week, Bridgewater will not be shell-shocked, coach Mike Zimmer said. He can get rid of the ball quicker, but the greatest aid would be re-establishing a big-play threat missing without RB Adrian Peterson and with WR Cordarrelle Patterson hushed for several weeks.
Steady is the pace of the Bills' offense with Kyle Orton at the helm. He's rarely challenging downfield, preferring checkdown options such as TE Scott Chandler (10 catches in Orton's two starts) and RB Fred Jackson (11 in Orton's starts). He has been sacked seven times playing largely in comeback mode. The Bills have only one first-quarter touchdown (and 13 points) in six games. Getting an early lead and letting a powerful offensive line lean on the Vikings' 20th-ranked rush defense is Buffalo's easiest path to a fourth win.
Matchup to watch — Vikings WR Greg Jennings vs. Bills CB Stephon Gilmore: Jennings is the team's most reliable route-runner and Bridgewater knows he'll be in the right place on time. Buffalo has been flagged 53 times, including 33 coverage penalties, which is blood in the water for an offense with nothing to lose by going on the attack.
Player spotlight — Vikings LT Matt Kalil: The former first-round pick who missed most of the offseason program was out of sorts last week with four sacks and three QB pressures allowed against Detroit. He draws Jerry Hughes primarily, but Buffalo will mix and match to test Kalil's confidence.
Fast facts: The Bills enter with a streak of six games without allowing an opposing player to top 90 rushing yards. … Bills WR Sammy Watkins' 26 catches in his first six games is a franchise best for rookies since 1980 (Joe Cribbs).
The blueprint for battering Bridgewater is easily mimicked by the Bills' front four, but Vikings coordinator Norv Turner will move the pocket and find ways to score points in a game that could be decided by two capable kickers.
Our pick: Bills 23-21
New Orleans Saints (2-3) at Detroit Lions (4-2)
Sunday, 1:00 p.m. ET, at Ford Field, Detroit – TV: FOX
TV announcers: Chris Myers, Ronde Barber, Jennifer Hale
Keys to the game: Screens in every geometrical design are coming this week from the Saints, who want to get the Lions' dominant defensive front off-balance. Lit up by QB Drew Brees repeatedly, Detroit will drop seven or eight and let the front four fight its own battles, a strategy that equates to red carpet treatment for the Saints' multi-faceted running game.
The Lions are winning thanks to a toothy defense. Points and extended drives aren't coming easily for QB Matt Stafford and Detroit. WR Calvin Johnson (ankle) might sit for at least another week, but RB Reggie Bush returns to the mix. With New Orleans allowing 28.2 points per game, the Lions like their chances if they protect the ball. WR Golden Tate's emergence as a top threat is noteworthy, but Stafford's easiest throws are at the linebacker and safety levels. TE Brandon Pettigrew will be a key target.
Matchup to watch — Lions DE Ezekiel Ansah vs. Saints LT Terron Armstead: Brees' lightning release helps, but Armstead hasn't allowed a sack this season. Ansah, drafted in the first round in 2013, had 2.5 sacks and lived in the Minnesota Vikings' backfield last week.
Player spotlight — Saints RB Mark Ingram: At only 73.5 yards per game, Detroit's run defense is rock solid. Behind one of the NFL's best guard tandems, the Saints are certain to accept the challenge of moving DTs Ndamukong Suh and Nick Fairley out of their single-gap lanes hoping to pop a big play or two. Ingram, back from a broken hand, averaged 6.0 yards on 24 carries in the first two games this season.
Fast facts: Eight former Saints players are on the 2014 Lions roster. … The Lions' offense has produced only 12 points in the past two games. … Brees is 4-0 with 14 touchdowns, one interception vs. Detroit.
If the Saints want to outscore the Lions it will take consistent defensive stops. Anticipate a conservative shift from coach Jim Caldwell to put the game in the hands of Detroit's defense.
Our pick: Lions 24-17
Seattle Seahawks (3-2) at St. Louis Rams (1-4)
Sunday, 1:00 p.m. ET, at Edward Jones Dome, St. Louis – TV: FOX
TV announcers: Kenny Albert, Daryl Johnston, Tony Siragusa
Keys to the game: Seahawks offensive coordinator Darrell Bevell came under heavy criticism for a game plan against Dallas last week that saw RB Marshawn Lynch receive only two first-half carries and 10 for the game. Ironically, the criticism is similar to what Bevell heard after Lynch logged just eight carries in a narrow 14-9 Monday night win at St. Louis last year. The Seahawks have been working to get WR Percy Harvin the ball numerous ways, but almost exclusively within 10 yards of the line of scrimmage — rarely sending their fastest player downfield. Part of the theory is the Seahawks need to complete a few outside passes to open running lanes, but Seattle's receivers must do a better job of gaining separation against the Rams' young and inconsistent secondary than it has through the first five games.
Rams QB Austin Davis has engineered three long opening scoring drives this season, but his inexperience begins to show as games wear on and defenses incorporate more stunts and blitzes. St. Louis will mix formations and has developing playmakers who can do damage against a Seahawks defense likely to be minus MLB Bobby Wagner (turf toe) and starting Marcus Burley, picked up just before the season began, opposite Richard Sherman.
Matchup to watch — Seahawks LT Russell Okung vs. Rams DE Robert Quinn: Quinn had 19 sacks last season, but has yet to bring down a quarterback in 2014. He had three sacks in that Monday night tilt last season, terrorizing a Seahawks offensive line that was minus an injured Okung. Okung, who gave up one sack to Quinn in Week 17 last season, is again less than 100 percent as he deals with a shoulder injury, and has struggled with numerous pre-snap penalties this season.
Player spotlight — Rams RB Tre Mason: Mason received his first regular-season carries last week, and the rookie provided a spark with 40 yards on five carries. He brings more speed and elusiveness than Zac Stacy or Benny Cunningham, and Mason could be in line for more work after watching the Seahawks uncharacteristically struggle with missed tackles last week.
Fast facts: Seahawks QB Russell Wilson's 47.6 passer rating last week was the third-lowest of his career, but he has a 118.8 rating in the past three meetings. … Davis has 938 passing yards in his past three games.
The Rams typically play the Seahawks tough, and Seattle enters with a disjointed offense and injury-depleted defense. But the champs respond with their backs against the wall facing a near must-win on a loaded schedule.
Our pick: Seahawks 24-23
Tennessee Titans (2-4) at Washington Redskins (1-5)
Sunday, 1:00 p.m. ET, at FedExField, Landover, Md. – TV: CBS
TV announcers: Kevin Harlan, Rich Gannon
Keys to the game: The Titans are again in a waiting game with QB Jake Locker, who is attempting to return from a hand injury. While Locker brings more athleticism and certainly increased playmaking ability, backup Charlie Whitehurst has managed the offense adequately with one interception in 42 pass attempts. The Redskins rank 13th in pass defense and 12th against the run, but are 27th in points allowed in large part due to consistent breakdowns in the secondary — particularly in the red zone. The Titans will pound away with RB Bishop Sankey and complement him with leading receiver TE Delanie Walker and possession receiver Kendall Wright to set up vertical shots.
Redskins quarterback Kirk Cousins continues to mix intriguing potential with mind-numbing mistakes. He has lost seven consecutive starts and now must look over his shoulder at third-stringer Colt McCoy as Cousins has thrown seven interceptions over the past three games. Cousins' issues have allowed defenses to stack up against RB Alfred Morris, who has yet to post a 100-yard game this season and has been held to 70 combined yards the past two weeks. The Titans will give up yards in chunks, but the onus is on Cousins to make the correct reads, particularly on third downs, where the Redskins are converting an abysmal 32.4 percent.
Matchup to watch — Titans LT Taylor Lewan vs. Redskin OLB Brian Orakpo: Lewan gave up one sack in his first start in place of injured Michael Roos, and faces a stiff test in Orakpo, who enters with just a half-sack on the season but a chance to do damage with the Titans also forced to consider extra help for RT Michael Oher working against Ryan Kerrigan (6.5 sacks).
Player spotlight — Titans CB Jason McCourty: He will likely draw the assignment against WR DeSean Jackson, who has 60- and 64-yard touchdown receptions the past two weeks.
Fast facts: Locker has missed 16 of a possible 38 starts since being named the starter in 2012. … The Redskins are mired in their ninth four-game losing streak in the past 15 seasons.
In a battle of scuffling teams, the Redskins' minus-nine turnover ratio certainly sticks out. But at home and against a soft pass defense, Cousins breaks out of his funk in a big way.
Our pick: Redskins 30-20
Kansas City Chiefs (2-3) at San Diego Chargers (5-1)
Sunday, 4:05 p.m. ET, at Qualcomm Stadium, San Diego – TV: CBS
TV announcers: Spero Dedes, Solomon Wilcots
Keys to the game: Despite several key injuries, the Chiefs' defense has done an excellent job in not allowing a single 300-yard passer this season while giving up only 11 completions of 20-plus yards. That won't fluster Chargers QB Philip Rivers, who has morphed into a master of short drops and quick releases to complement an under-gunned ground game to keep the chains moving. San Diego has a plus-seven turnover margin and controls the ball on average 9:07 longer than its opponents. The Chiefs have produced just three takeaways on defense, but could receive a boost with the
expected return of S Eric Berry (ankle).
The Chiefs utilize a slew of different formations and while they lack great downfield playmaking, QB Alex Smith does a good job of attacking underneath against defenses focused on RB Jamaal Charles. Smith is generally accurate, but has misfired to open receivers in several critical situations this season. The Chargers lack a single marquee pass rusher, but 11 players have contributed to the team's 12 sacks on the season.
Matchup to watch — Chiefs OLB Tamba Hali vs. Chargers LT King Dunlap: Hali has 10.5 career sacks of Rivers, more than any other passer he has taken down. Hali has 3.0 sacks this season, but Dunlap has quietly emerged as one of the league's more consistent blindside protectors.
Player spotlight — Chiefs TE Travis Kelce: The second-year player quietly leads the Chiefs with 20 catches, 274 receiving yards and three touchdowns. Kansas City will use him in a variety of formations and put Kelce in motion seeking mismatches.
Fast facts: Charles needs 53 yards to become the Chiefs' all-time leading rusher (Priest Holmes, 6,070 yards). … The Chargers have won the past four meetings and eight of the past 10.
The Chiefs are well-rested coming off their bye and well-motivated to close the gap in the AFC West – lose this one and they're essentially four games behind their rival. More important, K.C. has film of Raiders rookie QB Derek Carr dissecting the Chargers for four touchdowns last week.
Our pick: Chiefs 26-24
Arizona Cardinals (4-1) at Oakland Raiders (0-5)
Sunday, 4:25 p.m. ET, at o.Co Coliseum, Oakland – TV: FOX
TV announcers: Dick Stockton, Brady Quinn, Kristina Pink
Keys to the game: Cardinals QB Carson Palmer estimates his right shoulder is still only at 85 percent strength despite throwing for 250 yards and a pair of touchdowns last week, and he returns to o.Co for the first time since being cast aside by Raiders GM Reggie McKenzie following the 2012 season. Arizona would love to support him with an improved ground game against the league's 31st-ranked run defense, but that is based in part on opponents grinding out big leads against Oakland. Arizona's run blocking has been suspect.
Raiders rookie QB Derek Carr is coming off his best game, a 282-yard, four-touchdown effort against San Diego. He is developing chemistry with WRs James Jones and Andre Holmes, but the underrated element to last week's offensive output was RB Darren McFadden averaging 5.7 yards on 14 carries. The Cardinals enter with the league's third-ranked run defense, but the Raiders must be able to create manageable third-down situations and not allow Arizona to add to its plus-eight turnover margin.
Matchup to watch — Cardinals LT Jared Veldheer vs. Raiders RDE LaMarr Woodley: Oakland opted not to put the franchise tag on Veldheer last spring, and the Cardinals swooped in with a five-year, $37.5 million contract. Palmer says you don't notice Veldheer because "he doesn't get beat." Woodley, who signed a two-year, $12 million deal after being cut by Pittsburgh, has just four tackles and no sacks through five games.
Player spotlight — Raiders WR Andre Holmes: After showing some promise with 25 catches for 431 yards in 2013, Holmes saw a total of just 66 snaps and nine targets through the first three games of this season before finally being given a bigger role with 20 targets and 111 snaps over the past two games. He rewarded the playing time with 121 yards and two touchdowns last week.
Fast facts: The Cardinals have scored touchdowns on a league-low 33.3 percent of their red-zone possession. … Carr's passer rating dips each quarter, from 117 in the first to 79.8 in the second, 76.1 in the third and 62.9 in the fourth.
Trap game? Certainly possible with the Cardinals facing home dates against Philadelphia and Dallas the next two weeks and winless teams typically playing with extra zeal. But the Cardinals are 4-1 and only getting healthier in a division that forces them to focus on the weak points in their schedule.
Our pick: Cardinals 27-17
New York Giants (3-3) at Dallas Cowboys (5-1)
Sunday, 4:25 p.m. ET, at AT&T Stadium, Arlington, Texas – TV: FOX
TV announcers: Thom Brennaman, Troy Aikman, Charissa Thompson
Keys to the game: After digging themselves out of an 0-2 start to win three straight behind a rapidly-improving offense, the Giants' train careened off the tracks in a 27-0 whitewashing in Philadelphia on Sunday night that saw WR Victor Cruz go down to a major knee injury. As important as it is for young WRs Reuben Randle, Odell Beckham, Jr. and Preston Parker to step up, it's just as critical for the Giants to get back to the short, quick-strike passing game that was proving effective. The line does not protect well on deeper drop-backs, and QB Eli Manning has been effective working underneath to TEs Larry Donnell and Daniel Fells, who have a combined seven TDs.
Dallas' bruising offensive line steadily wore down Seattle's top-ranked run defense last week and will now take aim at a Giants unit allowing 4.4 yards per carry. RB DeMarco Murray has six consecutive 100-yard games to start the season, which is opening up QB Tony Romo to dissect teams off play-action. The Giants need a vastly improved effort from MLB Jon Beason in his second game back from injury and to capitalize on the one or two passes Romo will put up for grabs each game.
Matchup to watch — Giants DE Mathias Kiwanuka vs. Cowboys RT Jermey Parnell: Kiwanuka has struggled to beat man blocking much of the past two years, but he's presented a prime opportunity to be a difference-maker with Doug Free out with a fractured foot. Parnell has made just two previous career starts and played 43 total snaps over the past two seasons.
Player spotlight — Giants CB Jayron Hosley: Back from suspension, Hosley is expected to man the slot position with Walter Thurmond III and Trumaine McBride out for the season. Hosley has not played the slot much in college or the NFL and struggled during the preseason, but he chalked that up in part to his pending suspension weighing on his mind. In any event, expect Romo to target the 5-10, 178-pound Hosley.
Fast facts: The Giants have won four of the past five meetings in Dallas. … Murray is on pace for 2,093 rushing yards, 12 short of Eric Dickerson's single-season NFL record.
While the Cowboys bandwagon is gaining members at light speed, the Giants have yet to beat a team with a winning record and are now without their top offensive playmaker. A Dallas letdown after beating up the reigning champs? Not against a bitter — and wounded — rival.
Our pick: Cowboys 34-24
San Francisco 49ers (4-2) at Denver Broncos (5-1)
Sunday, 8:30 p.m. ET, at Sports Authority Field at Mile High, Denver – TV: NBC
TV announcers: Al Michaels, Cris Collinsworth, Michele Tafoya
Keys to the game: The 49ers have recommitted to the ground game during their three-game winning streak, and RB Frank Gore will be heavily involved as San Francisco attempts to slow the game down a bit to protect a defense dealing with Peyton Manning minus several starters. QB Colin Kaepernick is playing at a high level with seven TDs against one interception over the past five games, and it will be incumbent on OLBs DeMarcus Ware and Von Miller to rush the edges with caution so as to limit Kaepernick's ability to escape the pocket and generate big plays on the move.
The 49ers' defense is thinned by injuries and OLB Aldon Smith's suspension, but also motivated not to give up the three touchdowns Manning needs to break Brett Favre's all-time passing touchdowns record. It's a tall task, especially with a pair of backup inside linebacker part of the mix attempting to slow TE Julius Thomas, who has a league-leading nine touchdown catches through five games. RBs Ronnie Hillman and Juwan Thompson combined for 138 rushing yards in place of Montee Ball (groin) last week, and production on the ground is vital with the line's pass protection leaky last week.
Matchup to watch — 49ers defensive coordinator Vic Fangio vs. Broncos QB Peyton Manning: Manning makes all the calls at the line, and it will be a chess match against Fangio, one of the more creative defensive coordinators in the game. Manning was sacked twice and hit four times by the Jets, and the Broncos began using more two-tight end packages featuring backup OT Paul Cornick.
Player spotlight — 49ers ILB Chris Borland: The rookie saw his first action of the regular-season after Patrick Willis left Monday's game with a turf toe injury, and was praised by coach Jim Harbaugh after recording two tackles and breaking up a pair of passes. Diagnosing the action against Manning is an entirely different proposition.
Fast facts: The 49ers are 15-1 when Kaepernick starts and has a passer rating of 100-plus. … Thomas needs one touchdown catch to become the first Broncos tight end with 10 in consecutive seasons.
The 49ers conclude a tough pre-bye stretch that has included wins over the Eagles, Chiefs and division-rival Rams leading into Sunday night's trip to Denver, where the Broncos are well-stocked to exploit the 49ers' defensive injuries.
Our pick: Broncos 28-27
Houston Texans (3-3) at Pittsburgh Steelers (3-3)
Monday, 8:30 p.m. ET, at Heinz Field, Pittsburgh – TV: ESPN
TV announcers: Mike Tirico, Jon Gruden, Lisa Salters
Keys to the game: The retrograde version of RB Arian Foster could lift the Texans out of their shell offense that strived primarily to minimize Ryan Fitzpatrick's mistakes. The veteran starter has six interceptions but if he reads blitz quickly to find WRs Andre Johnson and DeAndre Hopkins, Fitzpatrick should see considerable passing windows.
Pittsburgh alternated wins and losses and mediocre results are a direct reflection of a see-saw defense. The Steelers were plowed over by the Browns last week and the same zone running scheme is coming to town Monday. You can bet former Foster backup Ben Tate (two TDs for Cleveland last week) shared some trade secrets about the Steelers' soft spots.
Steelers QB Ben Roethlisberger is taking a pounding again behind a sieve-like offensive line, including 11 sacks the past three games. With the exception of the Week 2 loss at Baltimore, the combo of RBs Le'Veon Bell (5.2 yards per carry) and LeGarrette Blount (5.8) has cleared 20 combined carries. Roethlisberger's survival and the effectiveness of the passing game could depend on setting the physical tone with the running game early.
Matchup to watch — Texans K Randy Bullock vs. Steelers KR Dri Archer: Archer didn't show the instincts of a reliable returner in last week's loss, bringing three kicks out of the end zone and only making it to even the 19-yard line once. He's capable of providing a spark, but cannot be a crippling presence in a game where field position could mean plenty.
Player spotlight — Texans LB Jadeveon Clowney: Out since the opener following knee surgery, the No. 1 overall pick might finally be back on the field where he is projected to be Robin to J.J. Watt's Batman at some point. For now, the Texans would settle for a few quarterback pressures from the touted pass rusher.
Fast facts: Johnson needs 10 receiving yards to pass Steve Largent (13,089) for 14th place in NFL history. … Roethlisberger has been sacked 152 times more than any other quarterback since entering the NFL in 2004.
If the tag team of Watt and Clowney is reunited, the Steelers get two choices: Max protect and plow their way down the field or play chicken with a powder keg pass rush and hope for the best. With a weary defense, Steelers coach Mike Tomlin picks Option 1.
Our pick: Steelers 26-23
New York Jets (1-6) at New England Patriots (5-2)
FOXBOROUGH, Mass. — This time, things ended differently for Chris Jones — and his team.
Last October, the defensive tackle was called for climbing the back of a teammate as Nick Folk tried a game-winning overtime field goal for the New York Jets. The penalty moved Folk closer and the Jets won the game.
Thursday night, it was Jones who blocked a 58-yard field goal attempt by Folk, allowing the New England Patriots to hang on for a 27-25 over the Jets.
"I feel a lot different than I felt last year and it feels really good," said Jones. "It's good to feel that ball hitting my hand and it's good to get that win.
"I just played it legally and did all that I could and it happened."
"(I'm) obviously really happy for Chris at the end," said Patriots coach Bill Belichick. "After what happened last year, I thought it was so fitting that he made that play. That was awesome."
Jones blocked what would have been Folk's fifth field goal of the game. It was the kicker's first miss in 14 tries on the season.
"I tried to drive it a little bit," said Folk. "I was told my line was at the 40, so I tried to give it a good ride. I felt like I hit it pretty good — it's just a bummer that it didn't get past eight yards."
The Patriots had the ball for only 19 minutes and 4 seconds, but quarterback Tom Brady threw three touchdown passes, two of them to running back Shane Vereen in the first half, as the Patriots made it 5-1 since opening the season with a loss at Miami.
The Jets (1-6) lost their sixth game in a row, but they almost tied the game with 2:31 left when they scored a touchdown but failed on a two-point conversion.
New York was unsuccessful on an onside kick, but it forced the Patriots to punt and quarterback Geno Smith took the Jets from their own 12-yard line to the New England 40.
The Patriots earned their third consecutive win. They trailed 19-17 in the third quarter, scored 10 straight points and then held off the Jets' late charge.
Brady hit Vereen for scores of 49 (less than two minutes into the game) and 3 yards in the first half, then connected with wide receiver Danny Amendola, who made an acrobatic catch for a 19-yard score, with 7:49 left to make it 27-19. It was Amendola's first reception since he grabbed three in the opening game.
"That was a big-time play that he made there," said Brady. "He made a great catch … he made a phenomenal catch."
He also made his Patriots debut as a kick returner and did well, compiling 105 yards on four returns. He returned kicks for the Rams during his first two years in the league and looked more than comfortable.
"Nobody works harder than Danny does," said Belichick.
Brady finished 20 of 37 for 261 yards. He has nine touchdown passes and no interceptions during the winning streak.
Vereen, starting after Stevan Ridley was lost for the season to a knee injury, totaled 118 yards rushing and receiving.
"He was a workhorse in all areas," Brady said.
Smith, playing his best game of the season, completed 20 of 34 passes for 226 yards and a touchdown.
Jets running back Chris Ivory ran for 107 yards and a touchdown on 21 carries.
"I think we fought hard and things were coming together," said Ivory, who had his eighth career 100-yard game. "The result is not showing on the scoreboard, but I think we are getting there."
NOTES: The Patriots placed RB Stevan Ridley and LB Jerod Mayo on injured reserve after both sustained season-ending knee injuries Sunday. They signed OL Chris Barker and RB Jonas Gray off the practice squad. … G/C Dan Connelly, C Bryan Stork and G Cameron Fleming were all missing from the New England lineup with injuries. Connelly and Stork have concussions. … CB Brandon Browner, suspended for the first four games under the NFL drug policy, dressed for the first time and started for the Patriots. … Former CB Ty Law, who became the 22nd player voted into the Patriots Hall of Fame in the fan voting, was honored at halftime after joining the current Patriots for the opening coin toss. … With the Jets having to face quarterbacks Peyton Manning and Tom Brady in a span of five days, LB Calvin Pace, calling Thursday night games "a terrible idea," said, "Someone at the NFL really had it out for us with this schedule."… An all-day rain, that was supposed to continue into the game, stopped before kickoff and never returned.