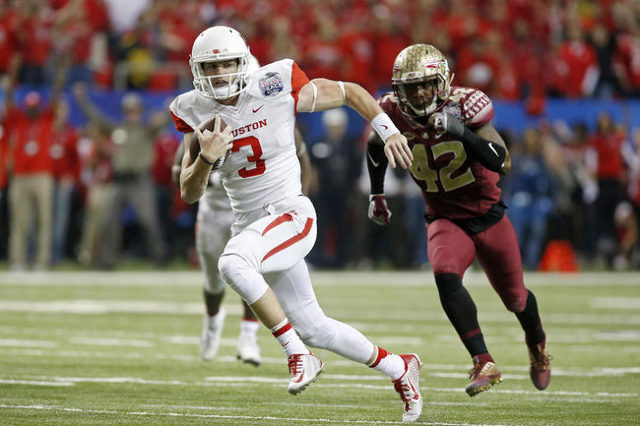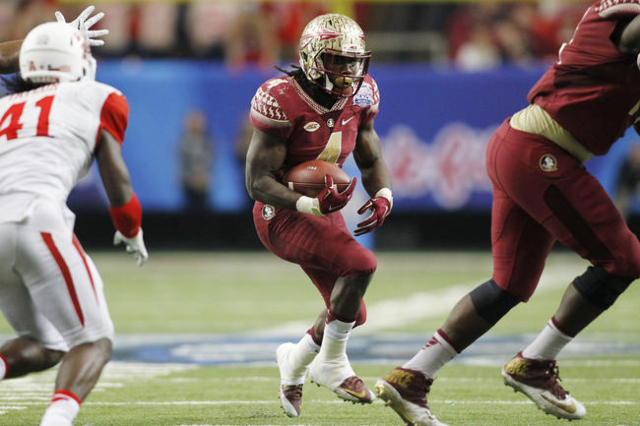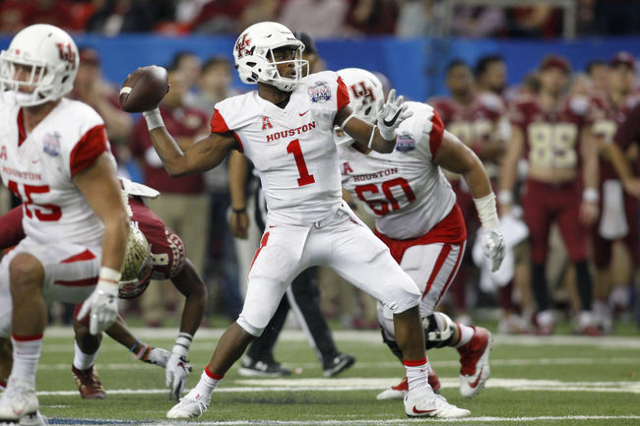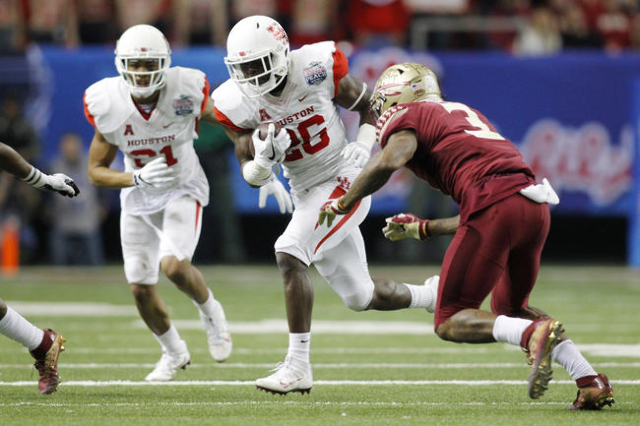 ATLANTA — Houston won 12 games and the American Athletic Conference championship in coach Tom Herman's first season, but the Cougars didn't have a signature win. They do now.
Quarterback Greg Ward Jr. accounted for three touchdowns and senior safety Trevon Stewart picked off two passes and recovered a fumble, leading the 18th-ranked Cougars to a 38-24 upset of No. 9 Florida State in the Chick-fil-A Peach Bowl on Thursday at the Georgia Dome.
Ward scored on runs of 7 and 6 yards and threw a touchdown pass to receiver Chance Allen that put the Cougars ahead 31-17 with six minutes to play.
"It was the players, and the love that have for each other and the trust and love they have in the staff," Herman said. "They have truly re-energized not just the program but really re-energized an entire university and to a certain degree an entire city. They should be extremely proud of that fact. And I'm just happy to be along for the ride."
Florida State quarterback Sean Maguire threw touchdown passes to Travis Rudolph and Jesus Wilson in the fourth quarter, twice cutting the Houston lead seven. But the Cougars answered each challenge.
Ward completed 25 of 41 passes for 238 yards. He also rushed for 63 yards but went down with a lower leg injury late in the fourth quarter. He limped off the field before a critical third-down play with Houston leading 31-24 with four minutes to play.
Backup quarterback Kyle Postma replaced Ward, picked up two key first downs on runs, and running back Ryan Jackson sealed the win with a short touchdown run with two minutes to play.
The clinching score sent Seminoles fans to the exits and generated a mocking Tomahawk Chop chant from the large contingent of Cougars faithful that made the trip to Atlanta.
The statement win for the Cougars (13-1) should carry over into 2016. In December, Herman, coveted by many teams looking for a new head coach, signed a new deal to stay at Houston, and Ward also is expected to return for his senior season.
Herman became only the fourth coach to win at least 13 games in his first season and will enter next season with high expectations.
Houston could start next season ranked in the top 10. The Cougars open against Oklahoma in Houston.
"The easy thing to do is to pat yourself on the back and rest on your laurels," Herman said. "We're certainly going to enjoy this win and this season for a good couple weeks. But when classes start in January, we're going to get back to doing everything and more that got us to this point."
Two years after winning the national championship, Florida State (10-3) heads into the offseason having lost bowl games in back-to-back seasons. The Seminoles never recovered from a disastrous first half against Houston.
"We had great bowl practices, we practiced hard all the way up and were ready to play," Florida State coach Jimbo Fisher said.
Florida State turned the ball over twice in the first half and saw Maguire injure his left ankle late in the first quarter and leave the game for a few series. He returned with the ankle heavily taped in the second quarter but couldn't generate any offense for the Seminoles, who were outgained 247-132 in the first half.
"Sean got hurt and we just lost momentum," Fisher said.
Houston wide receiver Demarcus Ayers took a pitch on a reverse and threw a touchdown pass to Allen that put the Cougars up 14-3 with six minutes left in the second quarter.
On Florida State's next possession, Stewart recovered a fumble by running back Dalvin Cook at the Seminoles' 23-yard line. Three plays later, Ward ran around right end for a 6-yard touchdown that put Houston up 21-3 at halftime. Cook had 16 yards on 10 carries in the first half.
Cook scored on a 1-yard run on the Seminoles' opening possession of the second half, and Florida State had the momentum after stopping Houston on fourth down on the Cougars' following possession. But Stewart picked off Maguire at midfield and the Cougars closed out the upset in the fourth quarter.
Maguire completed 22 of 43 passes for 392 yards with two touchdowns and four interceptions. Cook finished with 33 yards on 18 carries.