#NVprepsfb top running back countdown — No. 5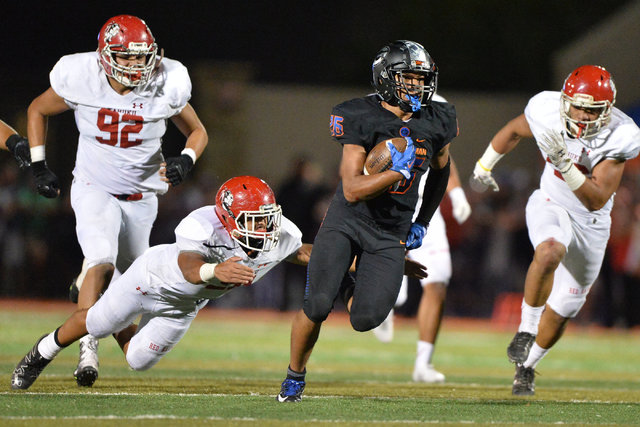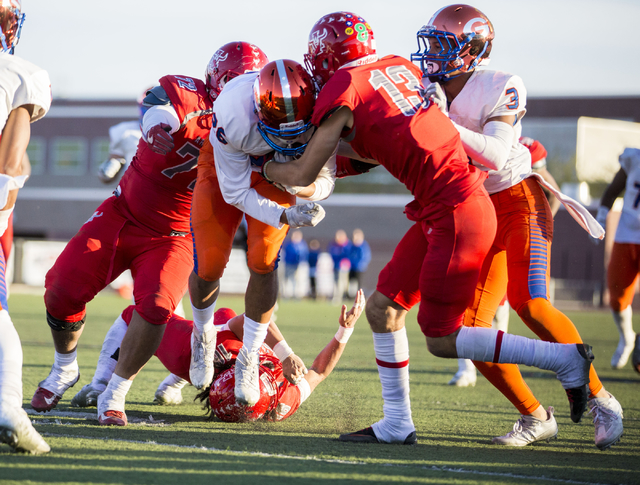 Bishop Gorman's Amod Cianelli comes in at No. 5 on our #NVprepsfb list of Southern Nevada's top five running backs.
To create the list, we spoke with coaches from the Sunrise and Sunset Regions in both Class 4A and 3A. A couple of the base questions were: "Who is the top high school running back today?" and "Who would you pick to start a team?"
Then we grabbed the statistics from last season, looked at the player's collective rankings on recruiting websites and used our own judgment to fill holes.
This resulted in the #NVprepsfb running back rank. The list is based off high school productivity and not college or professional potential. Stay tuned for our wide receiver/pass catcher and defensive player lists that will be unveiled each week until the end of July.
#NVprepsfb Running Back Rank: Bishop Gorman's Amod Cianelli No. 5
Class
2019
Vitals
5 feet, 10 inches; 185 pounds
Honors
N/A
Recruiting
N/A
Last Year's Stats
Cianelli rushed for 793 yards and five touchdowns on 105 carries (7.6 yards per carry) as a backup to California signee Biaggio Ali Walsh last season to help Gorman win its eight consecutive state title and third straight mythical national championship. He ran for 116 yards and a touchdown in a highly-publicized matchup with St. John Bosco (California), and added 157 yards on 23 carries versus Kahuku (Hawaii) last season.
What they are saying?
— "We got a taste of him after Biaggio (Ali Walsh) got his 175 (yards) against us," one Sunset Region football coach said. "He's smaller in stature, but more of a powerful runner than Ali Walsh. I don't feel like he has that breakaway speed, but he can run through a few guys. If he gets loose, he can take it, and with (Kirby Bennett) gone, he'll get his chance."
— "He was impressive," one Sunrise Region football coach said. "He got some good playing time last year when Biaggio (Ali Walsh) was banged up. He's athletic and can break tackles when he has to. It just seems like they keep reloading."
— "Everybody got to see a glimpse of what he was capable of," one Sunset Region football coach said. "I don't see (Bishop Gorman) skipping a beat."
—
To get involved in the discussion, use #NVprepsfb on Twitter. You also can follow along @nevadapreps.