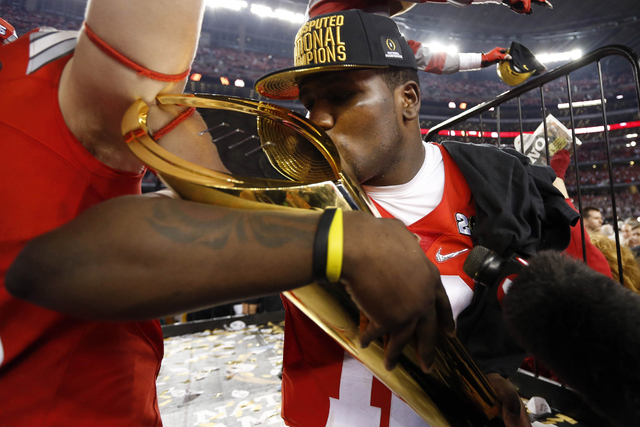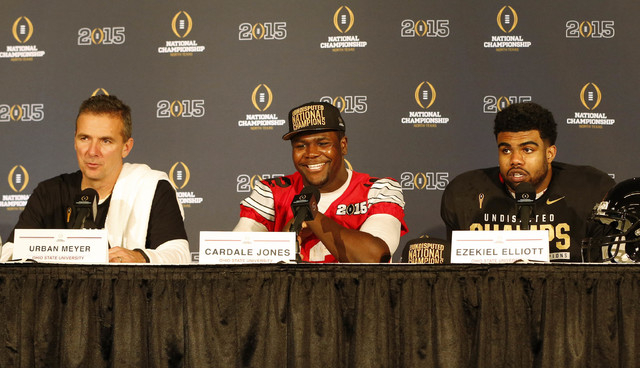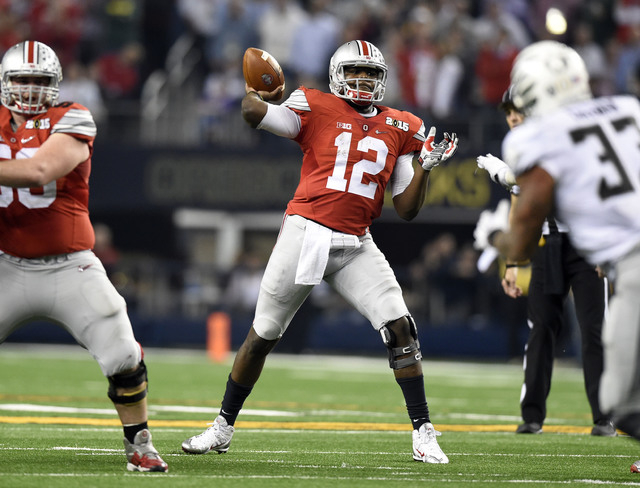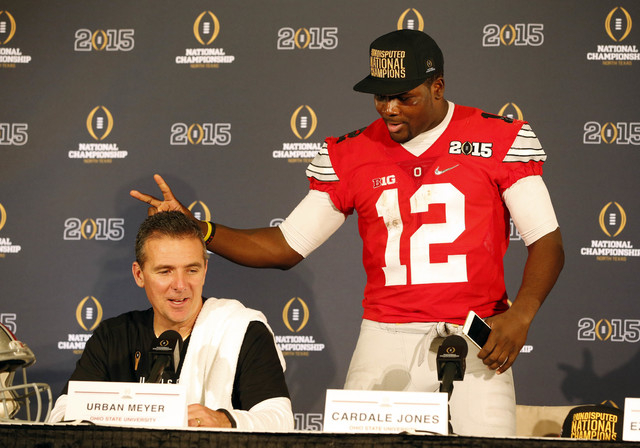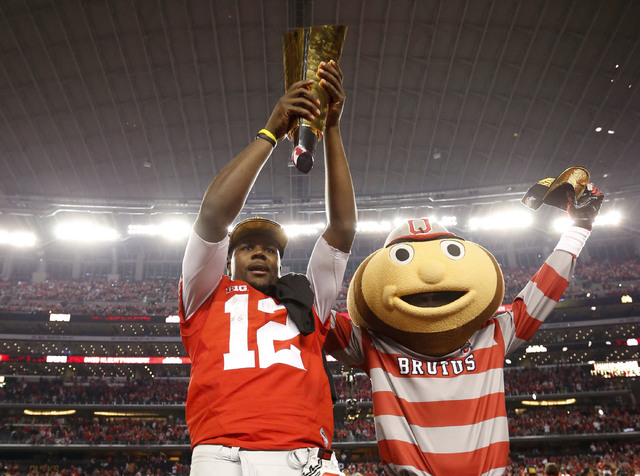 DALLAS — When a quarterback leads a team to the national championship, the natural question is whether he will turn pro.
So the fact that query was posed to Ohio State's Cardale Jones on Tuesday morning was expected. It was a question, however, that would not have been asked a month ago.
Even if Jones stays, he is far from guaranteed of being the starter for the Buckeyes' Sept. 7 opener next season at Virginia Tech.
That is what was so remarkable about the Buckeyes' eighth and latest national title — and the first for any team in the new College Football Playoff format. They are so loaded at quarterback that Jones could be anywhere from first to third on the depth chart, or he could be playing in the NFL if he leaves early.
"It's very odd," Jones acknowledged. "I'm going to be starting three games in three years, and guys play their whole career to have that buildup and have that motivation to play in the NFL. In my personal opinion, I'm not ready for that level yet. I mean, like Coach (Urban) Meyer said, it's a conversation me and him will have later down the road. But to me right now, it's far out."
At 6 feet 5 inches and 250 pounds, Jones is a load to bring down, and he has a NFL-ready arm. In Monday's 42-20 victory over Oregon in the title game at AT&T Stadium in Arlington, Texas, Jones completed 16 of 23 passes for 242 yards and a touchdown.
That performance was the latest of an incredible three-game run in which Jones also helped the Buckeyes beat Wisconsin 59-0 in the Big Ten Conference championship game and Alabama 42-35 in the national semifinals.
Jones, a redshirt sophomore who has until Thursday to decide whether to declare for the NFL Draft, wasn't supposed to be in this position.
Braxton Miller was the starter, but suffered a season-ending shoulder injury before the season. J.T. Barrett then took over and put together a Heisman Trophy-type year, but went out with a broken right ankle in the regular-season finale against Michigan.
Miller could return and reclaim his job, but as a graduate, he could transfer and play elsewhere immediately. Meyer has said he expects Miller to be back in an Ohio State uniform.
Barrett also should have a big say in who becomes the starter.
And then there's Jones, who shined in the season's three most important games.
The decisions at quarterback won't be rushed.
"We're still reveling in the win and no sleep, and I want these players to really appreciate it because I am," Meyer said. "It's something I've learned over my journey is I'm going to enjoy this darned thing."
Meyer didn't enjoy his two championships at Florida, and the pressure to keep pushing hard following those 2006 and 2008 titles caused him to lose 37 pounds in 2009, he told HBO last year. He took the 2011 season off from the game.
Now Meyer is re-energized, and even if he wants to soak in this moment, he doesn't have much time. Meyer will turn his attention to recruiting by Thursday.
Considering how many players he is expected to bring back, Ohio State already is listed as a 6-to-1 favorite to repeat, according to Pregame.com.
That 2015 team always figured to be the one with the best shot to win the national title. Not this season's team.
Not with so many freshmen and sophomores.
"This feeling is unreal right now because three or four months ago everybody counted us out," Jones said. "They said we wouldn't be here at this point in our careers."
Where will Jones be next season?
Whether he returns or goes to the NFL, or whether he is the starter at Ohio State or a backup, the Buckeyes figure to continue rolling with Meyer at the controls.
He's won everywhere he's been, joining Alabama's Nick Saban as the only Football Bowl Subdivision coach to win a national championship at two different schools.
"The way that Coach Meyer motivates, teaches and demands the best out of each player in different ways is unbelievable," Jones said. "He gets the best out of us in different ways. Even in the same room as far as the quarterbacks, the way that he demands and gets the best out of us is second to none, and that's why we're sitting here today."
Contact Mark Anderson at manderson@reviewjournal.com or 702-387-2914. Follow him on Twitter: @markanderson65.