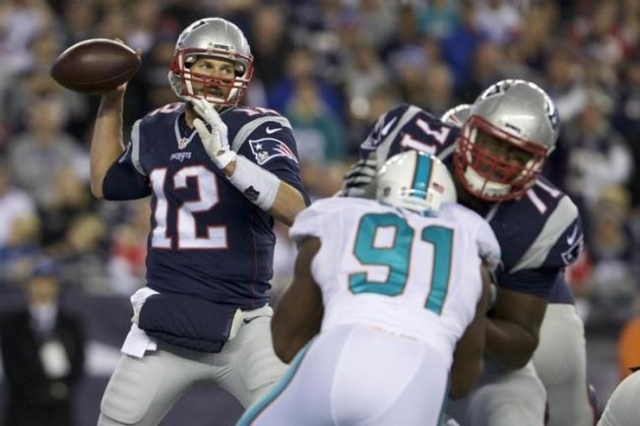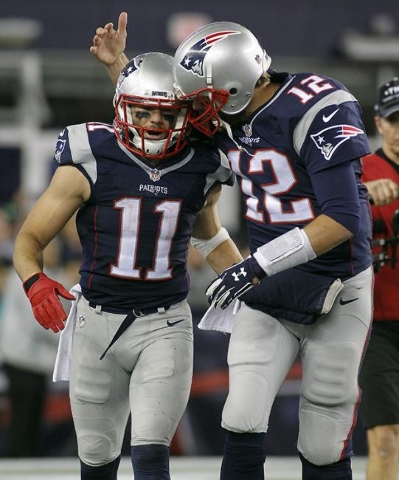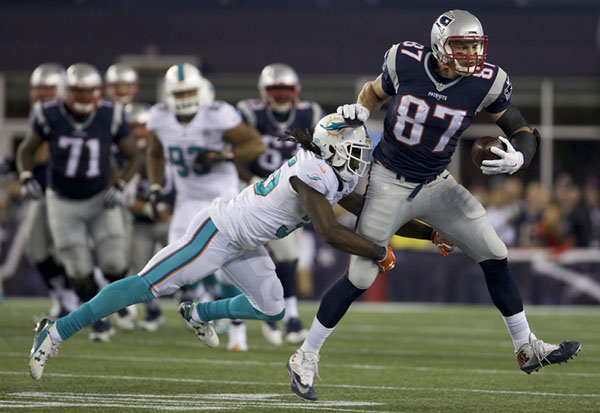 Tom Brady threw four touchdown passes to lead the undefeated New England Patriots to a 36-7 win over the Miami Dolphins at Gillette Stadium on Thursday.
Running back Dion Lewis returned from injury with a strong game as the Patriots cruised to their seventh straight victory while the loss brought the Dolphins crashing back to Earth after they had scored 82 points and won their first two games under interim coach Dan Campbell.
Despite the streak, Brady said there was a long season ahead.
"We're only seven games through, so we've still got a lot of work to do," he said.
New England's Stephen Gostkowski kicked two field goals in as many tries and has made 26 straight in the regular season, breaking Adam Vinatieri's team record of 25.
The Patriots scored in each quarter for the sixth straight game. After failing to score in the first quarter of the season, against the Pittsburgh Steelers, the defending Super Bowl champions have scored in 27 straight quarters.
Brady threw two touchdown passes to wide receiver Julian Edelman and one each to tight end Rob Gronkowski and Lewis.
He finished 26 of 38 for 356 yards, recording his 69th 300-yard game – which ranks third all-time – and his 24th game with four or more touchdowns, which also ranks third.
It was Brady's 19th career game with at least four touchdowns and no interceptions, an NFL record.
Lewis, who did not play last Sunday because of an abdominal injury, ran for just 19 yards on five carries but caught six passes for 93 yards and a score.
Gronkowski caught a 47-yard catch and run for the first score of the game, finishing with six catches for 113 yards, his 19th career game with at least 100 yards.
That tied him with Shannon Sharpe for sixth place all-time among tight ends.
Miami quarterback Ryan Tannehill finished 28 of 44 for 300 yards and two interceptions. He was sacked five times.
"You have to play good football in all three phases when you play the New England Patriots," Miami coach Campbell said
"They've always been that way. You can't have mistakes, or if you do, you can't have many of them. Had a couple of turnovers, which doesn't help."