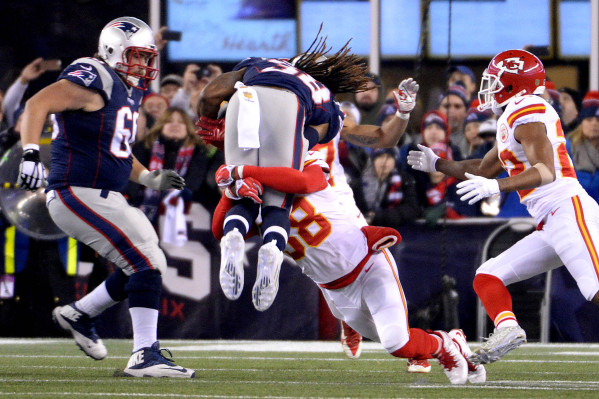 Steven Jackson hadn't played football for a full year and was essentially retired from the NFL when the running back received what he called an early Christmas gift. It was a December phone call from Patriots coach Bill Belichick, who asked the Las Vegas native if he was ready to return to action for New England.
Jackson, a former Eldorado High School star who had been working out at his Las Vegas home, signed a one-year deal with the Patriots on Dec. 22. A month later, he's one win from the Super Bowl. New England will play at the Denver Broncos on Sunday in the AFC Championship Game.
"What a ride," said Jackson, 32. "I guess this particular season for me kind of sums up my career. It hasn't been easy from start to finish. I had some tough times in St. Louis, I had some tough times in Atlanta, and even this year at home, I was kind of contemplating what's going to be next in my life.
"To then get a phone call from coach Belichick and an opportunity like this, my road to success has been very much blue collar, tough, gritty and self-motivated. I've stayed mentally strong and plowed through whatever obstacle was in front of me."
A three-time Pro Bowler who is 18th on the NFL's career rushing list with 11,438 yards and 69 touchdowns, the 6-foot-2-inch, 240-pound Jackson has enjoyed plenty of individual success in his 12-year pro career. But before this season, he never had played for a team with a winning record and only reached the postseason once, in his rookie year with the Rams in 2004, when he backed up Marshall Faulk.
"I had never been on a team better than 8-8 until this season," he said. "I've accomplished a lot individually, but I've enjoyed the game so long, since I was a kid, because it is the ultimate team sport.
"I figured if I was going to go back I wanted it to be to a team that could be successful, so I could get the experience of being on a winning team and see what that experience felt like."
The leading rusher in Rams' franchise history with 10,138 yards, Jackson had eight straight 1,000-yard seasons for St. Louis before dipping to a combined 1,250 rushing yards the past two seasons for Atlanta, which released him in February.
Jackson said he came close to signing with a team in August before turning it down.
"I was ready to move on," he said. "I didn't want to say retirement, but I was ready to walk into the next phase of my life. I was more than willing to walk away, and I attempted to do so.
"I wasn't waiting on the call. I had moved on with my life. If that phone call hadn't come, I'd still be in Las Vegas."
Jackson, who replaced the injured LeGarrette Blount as the Patriots' lead power back, had 21 carries for 50 yards and a touchdown and a 20-yard catch in New England's final two regular-season games. He had six carries for 16 yards in the Patriots' 27-20 playoff win over the Kansas City Chiefs.
"Getting my timing back took a couple of weeks," he said. "But once you get the ball in your hand, it's kind of like riding a bike if you've done it as long as I have."
A consummate professional, Jackson said it has been an easy transition for him to play under Belichick, whom he spoke with for about 30 minutes on the aforementioned phone call.
"Coach Belichick holds everyone — the coaching staff and the players — to the highest level. He expects us to know our job and execute things in a 100 percent manner," Jackson said. "He's a great coach, and when you're around those great ones, it's a privilege to work alongside them day in and day out.
"You understand they're going to be demanding and get the best out of what they have. I definitely see that here in New England. We work hard, but the reward that typically comes with it makes the sacrifice worth it."
Jackson, a former Oregon State star, said he has leaned on quarterback Tom Brady in learning the offense.
"He's helped me out a few times, if I have a hiccup and want to know the best way to execute a play," he said. "He's definitely a sounding voice for me on the field in the middle of the game and in the middle of practice."
Jackson declined to respond to trash talk by Denver Broncos players that Brady is a "whiner" who constantly complains to officials.
"Man, I'm 32 years old, brother. I don't read that stuff," he said. "Where I'm at in my career, I'm more focused on the game plan and what we need to do to win."
With the end of his career likely near, Jackson plans to savor every moment of Sunday's game.
"This weekend could very well be the last time I play the game, so I'm just going to enjoy the ride," he said. "The sand in the hourglass is less on this side than it's ever been. I'm very aware of that.
"I'm not going to look past the Denver Broncos or this weekend. I've never been this close to the Super Bowl. I've never been in a championship game, so this week and this game is going to mean a lot to me."
If Jackson does walk away from the game after this season, he'll do so with his head held high.
"I've been able to endure and to represent my hometown of Las Vegas in a prideful way, as well as for the teams I wore the emblem on the side of my helmet," he said. "I've tried to act first class, in a way my parents are proud of."
— Contact reporter Todd Dewey at tdewey@reviewjournal.com or 702-383-0354. Follow him on Twitter: @tdewey33.