Peterson will file lawsuit, consider retirement from NFL
December 12, 2014 - 8:25 pm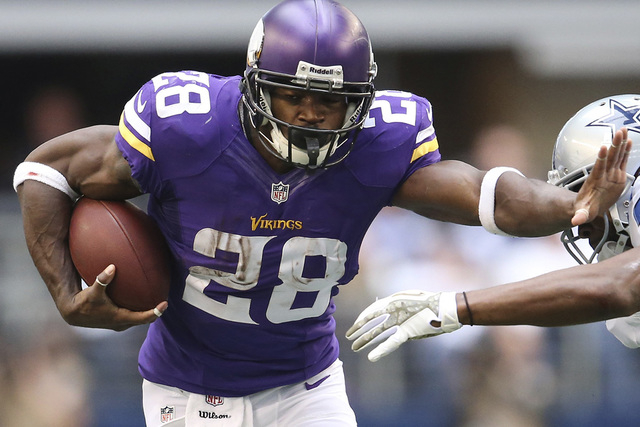 Minnesota Vikings running back Adrian Peterson's season-long suspension has been upheld by NFL-appointed arbitrator Harold Henderson, the league announced Friday.
Peterson was suspended for the rest of the season by commissioner Roger Goodell on Nov. 18, after Peterson failed to attend a disciplinary hearing regarding his alleged violation of the NFL's personal conduct policy.
On Friday night, Peterson told ESPN that he will file a lawsuit against the NFL, but that he had no trust in the league's reinstatement process.
Peterson did not rule retiring.
"I've considered retiring from the NFL," Peterson said. "I still made $8 million dollars this year. I've thought about getting back into the real estate (business in Texas) I'm already in. That's something I've been interested in, something I'm involved in. I've thought about getting back into that. I've thought about going after the Olympics — you only live once.
"It might be time for me to pursue that, as well. I love playing football, don't get me wrong, but this situation is deeper than that. For me, it's like, 'Why should I continue to be a part of an organization or a business that handles players the way they do?
"Making money off the field anyway, why not continue to pursue that (Olympic) dream and pursue other dreams and hang up the cleats?'"
Peterson said he would like to compete in the 200 and 400 meter dashes in the Olympics.
In the appeal heard by Henderson last week, the NFL Players Association argued that Goodell punished Peterson unduly under a revised personal conduct policy.
In his ruling Friday, Henderson said, "I conclude that the player has not demonstrated that the process and procedures surrounding his discipline were not fair and consistent. He was afforded all the protections and rights to which he is entitled, and I find no basis to vacate or reduce the discipline."
The NFLPA was not surprised by Henderson's ruling.
In a statement Friday, the union said, "The NFLPA expected this outcome, given the hearing officer's relationship and financial ties to the NFL. The decision itself ignores the facts, the evidence and the collective bargaining agreement. This decision also represents the NFL's repeated failure to adhere to due process and confirms its inconsistent treatment of players. Our union is considering immediate legal remedies."
Peterson was indicted in September on felony charges of reckless or negligent injury to a child after Texas authorities said he hit his 4-year-old son with a switch. He pleaded no contest to misdemeanor reckless assault on Nov. 4 and was ordered to pay a $4,000 fine and perform 80 hours of community service.
Until Nov. 18, Peterson had been on the commissioner's exempt list, drawing his salary from the Vikings but not allowed to play.
Under the suspension, Peterson won't be considered for reinstatement until at least April 15.
Related Story:
Obama says NFL 'behind the curve' in handling of Ray Rice case