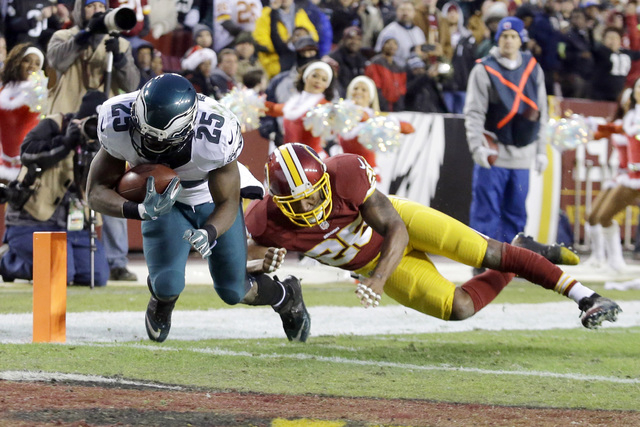 DETROIT — The Detroit Lions are heading back to the postseason. Now they can focus on the race for the NFC North title.
The Lions clinched their second playoff berth in the last 14 seasons when Philadelphia lost to Washington on Saturday. Detroit plays at Chicago on Sunday.
The Redskins' win led to a celebratory message on Detroit receiver Golden Tate's Twitter account: "So thankful our hard work is paying off!Excited to be in the post season but that's not good enough!We must handle business tmrw! #OnePride"
The Lions (10-4) are tied atop their division with Green Bay, and the Packers host Detroit in the final game of the regular season.
Saturday's games:
Redskins 27, Eagles 24: In Landover, Md., the Philadelphia Eagles have proved themselves to be a mirage, a team that got away with its faults until it couldn't any longer. Leaders in the NFC East as recently as a week ago, they're now just about done in the playoff race, and they're in no position to argue that they deserve any better.
Penalties, missed field goals, two more turnovers by Mark Sanchez and an inability to keep track of former teammate DeSean Jackson turned into a 27-24 loss to the lowly Washington Redskins on Saturday night, the Eagles' third straight defeat and one that gives Dallas two chances to clinch the NFC East.
"We're currently minus-9 in the turnover margin, so us having nine wins is really impressive for that," said safety Malcolm Jenkins, echoing the mood of a locker room hit with a communal reality check. "And really we were on borrowed time playing that style of football. If we had run the table in December with that kind of football, it would have been surprising, and it's something we didn't fix."
Sanchez's interception with 1:31 remaining — his 13th turnover in seven games — led to Kai Forbath's winning 26-yard field goal with 5 seconds remaining as the Redskins (4-11) snapped a six-game losing streak.
The Eagles (9-6) will now be rooting for Indianapolis to beat the Cowboys (10-4) on Sunday. A Dallas win eliminates Philadelphia. A Dallas loss keeps a modicum of hope alive.
"I'm not going to throw a party and watch it," receiver Jeremy Maclin said. "I'm going to watch it at home."
The loss also knocked Philadelphia from the wild-card race.
Sanchez set an Eagles record with 37 completions in 50 attempts for a career-high 374 yards with two touchdowns to Riley Cooper, and tight end Zach Ertz set a franchise game record with 15 catches. But Sanchez lost a fumble for the third time this season and threw his 10th interception to put the Eagles' NFL-leading turnover tally at 36.
Chargers 38, 49ers 35: In Santa Clara, Calif., Nick Novak kicked a 40-yard field goal nearly 5 minutes into overtime after Philip Rivers rallied San Diego back from a 21-point deficit in the second half, keeping the Chargers' slim playoff hopes alive with a 38-35 victory over the San Francisco 49ers on Saturday night.
Rivers threw a tying 11-yard touchdown pass to Malcom Floyd with 29 seconds left in regulation after completing a pair of fourth-and-longs as the Chargers forced overtime.
Phil Dawson's 60-yard field goal attempt for San Francisco as regulation ended fell way short. Quinton Patton fumbled in overtime to set up San Diego's winning drive.
Rivers converted fourth-and-8 and fourth-and-10 on the key final San Diego drive of the fourth quarter.
The 49ers blew just their second game when leading by 21 or more at halftime. They lost 42-41 to Minnesota on Oct. 24, 1965, after leading 35-14 at halftime.
— — —
Detroit's most recent playoff appearance came during the 2011 season, when the Lions were a wild card and lost to New Orleans 45-28 in the postseason. Detroit has not hosted a playoff game since a loss to Green Bay on Jan. 8, 1994.
The Lions have not won a playoff game since 1991, and that is their only postseason win since 1957, when they won the NFL title.
Detroit lost six of its last seven games last season, blowing an excellent chance to make the playoffs under coach Jim Schwartz. The Lions then fired Schwartz and replaced him with Jim Caldwell, and they made the postseason this year on the strength of a tough defense that stifles the run.
Caldwell said Friday he would not rest his top players against Chicago even if Philadelphia won, and he said he wasn't even planning to watch the Eagles on Saturday.
"We have more important things going on for us at that particular point in time and that's to win," Caldwell said Friday.
———
Online: http://pro32.ap.org/poll and http://twitter.com/AP—NFL