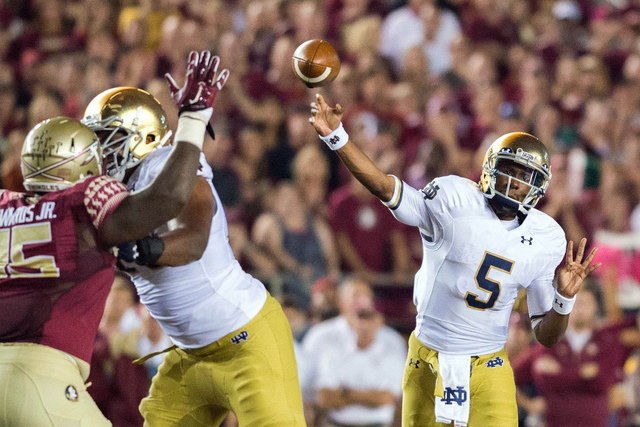 This isn't quite college football's version of "The Decision."
That's because former Notre Dame quarterback Everett Golson isn't truly a free agent, like LeBron James was when he chose the Miami Heat over the Cleveland Cavaliers in 2010.
Golson is more of a restricted free agent, and because this is college sports, that is hardly a surprising revelation. Athletes have rights, but they're far from unlimited.
So Golson can't go anywhere he chooses because Notre Dame has a say over his destination, and the Fighting Irish have crossed off the list any team on their schedule. They don't want Golson joining another team and then beating them.
Golson also faces a considerable obstacle if he decides to play for a Southeastern Conference school. The SEC has a rule against allowing transfers who have been disciplined by their university or athletic department. Golson was suspended in 2013 for cheating on a test.
He reportedly is interested in three SEC schools — Alabama, Florida and South Carolina, though Gamecocks coach Steve Spurrier has said Golson isn't coming.
But SEC rule or not, Golson most likely will end up at Florida State of the Atlantic Coast Conference. The Palm Beach (Fla.) Post reported Friday that he probably will announce his decision Monday.
The Seminoles make too much sense. They obviously have a championship program in place and need a quarterback after Jameis Winston, the 2013 Heisman Trophy winner, went No. 1 overall in this year's NFL Draft.
Maybe Golson, if he chooses Florida State, would have gone with the Seminoles even if he didn't have restrictions. But it isn't entirely his choice, and that's the problem.
He satisfied his commitment to Notre Dame by graduating from the university. That should end the school's say in what he wants to do with the final year of his athletic eligibility, even if it means playing for a rival team.
It's another reminder that as far as athletes have come in trying to increase their rights, they still have a long way to go.
■ COACH UNDER FIRE — Illinois coach Tim Beckman has been accused by former players of forcing them to play injured, with ex-offensive lineman Simon Cvijanovic leveling the first charges on Twitter last weekend.
Nick North, a former defensive back for the Illini, made similar claims in the university newspaper. The Daily Illini also interviewed former Toledo players who said Beckman ran the program under an atmosphere of intimidation.
Illinois athletic director Mike Thomas said in a conference call that the school's chancellor's office was looking into the accusations, but he expressed support for Beckman.
"We've reviewed our records, and certainly they don't match up with what Simon is saying," Thomas said.
Beckman also received support from a Twitter campaign, with current and former players using the hashtag #ProudIllini.
"Would not be the man I am today without lessons learned inside Memorial Stadium and for the coaches who taught them to me," wrote former Illinois offensive lineman Jack Cornell, who now is with the Oakland Raiders.
Unless something grievous is proven against Beckman and his staff, it's difficult to envision Illinois taking any serious actions. The player support on Twitter should go a long way in putting this matter behind Beckman, but this is another example about how times have changed in the football coaching world.
Coaches still can be tough and demanding, but now players also have a say, which isn't an altogether bad thing.
It means respect must go in both directions, something the best coaches — even those who are among the strictest — understand quite well.
■ PAYING IT FORWARD — When Florida athletic director Jeremy Foley flew to Fort Collins in December to try to hire Jim McElwain, Colorado State didn't simply give away its coach.
The Rams had a buyout in their contract with McElwain, and they were going to enforce it.
Or at least use it as leverage. The Rams got the Gators to agree to pay $7 million over the next six years.
Now Colorado State will use that money to provide a full-cost-of-attendance stipend for its athletes, money that is in addition to the basics of a scholarship. For Colorado State, it's $654,000 in extra money each year to its athletes.
Without the buyout money from Florida, coming up with those funds would have been difficult but still necessary. Because the power-conference schools will pay athletes the full cost of attendance, schools in the Mountain West and elsewhere must do the same or they'll get clobbered in recruiting.
Even if it breaks their budgets.
Contact Mark Anderson at manderson@reviewjournal.com or 702-387-2914. Follow him on Twitter: @markanderson65. He is first vice president of the Football Writers Association of America.