Raiders' focus is on NFL season, not potential move to Las Vegas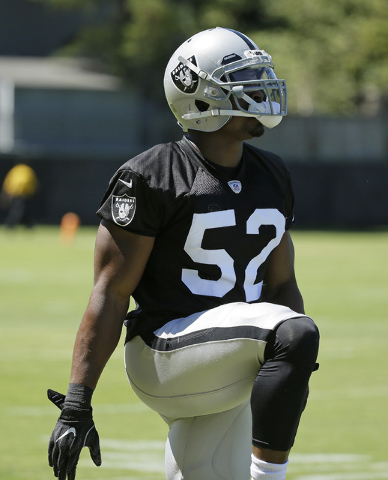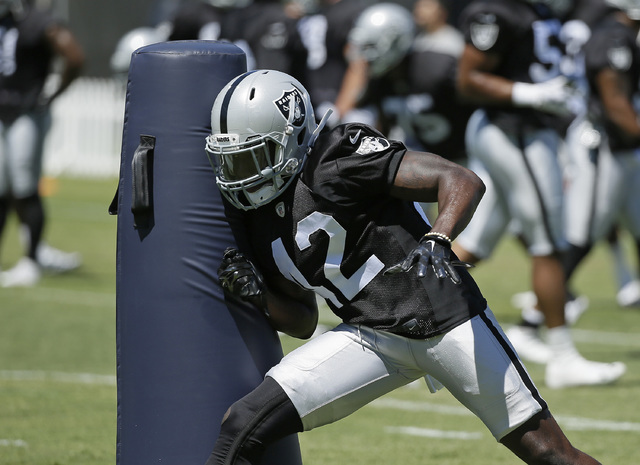 NAPA, Calif. — On the opening day of Oakland Raiders training camp, Khalil Mack predicted the future. But he was looking weeks and months, not a few years, down the road.
"I feel like we're in the midst of a great turnaround," said Mack, a Pro Bowl defensive end.
The Raiders, off a 7-9 season, are widely considered a team on the rise that is ready to reach the NFL playoffs. It's also a team that might be on the move to Las Vegas, and although that hot topic was drifting in the air on a sunny Friday afternoon, Mack tried to run around it as he would a pass-blocking left tackle.
"I hear some stuff, but you never know," Mack said. "As it is right now, we're in Napa, beautiful Napa, getting ready for the season."
The future of the Raiders includes Mack and quarterback Derek Carr, a pair of third-year stars, and it might include the bright lights of Las Vegas.
Raiders owner Mark Davis did not address the subject Friday, but his players are well aware of Davis' efforts to find a new home and his commitment to partially funding a 65,000-seat domed stadium near the Las Vegas Strip.
"We know we love Oakland, we love the city and we love our fans," Carr said. "If we were to go somewhere else, and that's Mr. Davis' plan, we're going to love them, too. It's all up to him.
"Obviously, I hear as much as you all do on ESPN and stuff. During the offseason you wonder, is it going to happen or is it not? Once football starts, it becomes really easy not to listen to it."
In late July, with practices in the morning and preseason games around the corner, players are studying playbooks, not following what happened at the latest Southern Nevada Tourism Infrastructure Committee meeting on Thursday.
The latest news is Las Vegas Sands, Majestic Realty and the Raiders continue to work together as development partners on a stadium project that will cost an estimated $1.7 billion to $2.1 billion. The public could be asked to contribute as much as $750 million in the form of a hotel room tax, and there are five potential sites under serious consideration.
"It's a very delicate topic when you're around the organization," said John Tournour, also known as JT The Brick, a Fox Sports Radio host and Raiders TV host who lives in Las Vegas. "But I think everybody understands how Vegas has been such a big part of the conversation for so long. When you come up here, people downplay it a bit. But believe me, they're talking about it."
Tournour, attending his 19th training camp with the team, has not promoted the Raiders' potential move to Las Vegas on radio, but he said he's becoming more convinced it could become reality.
"If you would have asked me six months ago, I would have said 20 percent," Tournour said. "If you ask me now, I would say 60, 70 percent.
"It's not difficult in Vegas to do a hotel tax and raise that type of money. You have one of the richest men in the world in Sheldon Adelson putting his money towards it. A lot of other casino owners seem to be on the same page. Unless something happens at the 11th hour in Vegas where the deal changes — that's the key here. I hope the deal doesn't change. I just hope that deals stays on track."
The NHL made the first move in June by awarding an expansion franchise to Las Vegas, and Tournour is convinced the city can support two major professional teams.
The fact that Dallas Cowboys owner Jerry Jones and New England Patriots owner Robert Kraft are publicly supporting Las Vegas as a future NFL city serves as a strong indication attitudes around the league are changing in Las Vegas' favor.
"We're at a point now where there's no more taboos in Vegas. People understand the gaming facet of it," Tournour said. "If there's a football team there, a hometown team, the fans are going to love it. But I believe that so many fans will travel in from around the country to sell out those games.
"If you have football in Jacksonville and in Green Bay and in Cleveland. … Vegas, to me, is a slam dunk. If there's one place that the Raiders can go to and be super successful, other than Oakland, it's definitely Las Vegas."
Jeff Hostetler, a former quarterback for the Raiders in Oakland and Los Angeles in the 1990s, attended the opening day of camp and said he hopes the franchise finds a new home somewhere in the Bay Area.
"It would be sad to see the Raiders leave," Hostetler said. "But business is business, that's the one thing you can be assured of, and sometimes that takes precedence."
It's up to Davis to deal with business, Hostetler said, while the players deal only with what happens between the lines.
"Me and Derek talk about this all the time," Mack said. "No matter where we go and no matter where we are, keep the focus on winning."
The Review-Journal is owned by the family of Las Vegas Sands Chairman and CEO Sheldon Adelson.
Contact reporter Matt Youmans at myoumans@reviewjournal.com or 702-387-2907. Follow on Twitter: @mattyoumans247