Ravens draft Bishop Gorman product Ronnie Stanley with sixth pick of NFL Draft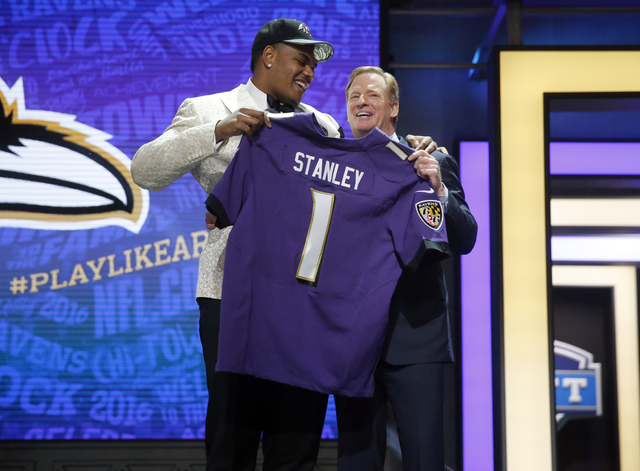 After playing for one of college football's most storied programs, former Notre Dame left tackle Ronnie Stanley made history of his own Thursday in the first round of the NFL Draft at Chicago's Auditorium Theatre.
Stanley was selected with the No. 6 overall pick by the Baltimore Ravens, making the Bishop Gorman High School product the highest NFL Draft pick ever from Las Vegas.
Before Stanley, former Bonanza High School running back Gerald Riggs — a three-time Pro Bowler and Super Bowl champion — was Las Vegas' highest pick, drafted ninth overall in 1982 by the Atlanta Falcons.
"That's very humbling and a priceless feeling," Stanley said in a short phone interview. "It's the accumulation of all the hard work I put in through the years and all the sacrifices I made."
The 6-foot-6-inch, 312-pound Stanley is the Fighting Irish's first top-10 pick since 1994, when defensive tackle Bryant Young was drafted seventh overall by the San Francisco 49ers. He's also Notre Dame's highest pick since 1993, when quarterback Rick Mirer went No. 2 to the Seattle Seahawks.
"I'm definitely very happy. It's a big day in my life," Stanley said. "I've come a long way, going to Notre Dame and now I'm going to earn my degree. It's a very happy moment."
A consensus All-American and three-year starter for the Irish, Stanley returned to South Bend, Indiana, for his senior year to try to win a national title and earn his business degree.
He will graduate from Notre Dame on May 15, fulfilling a promise he made to his mother, Juli, who was in Chicago for the draft with the rest of Stanley's family, including younger brother, Robert, a Gorman graduate and Fresno State junior linebacker.
Stanley's entire family is athletic. Both his parents played sports in college — with his father, Ron, a football player at Tuskegee and his mother a basketball player at UCLA — and his younger sister, Gorman senior Raychel Stanley, is committed to play basketball at Loyola Marymount.
Ronnie Stanley played four years of basketball for Gorman and said the sport helped improve his agility on the football field.
"That definitely played a big part in why my feet are so versatile and I have the lateral movement that I do," he said.
Long ranked as the No. 2 offensive lineman in the draft behind Mississippi's Laremy Tunsil, Stanley's stock rose in recent days, but he said he didn't expect to be picked ahead of Tunsil.
"No, we're both good players, and whichever team gets Tunsil is getting a great tackle as well," Stanley said. "It could've gone either way. The Ravens decided to go with me, and I'm going to be the best player I can for the organization."
A video was posted on Tunsil's Twitter account minutes before the draft began that appeared to show him smoking from a bong, and the left tackle — once projected as the No. 1 overall pick — plummeted to the 13th pick to the Miami Dolphins.
As expected, quarterbacks Jared Goff and Carson Wentz went to the Los Angeles Rams and Philadelphia Eagles with the first two picks. As draft analyst Mike Mayock predicted on the NFL Network that the Chargers would take Stanley with the third pick, San Diego instead selected Ohio State defensive end Joey Bosa.
The Dallas Cowboys drafted Ohio State running back Ezekiel Elliott at No. 4, and the Jacksonville Jaguars snagged Florida State defensive back Jalen Ramsey at No. 5.
The Ravens, making their earliest pick since 2000, selected Stanley 20 years after they used their first-ever draft pick, No. 4 overall in 1996, on UCLA offensive tackle Jonathan Ogden, a longtime Las Vegas resident who was inducted into the Pro Football Hall of Fame in 2013.
Stanley said he had no idea Baltimore was going to draft him until his phone rang shortly before the selection was announced.
"I didn't know until they called me," he said.
The Ravens are hoping Stanley will be an upgrade at left tackle, where injury-plagued veteran Eugene Monroe has missed 15 games the past two seasons.
"I'm very excited. It's a great organization to be a part of," Stanley said. "(They're getting) a great athlete, a competitor and a winner."
Stanley, whose Twitter handle is "Rico Suavee," was decked out in a white tuxedo and white shoes with gold studs, prompting the NFL Network to tweet a photo of the shoes, posting "That's some sweet feet."
UNLV coach Tony Sanchez, who coached Stanley on three straight state title teams at Gorman, said he became emotional watching his former player get drafted.
"I definitely shed a tear, just to be a little part of the journey and knowing him and the person he is," Sanchez said. "He's a great kid, a hard worker and an extreme competitor."
Contact reporter Todd Dewey at tdewey@reviewjournal.com or 702-383-0354. Follow him on Twitter: @tdewey33