Real 'Rudy' shares life story in one-man show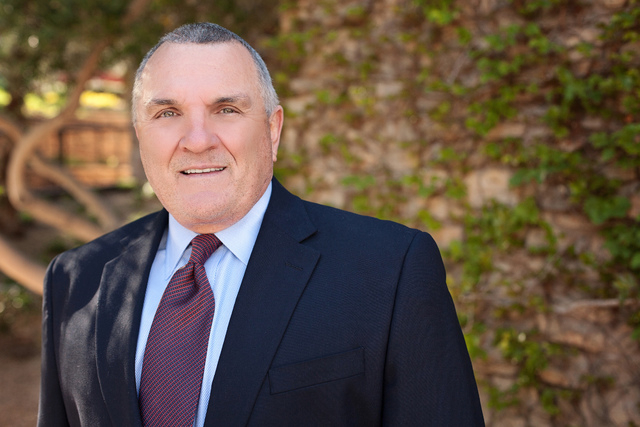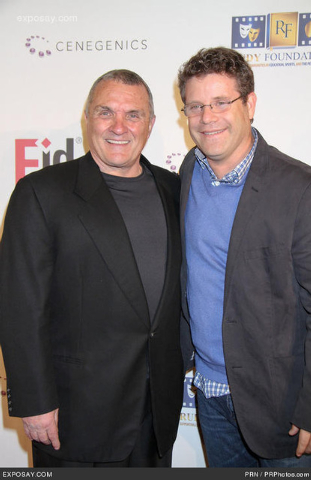 "You're five feet nothin,' a hundred and nothin,' and you got hardly a speck of athletic ability. And you hung in with the best college football team in the land for two years. And you're also gonna walk outta here with a degree from the University of Notre Dame. In this lifetime, you don't have to prove nothin' to nobody except yourself."
— Fortune (Charles Dutton) in "Rudy" (1993)
One of the most inspirational sports movies ever, "Rudy" is based on the true story of Daniel "Rudy" Ruettiger, an undersized underdog who refused to let anything stop him from realizing his ambition of attending Notre Dame and playing football for the Fighting Irish.
The effort it took to get "Rudy" made was even more inspiring than the movie, Ruettiger said.
"You had to struggle with Notre Dame and Hollywood. You had to bring the giants together," said Ruettiger, 65. "You can't go to Notre Dame with your hands out and say, 'Hey, give me $25 million to make the movie, plus we want to use the campus and create your image.' Are you kidding me?"
Before the walk-on finally dressed for a 1975 game for the Irish, Ruettiger studied hard for two years at nearby Holy Cross College to earn admission to Notre Dame and toiled another two years on the practice squad.
But it took more than a decade to get the movie made.
Ruettiger will share his improbable life story — including his quest to make the film and the impact it has made on people — in the debut of his one-man show, "Voices of Rudy: The Journey to the Movie," on Saturday at The Smith Center's Troesh Studio Theater.
"It's about the dream. It's not about football," said Ruettiger, who has lived in Henderson since 1995 and has worked as a motivational speaker for 20 years. "We just thought it was important to deliver this message of hope."
Ruettiger first considered putting his story on the silver screen in 1976 after he saw "Rocky."
However, he didn't really embark on his movie quest until Jan. 10, 1982, when Joe Montana connected with Dwight Clark on "The Catch" to carry the San Francisco 49ers over the Dallas Cowboys in the NFC Championship Game.
When Ruettiger told the guy watching the game next to him that he'd played with Montana, the man was incredulous — "You played at Notre Dame?"
"I said, 'Yeah,' and the guy's kind of laughing at me," Ruettiger said. "I said, 'Dude, I played.' Because the guy didn't want to believe me.
"But he taught me a lesson — what did you do to get there? That's when it kicked in and my movie came together. Now, I've got to go out and sell it. That was the challenge."
Ruettiger pitched his movie idea to Sylvester Stallone's office but was turned down in what was among the first of countless rejections from Hollywood.
Working as an insurance salesman and car dealership manager in South Bend, Ind., in the mid-1980s, Ruettiger told his story to anyone who'd listen, including the Fighting Irish football coaching staff, which included Barry Alvarez and Skip Holtz, who was his neighbor.
"Every Thursday night, all the coaches would come to Skip's house on the deck and I would tell them the 'Rudy' story," he said. "They loved it and the more I told them the more inspired I got."
But the school's hierarchy — which hadn't allowed a movie to be shot on campus since the 1940 classic "Knute Rockne, All-American" — wasn't interested.
"They were like, 'Rudy, are you kidding me? We've got our movie. What do we need you for? Plus, you're not our type of candidate,'" he said. "Once I got turned down so many times by Notre Dame — they basically said, 'Don't talk to us any more about this movie idea' — I basically said, 'It's over.'
"Notre Dame's saying no. Hollywood's saying no. What am I doing? You don't quit. You just put it on pause."
After watching "Hoosiers" in 1986, Ruettiger decided to track down the film's creators — screenwriter Angelo Pizzo and director David Anspaugh — and convince them to make his movie.
A few years later — after being fired from the car dealership because of his consuming passion for his movie — Ruettiger met a hotel manager whose brother had been fraternity brothers with Pizzo and Anspaugh at Indiana University and worked with them on "Hoosiers."
"I told him my story. He got passionate about it and he said, 'I'm gonna call Angelo,'" Ruettiger said.
Pizzo agreed to meet with Ruettiger, but then blew off the meeting.
"I'm in this restaurant in Santa Monica (Calif.) waiting for three or four hours," Ruettiger said. "My buddy tells me, 'I don't think this guy's gonna show up.' I didn't want to hear that."
Undeterred, Ruettiger struck up a conversation outside the restaurant with a mailman, who liked his story so much he showed him where Pizzo lived.
"Angelo answers the door and says, 'How'd you find me?' I said, 'Never mind, you're late for lunch,'" Ruettiger said. "He says, 'I don't want to do another Indiana sports movie. I don't want to be labeled out here. Besides, I hate Notre Dame. I said, 'At least come to lunch with me.'"
They talked for three or four hours and Ruettiger came away thinking "He's going to write this screenplay."
Although Pizzo was dead set against doing the movie, the persistent Ruettiger stayed in touch — so often that Pizzo recently told Sports Illustrated he turned him down 40 or 50 times.
"I wouldn't give up on him," Ruettiger said.
Anspaugh, meanwhile, always liked the idea and mentioned it to producer Rob Fried, who was convinced he could sell it to then Columbia Pictures president Frank Price — a former walk-on football player at Michigan State who had told Fried one of the biggest disappointments of his life was not getting into Notre Dame.
The next day, Anspaugh pitched the movie to Price, who bought it on the spot.
Pizzo finally agreed to write the script and finished in three months. But there was still the matter of getting around Notre Dame's ban on movie shoots, because Pizzo and Anspaugh wouldn't make the film if they couldn't shoot on campus.
Enter Father William Beauchamp, the university's executive vice-president, who agreed to read the script only because Pizzo and Anspaugh hailed from Indiana and had made "Hoosiers," which he loved.
Beauchamp made an exception to the school rule — telling Pizzo, "This movie captures the passion and love of Notre Dame." The rest is movie history.
Since its 1993 release, the film has inspired countless people, including former U.S. president Bill Clinton, who invited Ruettiger to the White House for a private screening of "Rudy."
Ruettiger has lost count of how many times he's seen the movie, but said he still cries every time he watches it.
"How can you not get emotional in a movie like 'Rudy?' Unless you don't have a heart," he said. "I've seen guys in prison break down and cry when they see 'Rudy.'"
Ruettiger and local producer Tony Sacca hope the one-man show is as inspiring as the movie.
"When you see this, you're going to connect and relate to what I've been through," Ruettiger said. "There's only one Joe Montana, but there's millions of Rudys."
Contact reporter Todd Dewey at tdewey@reviewjournal.com or 702-383-0354. Follow him on Twitter: @tdewey33.
PREVIEW
What: "Voices of Rudy: The Journey to the Movie"
Where: Troesh Studio Theater, The Smith Center
When: 7 p.m. Saturday, Aug. 9
Tickets: $34-$39; 702-749-2000, www.thesmithcenter.com