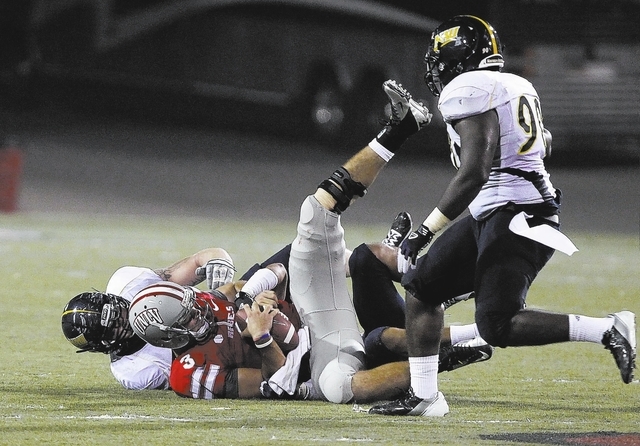 UNLV football coach Bobby Hauck shouldn't have any problem getting his players' attention this week even with a lower-level opponent rolling into town.
That's because the Rebels have experienced enough pain the past two seasons with losses to Southern Utah in 2011 and Northern Arizona last year to know they can't overlook a Football Championship Subdivision school.
FCS member Western Illinois (2-1) plays UNLV (1-2) at 6 p.m. Saturday at Sam Boyd Stadium. The Rebels are 11½-point favorites.
"Our main focus is becoming a good football team, so we have to work to improve," Hauck said. "It really doesn't matter who the other team is, we have to go play our best game in order to get the win. That's where we are."
UNLV was a 13-point favorite when it hosted NAU last season. The Rebels appeared in good shape in taking an early 14-0 lead, but a failed UNLV fake field-goal attempt and a 75-yard punt return for a touchdown by NAU allowed the Lumberjacks to get back into the game. They went on to beat UNLV 17-14 on a 33-yard field goal with 12 seconds left.
The Rebels were 11½-point favorites over visiting Southern Utah, but UNLV quarterback Caleb Herring had three interceptions returned for touchdowns in a 41-16 defeat.
"Two years ago, I'm not sure Southern Utah wasn't better than us," Hauck said. "They were a senior-laden team, and they were good."
This has been a season of surprises for FCS teams.
North Dakota State opened the season with a 24-21 victory at Kansas State, and Eastern Washington beat Oregon State 49-46. Those were two of eight victories by FCS schools over their big brothers in the opening week, and two more have followed.
Mountain West teams haven't been immune, either. San Diego State was embarrassed 40-19 at home by Eastern Illinois.
UNLV doesn't want to join the Aztecs, and the Rebels certainly don't want a repeat of what they experienced the past two seasons against FCS teams.
"It doesn't matter if we're playing Alabama or any team," linebacker Tim Hasson said. "We're not going to take anybody for granted and will prepare for every opponent we have the best we can because we know they've got good players just like us. We can't afford to back off."
THREE-STEP DROP
■ UNLV will try to win consecutive games for the first time under Hauck, who is in his fourth season. The last time the Rebels won back-to-back games occurred toward the end of the 2008 season under coach Mike Sanford, beating New Mexico 27-20 and Wyoming 22-14.
■ Western Illinois created nine takeaways in its season-opening 42-9 victory over Hampton. Two of the Leathernecks' six interceptions were returned for touchdowns, and one of the three fumbles was brought back for a TD. The game was fairly even statistically, with Western Illinois owning a 262-247 edge in yardage.
■ Two-for-one tickets are for sale, and a free kids festival begins at 4 p.m. Saturday at the Rebel Experience. Also, the UNLV men's and women's basketball teams will be available for autographs and photos at about 4:30 p.m.
FOR THE RECORD
■ Tim Cornett moved up to third on the Rebels' rushing chart and has 2,685 yards. Dominique Dorsey is second with 2,834 yards from 2001 to 2004.
■ UNLV is first in the Mountain West and seventh nationally in pass-efficiency defense, allowing an 87.8 rating.
■ Devante Davis leads the conference with 100.3 yards receiving per game.
INJURY REPORT
POS.PLAYERAREASTATUS
DBSidney HodgeArmOut
FBMax JohnsonLegOut
OLAlex NovoselBackOut
KNicolai BornandLegQuestionable
LBIggy PorchiaLeg Questionable
Contact reporter Mark Anderson at manderson@reviewjournal.com or 702-387-2914. Follow him on Twitter: @markanderson65.