Redskins coach: RG3 needs time to learn offense
November 27, 2014 - 10:13 am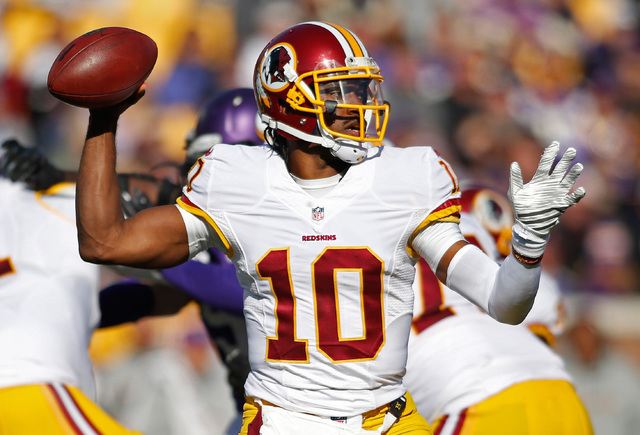 WASHINGTON — The Redskins plan to start quarterback Colt McCoy over Robert Griffin III on Sunday against the Indianapolis Colts.
Washington coach Jay Gruden told Colts reporters on a conference call that Griffin "just needs a little more time" to master the team's offensive scheme.
Griffin's benching is the latest development in a stunning slide for the 2012 NFL Offensive Rookie of the Year. The Redskins are 0-3 since Griffin returned from an ankle injury and have scored only one touchdown in each of the last two games.
Other news on starting QBs this Sunday:
— Ryan Fitzpatrick is getting a second chance to be Houston's quarterback on Sunday at Tennessee with Ryan Mallett out for the season with a chest injury.
Coach Bill O'Brien said the team wasn't sure if Mallett would need surgery. Mallett was placed on season-ending injured reserve.
Fitzpatrick started the first nine games before being benched during the bye week in favor of Mallett, who went 1-1 as the starter.
— The New York Jets announced that Geno Smith will start at quarterback over Michael Vick against the Miami Dolphins on Monday night.
Vick started the Jets' past three games, but struggled against Buffalo before being replaced by Smith in a 38-3 loss in Detroit.
Smith, in his second season, last started on Oct. 26 in a 43-23 loss to the Bills in which he threw interceptions on three consecutive possessions and was benched.