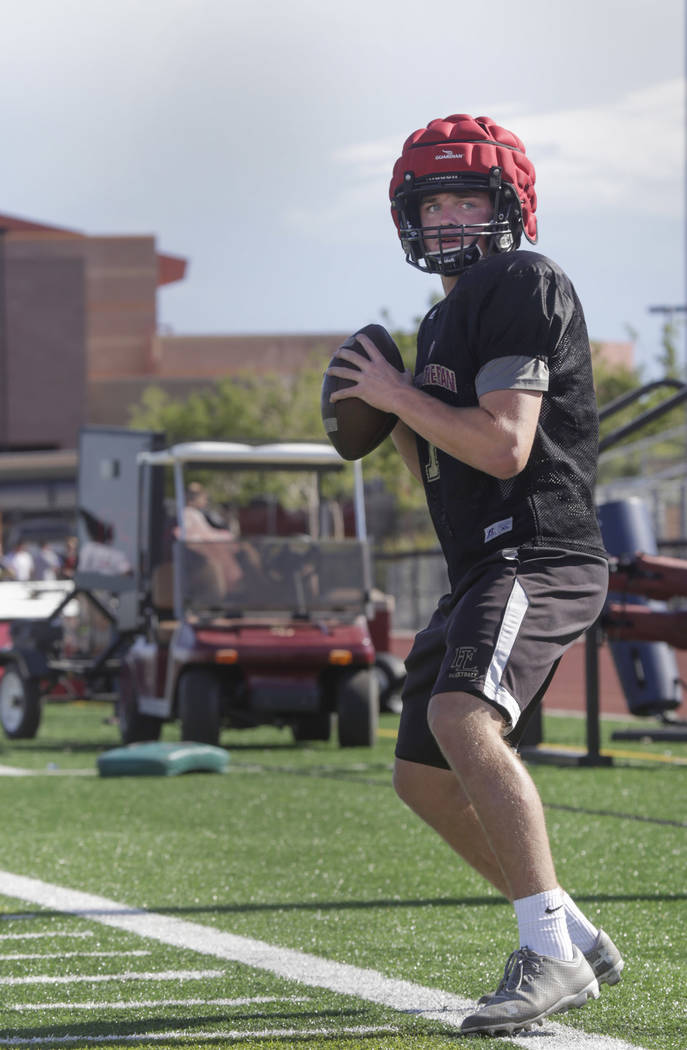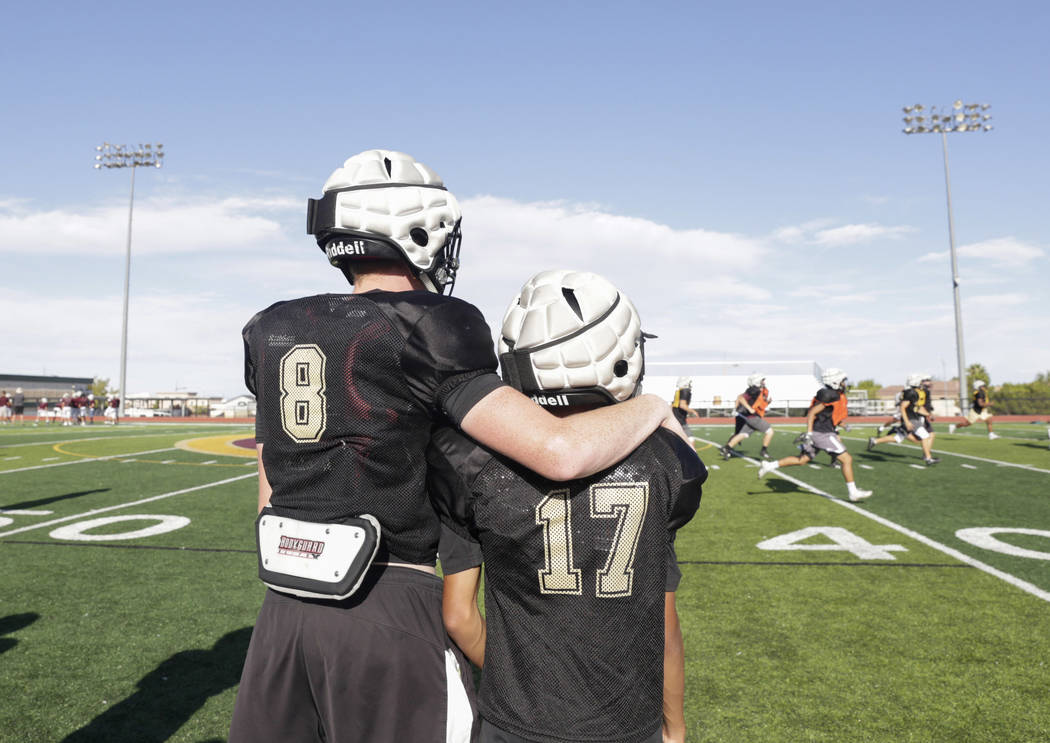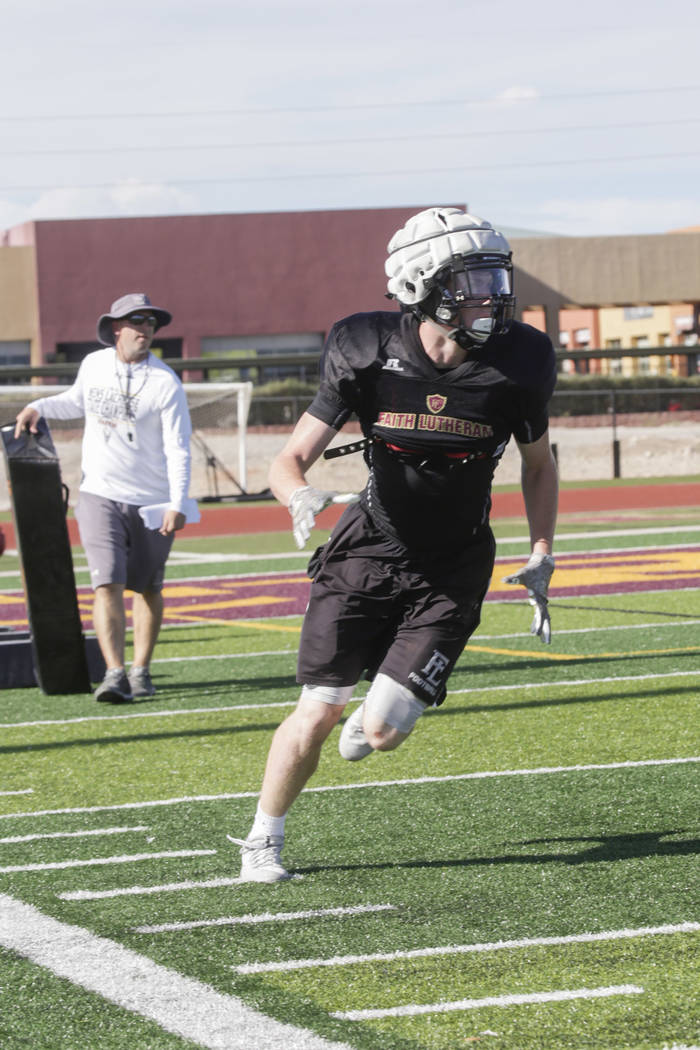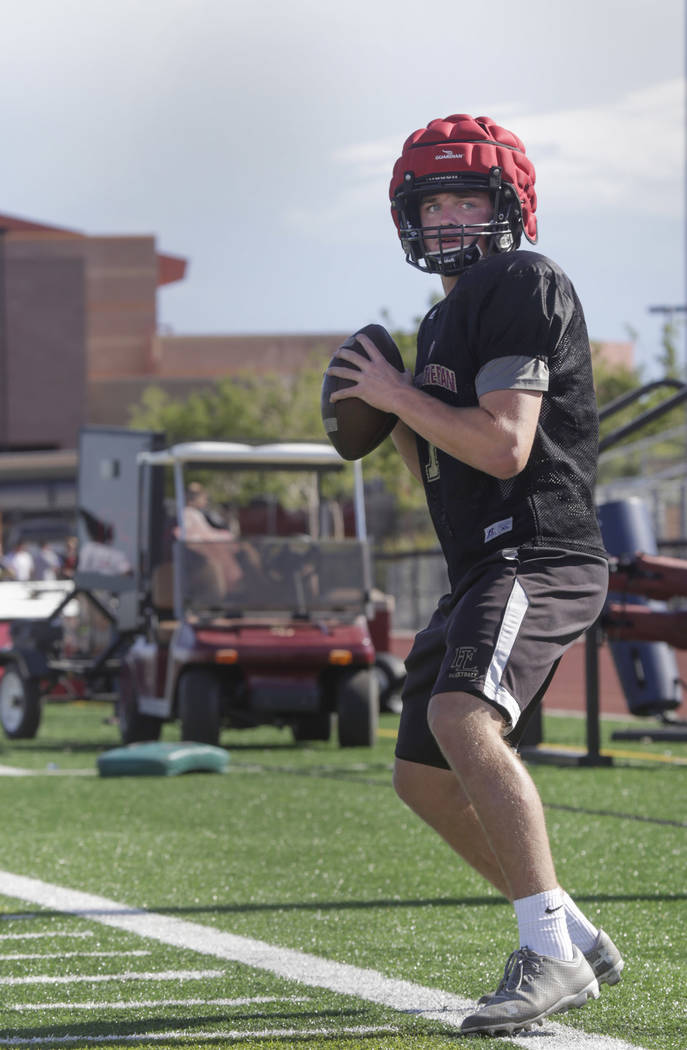 Faith Lutheran football coach Vernon Fox has plenty of reasons to be optimistic about his team's prospects.
One of the biggest is the return of quarterback Sagan Gronauer.
Gronauer gives the Crusaders something they haven't had during Fox's tenure: An experienced, returning quarterback.
"This is the first year that we legitimately came back with a returning starter (at quarterback)," said Fox, in his fifth season as head coach. "Every year prior to that it was kind of a juggle game between the quarterbacks and splitting reps and trying to wait for a guy to solidify himself as the guy. Sagan really put that to sleep early and gave us the chance to really trust him."
Gronauer wasn't supposed to be the starter last season as a sophomore, as Fox expected to move running back Christian Marshall to the position.
But Gronauer took advantage of early opportunities, allowing Marshall to move back to running back where he topped 1,000 rushing yards as a senior.
"You've got a kid in Sagan Gronauer who is still young, he's a junior, but he's been around with us for a couple of years and had a good sophomore campaign," Fox said. "And we just feel like his growth and maturity at the position and understanding and how he's commanding things really has been a great benefit to us."
Gronauer passed for 1,731 yards and 16 touchdowns with six interceptions last season. He and the Crusaders finished strong after a 1-3 start, winning four of their final five regular-season games to claim the Northwest League's No. 2 playoff seed.
"For me, I'm humbled because it's just like a process and it took time," Gronauer said. "And this process ends in ultimately, hopefully, a state championship at the beginning of December."
Not only does Gronauer return, but so does his favorite target, senior wideout Elijah Kothe. The 6-foot-4-inch Kothe caught 55 passes for 1,053 yards and 10 TDs last season and has committed to play at San Diego State.
"Elijah, he's the real deal," Fox said. "I tell people that all the time. I've been around a lot of football, and some of the things that he does, he puts you in a quandary. Because he has the speed, which is deceptive, a tall rangy guy like that, he can really open up and run. So he can beat you over the top, but at the same time when you get overly aggressive with him, he can be physical but beat you on the back shoulder, too. His versatility is the thing that separates him."
Gronauer is excited to be able to throw to Kothe. He's also excited for the team's season opener at Valor Christian in Highlands Rancho, Colorado, at 6:30 p.m. on Friday. The Eagles have won seven state titles since 2009.
"This trip is very important for us," Gronauer said. "Going out there and competing against the best team in Colorado for the past couple of years, it's just a great way to put our team on the map and get ready for the new season."
Contact prep sports editor Damon Seiters at dseiters@reviewjournal.com or 702-380-4587. Follow @DamonSeiters on Twitter.