San Diego voters reject Chargers' stadium funding
November 8, 2016 - 10:33 pm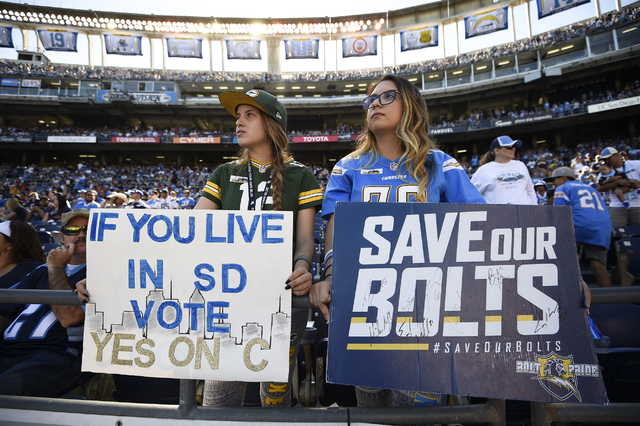 San Diego voters have spoken, and too few are in favor of public funding for a new football stadium. The next move will be made by Chargers owner Dean Spanos.
In the end, Spanos might choose not to move at all and keep his NFL franchise in San Diego, but the news he just received was not encouraging.
Ballot Measure C, an initiative asking the public to approve a net 4 percentage-point increase in hotel room taxes that would provide $1.15 billion in funding for a proposed $1.8 billion downtown football stadium and convention center, was projected to fall way short of the two-thirds supermajority (67 percent) needed to pass as votes were counted Tuesday night.
Early election results posted in San Diego showed 38.8 percent voted in favor of the Chargers' stadium measure, with 16 percent of the precincts reporting.
The Chargers' future is linked to Las Vegas' pursuit of an NFL franchise, a saga that will extend into 2017.
In an interview with Fox5SanDiego.com before Election Day, Spanos said, "I'm really looking at the support we're going to get or not get. If we get 30 or 35 percent voter approval, that will tell me something. If we get 55 to 60 percent, that's pretty compelling. That will tell me something else.
"I've always said that this is where we want to be. I think the Chargers should be in San Diego."
With a stadium financing bill in Las Vegas secured, Oakland Raiders owner Mark Davis plans to file for relocation in January, with the Raiders requiring 24 of 32 owners to vote in favor of their move.
In January 2016, when NFL owners approved the Rams' relocation from St. Louis to Los Angeles, the Chargers were granted a one-year option to move in with the Rams. The option expires Jan. 15, but a clause in the deal could allow the Chargers to extend their L.A. option to January 2018.
With the Chargers' stadium proposal failing at the polls, it's unclear if the team will get an extension from the owners. If not, the rights to L.A. shift to the Raiders. If the Raiders do not remain in Oakland, and their Las Vegas move falls through, the Chargers could eye Las Vegas as a potential home.
The Review-Journal is owned by the family of Sheldon Adelson, chairman and CEO of Las Vegas Sands Corp., who are partners with the Raiders in the Las Vegas stadium project.
Contact reporter Matt Youmans at myoumans@reviewjournal.com or 702-387-2907. Follow @mattyoumans247 on Twitter.