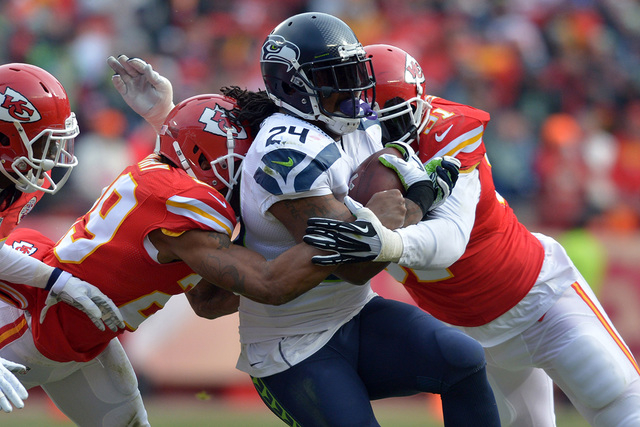 Seattle Seahawks running back Marshawn Lynch has been $100,000 for not talking to the media following Sunday's loss to the Kansas City Chiefs.
Lynch quickly dressed and left the team's locker room after the 24-20 loss. He walked away when reporters asked to speak to him. He later did a phone interview with the NFL Network.
Lynch was warned by league officials last week that he was subject to the fine if he didn't talk to the media after Sunday's game. This is Lynch's third violation of the policy.
Here is Wednesday's statement from the NFL:
"Marshawn Lynch has been fined $50,000 for violating the NFL Media Policy. In addition, the league will collect the $50,000 fine that was imposed following violations of the media policy during the 2013 season but held in abeyance in anticipation of future cooperation.
"The NFL Media Policy mandates that players must be available to the media during the practice week at the team facility and in the locker room following all games."
Player fines collected by the league are donated through the NFL Foundation to assist former players in need via the NFL Player Care Foundation and the NFLPA's Player Assistance Trust.