Seahawks' Sherman will let left elbow heal instead of surgery
February 10, 2015 - 11:06 am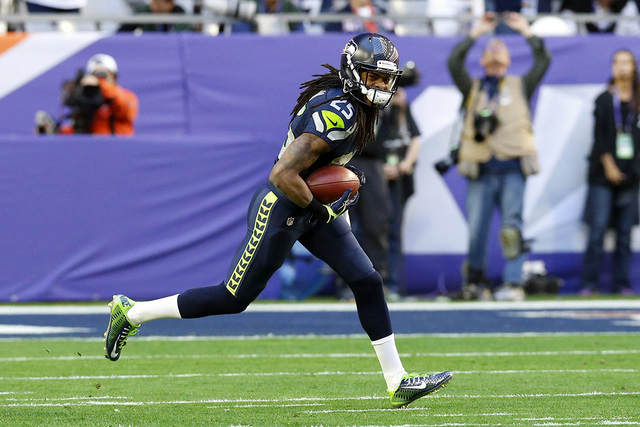 Seattle Seahawks cornerback Richard Sherman reportedly will not have Tommy John surgery on his left elbow, opting instead to let it heal.
Dr. James Andrews advised Sherman to let the elbow heal, ESPN's John Clayton reported Monday. Andrews is expected to re-examine Sherman's elbow in a month.
Sherman suffered torn ligaments in the elbow during Seattle's 28-22 overtime win over the Green Bay Packers in the NFC Championship Game on Jan. 18. He played in the Super Bowl, with a sleeve over the elbow.
Coach Pete Carroll initially said Sherman would have surgery, but he told 710 ESPN last Tuesday that he might not need it.
"He's not a pitcher, and he's not a left-hander. Sherm might not have to have that kind of surgery," Carroll said. "If he was a thrower he would."
Sherman was one of four Seattle defensive backs who suffered serious injuries in January.
Safety Earl Thomas played through a separated shoulder and torn labrum, which he also suffered against Green Bay. He reportedly will have surgery soon and is expected back in time for the 2015 season.
Safety Kam Chancellor, already playing on a bad hip and ankles, suffered a knee injury on the last play of the Seahawks' last practice before the Super Bowl. An exam revealed a torn MCL, but he still played in the Seahawks' 28-24 loss to the New England Patriots.
Also, cornerback Jeremy Lane suffered a gruesome broken wrist in the first quarter as he returned an interception.