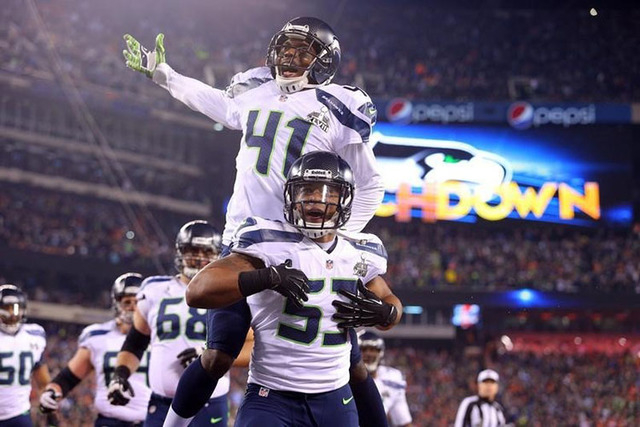 And so the road to a repeat begins for the Seattle Seahawks.
Only, the Seahawks say that one of the keys to having gotten in this position — holders of the No. 1 seed in the NFC playoffs — is that they decided to stop thinking about having won last year and repeating, and focusing on simply winning this year's Super Bowl.
"It's a new year to try to prove ourselves," said quarterback Russell Wilson.
That it is about themselves has also been a theme of the week in Seattle, where the Seahawks are as much as an 11-point favorite against the Carolina Panthers, who sneaked into the playoffs with a 7-8-1 record to win the NFC South and then beat Arizona in the wild-card round, 27-16.
That has many around the NFL viewing the Seahawks as having already just about punched their ticket to the NFC title game next week.
But the Seahawks may be warier than most about the Panthers based on three tough games played against Carolina the last three seasons.
The teams have somewhat oddly played each of the last three years in Carolina, and each game had a similar feel, with Seattle winning defensive struggles that went down to the final minutes — 16-12 in 2012, 12-7 in 2013 and 13-9 earlier this season.
"A really rough, rugged football game and we were very fortunate to get the win," said Seattle coach Pete Carroll of this year's game.
That game came on Oct. 26 when each team was in the midst of a mid-season swoon. Seattle had lost two in a row heading into that game for the first time since 2012 while the Panthers were in the middle of what became a seven-game winless streak.
But each team righted its ship late in the year and enter the playoffs as two of the hottest teams in the NFL — Seattle has won six in a row and Carolina five in a row.
While Seattle mostly got healthy, and also credits some team meetings held after a loss to Kansas City as getting it back on track, the Panthers made some substantial personnel changes on the offensive line and in the secondary that have made a marked difference.
"They have done a similar turnaround that we feel like we did at mid-year," Carroll said. "We know that there is a lot of value in that and the motivation that comes from playing like that and performing like that."
Seattle comes in riding a streak of historic defense having allowed just 39 points in the last six games — the fewest in a six-game season-ending stretch since the 1976 Steelers.
And the offense rediscovered its identity down the stretch to finish with the most rushing yards for any team in the NFL since 2006.
That running game and defense formula is one that the Seahawks think can again work well in the playoffs.
SERIES HISTORY: 9th overall meeting. The teams have played seven times in the regular season and once in the playoffs, with the Seahawks holding a 6-2 edge overall. Seattle beat Carolina 34-14 in the 2006 NFC Championship Game at CenturyLink Field and has also won all four games it has played against the Panthers since Pete Carroll became coach in 2010. That includes wins in each of the last three seasons in Charlotte, capped by a 13-9 win there on Oct 26.
MATCHUPS TO WATCH
—Seahawks MLB Bobby Wagner vs. Panthers QB Cam Newton: Seattle's biggest fear in this game is Newton's legs. But they have never really let him get going in the meetings the last three years as he has had 104 yards on 24 carries — 42 on seven in the first game he played against Seattle in 2012. Wagner tends to draw the main responsibility for shadowing mobile quarterbacks such as Newton and Colin Kaepernick and will be key in that effort again.
—Seahawks C Max Unger vs. Panthers DT Colin Cole: Cole, who played for the Seahawks in 2009-10, will likely get the start for the Panthers with Star Lotulelei out with a foot injury. Unger, meanwhile, will play for the first time since Nov. 16 at Kansas City — a span of six games — while dealing with ankle and knee injuries. The six games Unger has played this season for the Seahawks, though, have been among the most productive for the Seattle offense. Unger and Cole played together in Seattle in 2009-10 so there will be some familiarity there.
—Panthers LB Luke Kuechly vs. Seahawks RB Marshawn Lynch: Kuechly, the top vote-getter at middle linebacker for the AP All-Pro Team, will have his hands full with Lynch, who made it through a sometimes punishing season without missing a game and will come back fresher than he has been in a while after the bye week. There seems no way the Panthers can win this game if Lynch runs wild. Carolina has kept that from happening in previous games against the Seahawks the last three years. But a home playoff game could ramp up Beast Mode.
—Panthers WR Kelvin Benjamin vs. Seahawks CB Richard Sherman: Benjamin had a solid game against Seattle earlier this season with four catches for 94 yards, including a 51-yarder that he caught in between Sherman and safety Earl Thomas that set up a late Panthers field goal that gave them a 9-6 lead before Seattle rallied in the final minutes. Sherman has spoken highly ever since of Benjamin, who at 6-5, 243 is a rare receiver who seems to tower over Sherman. But expect Sherman to want to show who the veteran is this time around.