Sierra Vista aims to stop Mojave's Flanagan
September 18, 2014 - 8:27 pm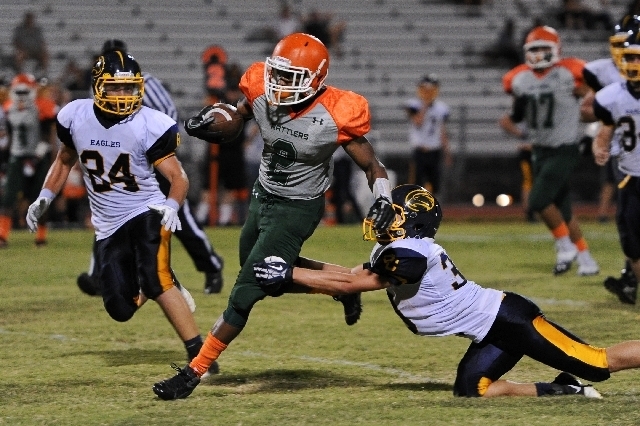 Mojave football coach Joe Delgado was standing at practice, talking about the health of the players on his thin roster.
He said the team was getting closer to full strength, although a few players were still out with injuries. But one Mojave player, perhaps the most important one, is injury free and ready to go as the Rattlers (3-0, 1-0 Sunset League) travel to Sierra Vista (3-0, 1-0) at 7 p.m. today.
"We've got a healthy Ty Flanagan, so that's always a good thing," Delgado said.
Flanagan, a senior running back, leads the area with 649 yards rushing and has averaged 16.2 yards per carry this season.
Flanagan was a first team all-state pick as a junior, but he's already more than halfway to last season's total of 1,213 yards.
"He's been working out since November of last year," Delgado said. "And he's only gotten bigger and stronger. With the way Sierra Vista's talking, it's kind of motivated Flanagan a little bit, and he's pumped up and ready to go."
It took Flanagan nine carries to rush for 252 yards and three touchdowns last week against Pahrump Valley. That game included the second 99-yard run of his career. His other touchdown runs were 35 and 53 yards as he showcased his big-play ability.
"It all starts with my line making the blocks," Flanagan said. "I've been becoming a better runner with hitting the holes harder, and I've increased on my speed. With them blocking, it allows me to get more open and use my speed and my ability to break them for TDs."
Flanagan said getting faster was a huge focus in the offseason.
"Through the whole summer, that's all I did," Flanagan said. "After practice, I speed trained. In the morning, I'd wake up, speed train. Worked out, speed train. I worked out about five times a day."
There's no arguing with the results, but Mojave may need more contributors against Sierra Vista, which has outscored opponents 154-38. The Mountain Lions have showcased a big-play defense, returning four interceptions for touchdowns last week in a 64-0 win over Western.
Randal Grimes has four interceptions and has returned three for touchdowns. Andrew Peterson has added two interception returns for TDs.
"They're very disciplined," Delgado said. "They've got some great athleticism. Not to take away too much from their defense, but they haven't gone up against a lot of strong offensive teams, either. Nonetheless, they're a great defensive team."
Quarterback Zack Arave is back for his third year as Mojave's starter and is a weapon with his arm and legs. And Delgado said players such as Davion Fletcher and Elijah Smoot also are offensive weapons for the Rattlers.
"I heard they're saying if they can hit Flanagan a couple times that we can't throw on them," Delgado said. "And Arave obviously has taken offense to that, so we plan on letting loose with the ball a little bit and showing them that we can throw the ball.
"They've got to remember that we don't only have Flanagan. We've got a lot of other weapons on the offensive side of the ball. It's not just a one-man show … although statwise, it is."
While the focus may be on Sierra Vista's defense stopping Flanagan and the Rattlers, the Mountain Lions have plenty of big-play threats of their own, led by running backs Maliek Broady and Peterson.
Broady has rushed for 370 yards and four TDs on just 30 carries, and Peterson has 23 carries for 231 yards and four TDs.
"Sierra Vista's a great team, so we're looking to have a great game this week," Flanagan said. "With all the great talent they have with Maliek Broady and all the other contributors they have to their team, it should be a good game."
Defensive lineman Dai'jon Payno said he is confident the Rattlers can control Sierra Vista's offensive threats.
"If we come out here and practice hard and prepare for those guys like we would for anybody, just going 100 percent, it should be no problem containing them or stopping them this upcoming week," Payno said.
Contact prep sports editor Damon Seiters at dseiters@reviewjournal.com or 702-380-4587. Follow him on Twitter: @DamonSeiters.