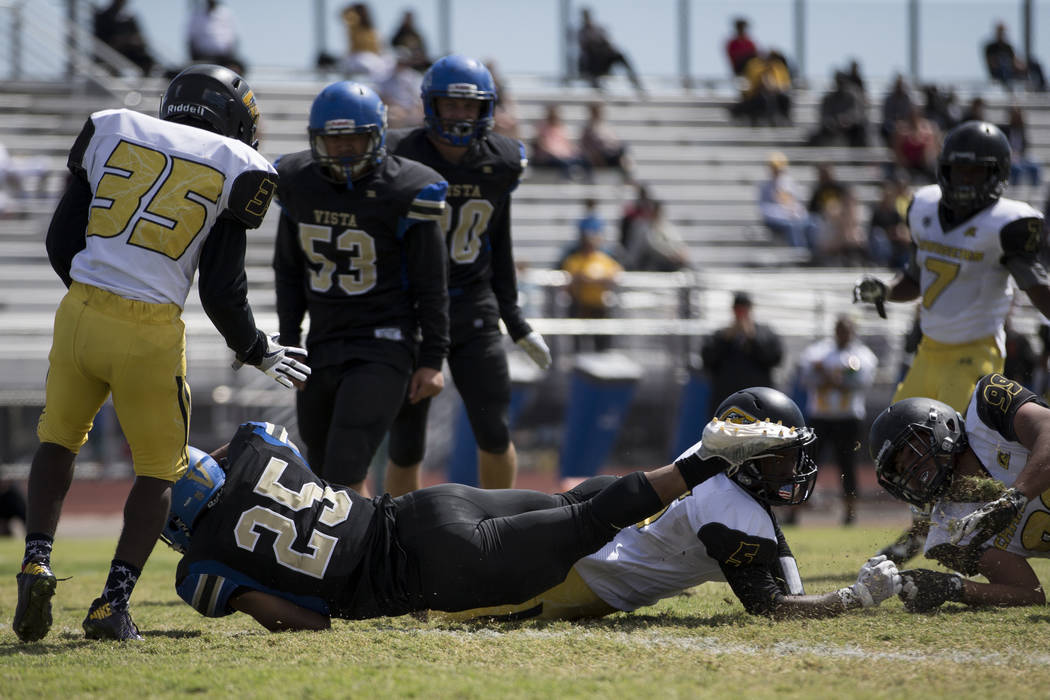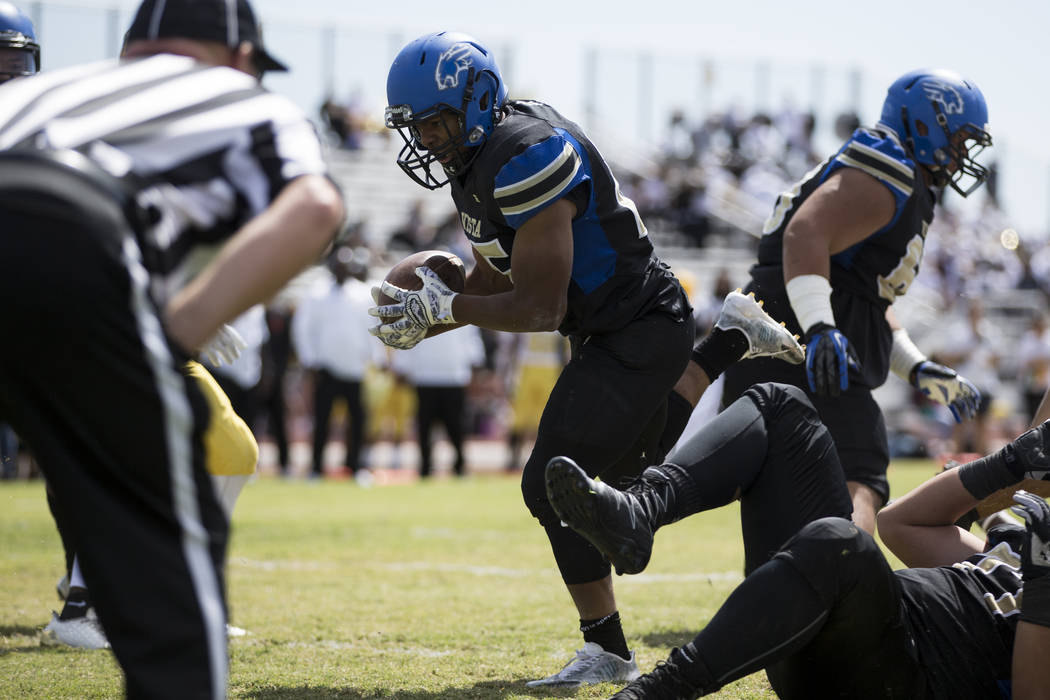 Clark was averaging 40.7 points through its first three games.
But the Chargers were no match for Sierra Vista's defense Saturday.
The Mountain Lions limited Clark to 144 yards of offense and forced three turnovers en route to a 49-14 home win. Clark had one offensive touchdown, and 87 yards came on one play.
"We were just rallying to the ball," junior linebacker Jahssiah Maiava said. "We just had each other's back from the start."
Maiava came through early, picking up a sack on third down to force a punt on Clark's first drive, then recovering a fumble and returning it 37 yards for a touchdown and a 14-0 lead with 7:05 left in the first quarter.
"Our defensive plan was to try to put some pressure on the quarterback and get him uncomfortable in the pocket and make him get rid of the ball quickly," Sierra Vista coach John Foss said. "And our defensive backs did a nice job against the pass."
Maiava finished with two of the team's five sacks. Kaika Faatiliga added an interception, and Taelase Gaoteote recovered a fumble.
"The way we practice is basically how we played today," Maiava said. "And it was nice. We all just executed and did everything we had to."
Trevor Gentner threw two first-quarter touchdown passes, and Gaoteote added a 38-yard scoring run as the Mountain Lions (3-1, 2-0 Southwest League) sprinted to a 28-0 lead over the Chargers (2-2, 1-1) after one quarter.
A 1-yard scoring run by Isaiah Zavala with 9:21 left in the second quarter made it 35-0 and triggered the running clock before Clark finally showed some life.
Gentner fumbled, and Aquantay Morris picked the ball up and raced 54 yards for a touchdown, and the 2-point conversion made the score 35-8 with 5:34 left in the first half.
Sierra Vista scored on its next possession, but Clark answered again, with quarterback Justin Aguilar coming off the bench to connect with Morris on an 87-yard scoring pass that made it 42-14 with 1:29 left in the half.
But Gentner's third touchdown pass, a 25-yard strike to Kevin McCray, made the score 49-14, and the second half was played with the running clock.
Gentner completed 5 of 7 passes for 150 yards and three TDs. McCray had three catches for 76 yards and two TDs, and Tristen Jimenez added a 51-yard TD catch for the Mountain Lions.
"We have some pretty good receivers, and we try to get them the ball, especially when we see certain coverages that allow them to get open," Foss said. "It kind of opens up the running game if we can get some more people out of the box."
The running game continued to be the key for Sierra Vista, which racked up 222 yards on 43 carries. Eleven players carried the ball, led by Gateote and Faatiliga, who each finished with 71 yards.
"We have a bunch of different kids who carry the ball, which is nice because it makes each one of them kind of appreciate their carries and run that much harder," Foss said.
More preps: Follow all of our Nevada Preps coverage online at nevadapreps.com and @NevadaPreps on Twitter.
Contact prep sports editor Damon Seiters at dseiters@reviewjournal.com or 702-380-4587. Follow @DamonSeiters on Twitter.