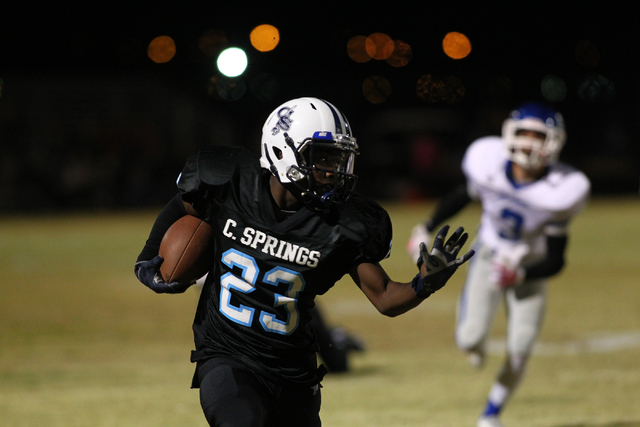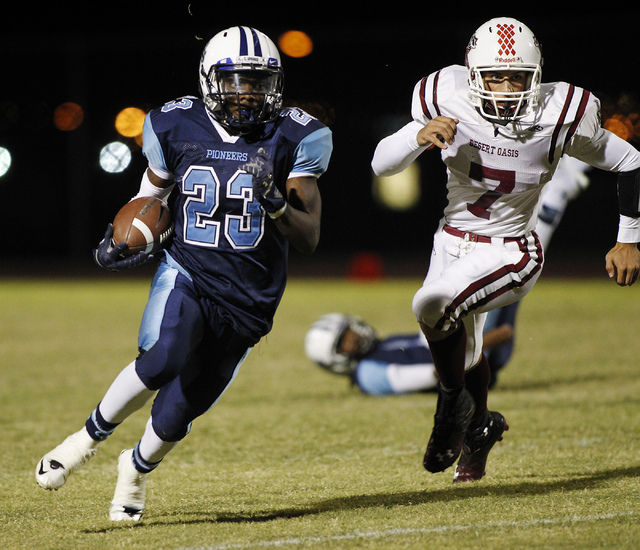 Canyon Springs' football team has finished second to Green Valley in the Northeast League the past two seasons, so the Pioneers should have been excited to see Green Valley move to the Southeast League.
Except that the Gators were replaced in the league by Liberty, winners of the past four Sunrise Region titles.
No matter. Canyon Springs is nothing if not up for a challenge.
"I like it," coach Hunkie Cooper said. "We get to play (Liberty) in the regular season, and you don't have to worry about them in the first or second round. Our division, if you want to make it strong, make it strong. Keep Green Valley and Liberty. We're playing them, anyway."
The Pioneers have a three-week stretch during which they face league powers Liberty and Las Vegas, then have a nonleague game at Green Valley.
"Going with Liberty, Vegas, Green Valley … those three alone should tell you that it's not an easy schedule," Canyon Springs quarterback Bradley Alexander said. "We've just got to come out and put in all the hard work, because those are good ballclubs and they're not to be played with."
The Pioneers return 10 starters on offense, and Cooper thinks that unit can be special this season.
"I really think we have the potential to put up between 500 and 600 yards a game," Cooper said. "And in a hurry."
Second-team all-state pick Zaviontay Stevenson returns at running back after rushing for 1,203 yards and 10 touchdowns as a junior. He has missed time with an ankle injury this fall, but Cooper said Stevenson should be ready for the opener next week against Cheyenne.
"Anytime he touches the ball, you kind of hold your breath," Cooper said. "I wish he knew how good he is. I wish he knew how good he really could be."
Alexander is back at quarterback after passing for 1,719 yards with 14 touchdowns and only four interceptions as a junior. He said the year of experience has him more prepared this season.
"The game just slows down even more than normal," Alexander said. "Now making plays just feels easier. I feel more comfortable. It just feels easy to play. Nothing's really hard for me."
The Pioneers have great size at receiver with 6-foot-3-inch Kujuan Casey and 6-2 Kasey Allison returning, along with C.J. Jones, who is listed at 5-11 but is physical enough to also play linebacker.
"We've got great receivers," Alexander said. "They're all very big receivers. They can go get the ball no matter where it's at. It's a big bonus for me. When I throw a bad ball, I know I've got guys that can go get it."
Last year, Allison had 22 catches for 327 yards, Casey caught 21 for 327 and Jones added 13 receptions for 117.
"We're big, we're physical and we've got all the potential, but it's time to stop talking about potential," Jones said. "It needs to happen."
There's far less experience back on defense, as the team returns three starters. Cooper said many of the graduated defenders succeeded by using their knowledge of the game to get in the proper position.
"The guys we have right now are more athletic, so they may be out of position, but they can still make plays because they're bigger, faster and quicker," Cooper said.
Melvin Johnson, a 6-5, 270-pound senior, is back to anchor the lines.
"The line is coming together real nice," Johnson said. "We've got a few young people, and they need to grow up real quick. But I think they've got it."
And the Pioneers are confident that they can put it all together this season.
"For us, we expect nothing less than greatness," Alexander said.
Contact reporter DamonSeiters at dseiters@reviewjournal.com or 702-380-4587. Follow him on Twitter: @DamonSeiters.
Complete coverage of high school sports.