5 bizarre things that happened at Super Bowl media day
January 27, 2015 - 11:23 pm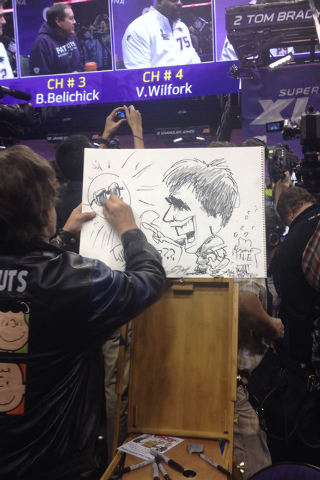 PHOENIX — There was a man on the floor of US Airways Center on Tuesday drawing caricatures of some of the main participants from Super Bowl media day, of Tom Brady and Rob Gronkowski of the Patriots and Russell Wilson and Pete Carroll of the Seahawks and so on.
Which made about as much sense as anything else.
This mandatory news conference for coaches and players long ago became a circus.
It has mellowed in recent times. There aren't as many marriage proposals from women in skimpy white gowns to the star quarterback anymore.
Ines Sainz is even dressing more conservatively.
What happened to the good ol' days of inappropriate but certainly encouraged attire and selected levels of debauchery for a few hours?
That doesn't mean this year's version of events in previewing Sunday's XLIX game didn't lack for some traditional media day foolishness.
Here are five examples that suggest it will always bring out the bizarre, and in one case the adorable side, in some:
1. Pick Boy
The superhero from Nickelodeon, dressed as you would expect, with mask and tights and all, is a veteran of such events.
"This is my seventh Super Bowl, and Tom Brady has only been to six," Pick Boy said. "I'm going to be honest with you. Players are very excited to see me. But as far as the whole air in the balls thing, I won't comment other than to say players are very pumped up to see me. And that's not me having any sort of inflated ego.
"I'm a full-time superhero. I don't do anything else."
Why would you want to?
2. A man in a barrel
Looks good on you, though.
He was repping a local country radio station and also sported a black cowboy hat and bowling shoes and, well, not much else.
This is for certain: No one will ever accuse him of using performance-enhancing drugs.
"I've been asking players their thoughts on Taylor Swift finally exposing her belly button," The Barrel said. "Danny Amendola of the Patriots said he was excited she has one. Nine years ago, I was a part-time intern hanging banners for promotions here in 115 degrees. I told them I was willing to do anything else, and they said, 'We have something for you.' So they put me in a barrel. It's awesome. People are surprised when they see me with clothes on."
And, yet, probably not upset about it.
3. A dude in a bow tie
David Portnoy is founder of Barstool Sports, a satirical sports and men's lifestyle blog located in Milton, Mass.
He wears a tuxedo and is sort of obsessed with the Patriots.
"I've worn this tuxedo to every big event, including the AVNs, which some people might know as the national porn awards," Portnoy said. "I also wore it to a gerbil show. Any time I need to step my game up for interviews, I wear it. To be honest, I'm here to win a football game. This is a business trip for me. We're here to win a game. Do your job.
"I want to see why the national media has another vendetta against the Patriots, why we have to go through another witch hunt, why everyone hates us. We're here to get to the truth and get the NFL off our backs and let us play football, like America deserves."
Maybe he should ask the locker room attendant why everyone hates them.
4. Cutest reporter by a landslide
The honor goes to 4-year-old Chya Mayo, daughter of Patriots linebacker Jerod Mayo. The little one even got grumpy New England coach Bill Belichick to admit what his favorite stuffed animal is.
"I like a little puppet that you can put your fingers in," Belichick said. "A little monkey."
Chya was also fairly straightforward on which team she expects to win Sunday: "Daddy."
5. Ines, 13 years later
Sainz, the reporter for Azteca Deportes, covered her first Super Bowl in 2002, which happened to be New England's first win in the game of Roman Numerals.
Over the years, her, um, form-fitting outfits have made Sainz sort of a media day celebrity.
"The people know me, and I enjoy it," she said. "It just kept growing each year. It's interesting how it happened. I do believe, though, the attention should be on the players and coaches."
Yeah, but no one wants to see Belichick in those outfits.
Las Vegas Review-Journal sports columnist Ed Graney can be reached at egraney@reviewjournal.com or 702-383-4618. He can be heard from 11 a.m. to 2 p.m. Monday through Friday on "Gridlock," ESPN 1100 and 100.9 FM. Follow him on Twitter: @edgraney.