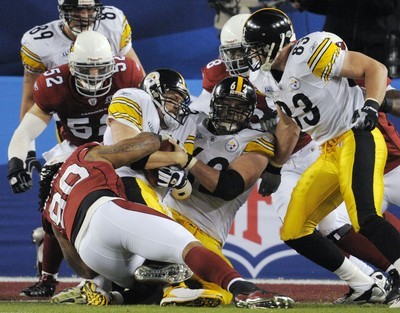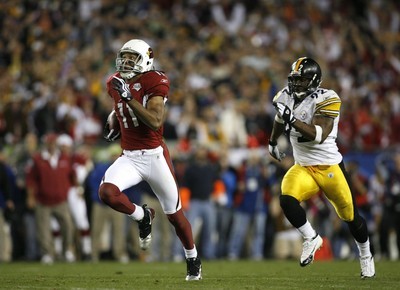 Exactly five minutes into the Super Bowl, a moment of high anxiety has arrived for bettors. Pittsburgh Steelers quarterback Ben Roethlisberger has struggled for a 1-yard touchdown run.
Or was it an illusion?
It appeared Roethlisberger crossed the goal line, and the officials ruled it a touchdown on the field. But in the NFL, you never know for sure until seeing several camera angles, and then there's always a chance the replay booth will screw it up, too.
My assignment is to write a play-by-play account on the results of the game's proposition bets.
There are hundreds of props, and covering them all is as impossible as explaining how Howie Mandel keeps getting his own TV shows, but we'll hit some of the highlights, from start to finish.
FIRST QUARTER
Roethlisberger's apparent touchdown run is as good as it gets right now because Arizona Cardinals coach Ken Whisenhunt has thrown the red challenge flag at the last second.
How many bettors are nervous about this ruling? How much money is riding on it? I'm looking through prop sheets from the Las Vegas Hilton and Red Rock sports books, and by my quick count, this play could affect more than 20 props one way or another.
Off the top, we're looking at Roethlisberger getting 25-1 odds at the Hilton to score the game's first touchdown.
A rundown of some others (prop prices vary by the book, of course): Team to score first (Steelers minus-125); First score of the game will be (touchdown minus-155, field goal plus-135); First scoring play of the game (Steelers touchdown run plus-500, Steelers field goal plus-250); Shortest touchdown scored by either team (1 yards under minus-125), and many more.
Whisenhunt's gutsy challenge — he doesn't want to blow this decision this early in the game — is upheld, and NBC commentators Al Michaels and John Madden agree with the ruling that Roethlisberger's knee was down.
Pittsburgh coach Mike Tomlin opts to send out kicker Jeff Reed to attempt an 18-yard field goal with 9:45 remaining in the quarter. I like this because I bet the shortest successful field goal by either team to be less than 25 yards.
Will there be a score in the first 6 minutes? (Yes is the winner at minus-130.)
When the Cardinals get the ball, Kurt Warner's first pass attempt is complete (minus-175) for 10 yards. But Arizona punts (minus-175) before it scores to decide another prop.
With six minutes to go, Roethlisberger completes a 25-yard pass to wide receiver Santonio Holmes. The prop for Holmes' longest reception goes over 22 yards.
Pittsburgh is leading 3-0 and driving as the quarter ends.
Will the Steelers score a touchdown in the first quarter? (No is the winner at minus-110.)
SECOND QUARTER
Running back Gary Russell scores on a 1-yard run for the Steelers one minute into the quarter. The odds were 15-1 on Russell to score the game's first touchdown.
On the Cardinals' next drive, running back Edgerrin James makes three receptions for 26 yards in the span of five plays. James goes over his props for total receptions (1) and receiving yards (8).
Warner completes a 45-yard pass to wide receiver Anquan Boldin. The prop for Warner's longest completion goes over 42 yards.
Which will Warner throw first, interception or touchdown pass? (Touchdown is the winner at minus-135 as he throws for a 1-yard score to tight end Ben Patrick.)
Keeping pace with these props is making my head spin, so we'll skip ahead to what might be the game's defining moment.
The Steelers lead 10-7, but after Roethlisberger throws an interception, Warner drives the Cardinals to first-and-goal at the Pittsburgh 1. (Will Warner have a brain cramp on the goal line? Bet on it.)
Warner throws a quick slant that is intercepted by Steelers linebacker James Harrison, who weaves his way 100 yards for a score as time expires in the half. Cardinals wide receiver Larry Fitzgerald tackles Harrison as Harrison falls into the end zone. The play is reviewed, and it counts. Pittsburgh leads 17-7, and if you bet Arizona to win this game, that's as bad as it gets.
Michaels calls it an "epic play," and Madden shouts "amazing." At Las Vegas sports books, obscene remarks are being yelled in positive and negative tones.
Will there be a score in the final two minutes of the first half? (Yes is the winner at minus-300.)
Will there be at least one defensive or special teams touchdown? (Yes is the winner at plus-155.)
THIRD QUARTER
Bruce Springsteen put on a good show at halftime. Let's hope the second half is just as entertaining. Are the Cardinals on the verge of collapsing, or will they make a surprising comeback?
With 3:32 left, a Steelers field goal is wiped out after the Cardinals' Adrian Wilson runs over the holder, committing a personal foul. There is no prop bet on something like that.
The Steelers don't take advantage, and Reed makes a 21-yard field goal. The prop for total field goals made by Pittsburgh is two (over plus-180). The prop for total field goals made by both teams is 3.
The pace of the game has slowed to a crawl, and time is running out on Warner and the Cinderella run for the Cardinals, who trail, 20-7.
As Hilton sports book director Jay Kornegay just pointed out, "Penalties are just killing the Cardinals."
Arizona has nine penalties for 91 yards. Pittsburgh has two for 15 yards. There are props for total penalties for the Cardinals (six), both teams combined (11) and which team will have more penalty yards.
FOURTH QUARTER
Will Fitzgerald score at least one touchdown? He basically is an even-money wager to score. That prop is decided when Fitzgerald makes a 1-yard reception to pull Arizona to within 20-14 with 7:33 remaining.
Fitzgerald is at 7-1 odds to score the last touchdown of the game.
With 2:58 to go, Roethlisberger throws a third-down completion, but holding is called on the Steelers in their end zone, which results in a safety, and this is a huge call.
Will there be a safety in the game? (Yes is the winner at plus-700.) The betting public always plays these major plus-price props and seldom wins, but it's time for the books to pay.
Fitzgerald scores on a 64-yard touchdown pass from Warner with 2:37 left. This gives Fitzgerald 107 receiving yards, more than his prop total of 96. Warner has 344 passing yards, way over his prop total of 258, and three touchdowns.
More importantly, the Cardinals lead, 23-20.
"No Super Bowl game has ever gone to overtime," Michaels announces.
How many people are clutching betting tickets on the game going to overtime (plus-800) and the game being decided by exactly three points (plus-400)? I bet the overtime prop; can this really happen? Or did Michaels just jinx it?
Sports book directors are sweating the thought of cashing those tickets. But they get a break.
Roethlisberger stays cool, moves the Steelers' offense and throws a 6-yard touchdown pass to Holmes with 35 seconds remaining. Holmes is at 10-1 odds to score the game's last touchdown.
Roethlisberger finishes with 256 passing yards, the final winning drive putting him over his prop total of 232.
Pittsburgh, favored by 6 points, wins, 27-23. The game goes over the total of 46.
Hundreds of prop bets are in the books. Go to NFL.com for official statistical results.