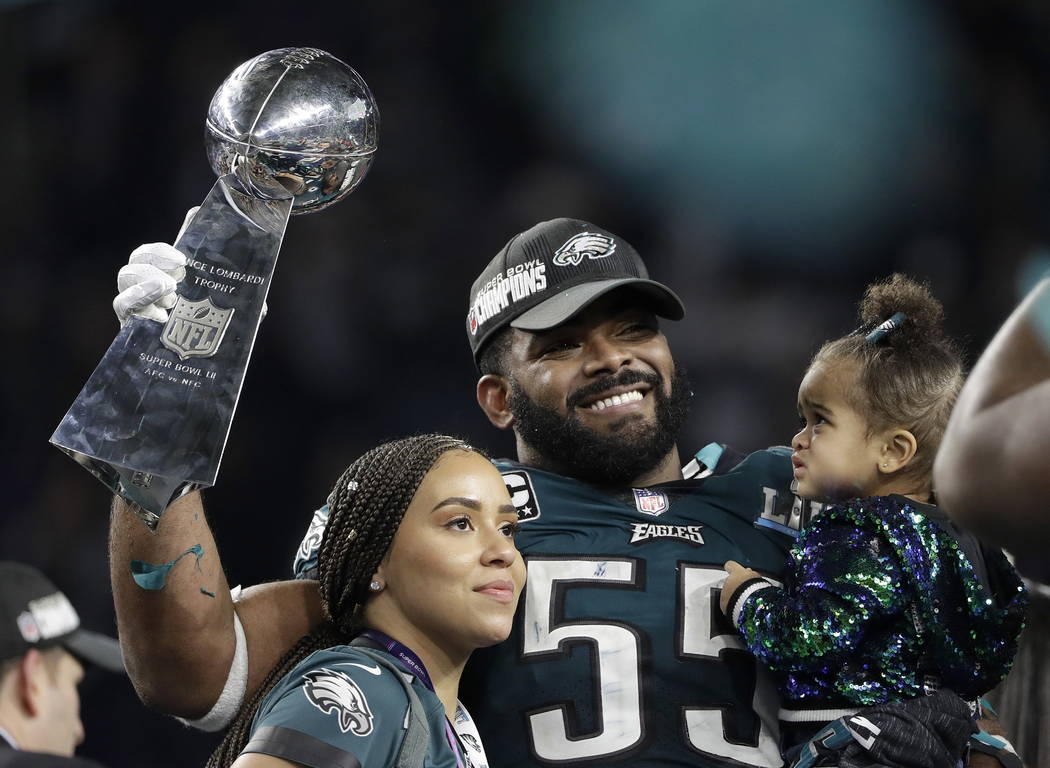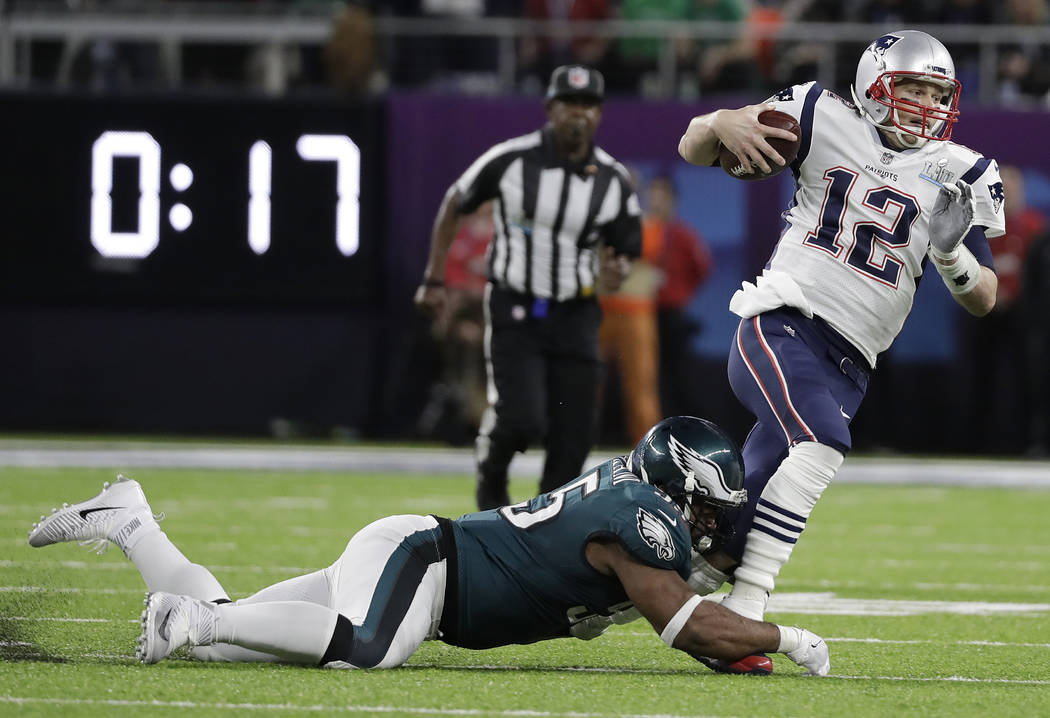 MINNEAPOLIS — Philadelphia Eagles defensive end Brandon Graham and his young daughter, Emerson, celebrated different things in the same way Sunday as they mused with reporters amid a post-Super Bowl glow inside U.S. Bank Stadium.
Emerson, adorned in a sequined No. 55 Philadelphia jersey, was at the podium celebrating her second birthday.
And Brandon had just strip-sacked New England Patriots quarterback Tom Brady in the fourth quarter of Super Bowl LII and was at the podium celebrating a 41-33 victory.
What a night for the family.
Graham enjoyed the most notable moment of his career alongside his daughter and wife, Carlyne, who accompanied him to his news conference after the game.
His forced fumble late in the fourth quarter all but clinched Philadelphia's victory and may live in lore as the most momentous play in franchise history.
Emerson might not know what it all means now. Her dad plans to ensure she will later.
"I'm going to make sure I get the disc (of the game), the CD, and I'm going to pop it in whenever (Emerson) can understand everything," Graham said. "I'm going to let her see, like, 'Hey, baby, you was all in here. Look at this. You were all in the interviews. Look at this.'"
Graham recorded 9.5 sacks during the regular season and helped Philadelphia's No. 4-ranked defense hold the Atlanta Falcons and Minnesota Vikings to a combined 17 points two playoff games.
But the Falcons and Vikings aren't the Patriots.
And nobody else is Brady.
He passed for a Super Bowl-record 505 yards, engineered three consecutive touchdown drives in the second half and was poised to lead a game-winning drive until Graham intervened.
"When we needed to make a stop, defense came through," he said. "No matter how ugly it was, we came out with the win. I'm thankful for the offense."
The offense is thankful for him, too.
Carlyne, who celebrates her birthday Monday, was changing Emerson's diaper in the tunnel leading to the field when Graham sacked Brady.
She didn't see the play, but she heard the resulting cheers and burst into tears before venturing onto the field as the game concluded.
That's when she finally got to do a little celebrating of her own, alongside Graham, who held Emerson in one hand and the Vince Lombardi Trophy in the other.
"We won the Super Bowl," Carlyne said. "We were here as a family and we enjoyed this together."
Contact reporter Sam Gordon at sgordon@reviewjournal.com. Follow @BySamGordon on Twitter.