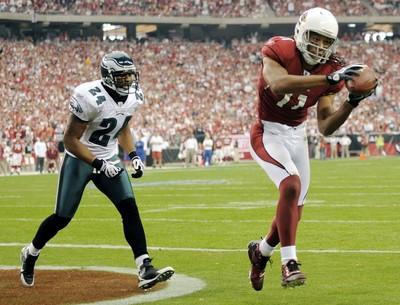 GLENDALE, Ariz. — Down and out for decades, the Arizona Cardinals have turned a bad joke into a Super Bowl-bound team.
Yes, the Cardinals, founding members of the NFL, but historically among the most dysfunctional of franchises, are heading for the championship game in Tampa, Fla.
Capitalizing on Larry Fitzgerald's three first-half touchdown receptions and then coolly marching downfield to Kurt Warner's 8-yard scoring pass to rookie Tim Hightower with 2:53 left, they beat the Philadelphia Eagles 32-25 Sunday for the NFC championship.
"I want to say Arizona Cardinals and Super Bowl in the same sentence," a jubilant Warner said. "The Arizona Cardinals in the Super Bowl. How about it?"
Arizona (12-7) will face AFC champion Pittsburgh (14-4) in two weeks in Tampa for the NFL title. The Steelers beat Baltimore 23-14 later Sunday.
"To make it to the Super Bowl and to have a chance, an opportunity to win it, you relish those moments in your career," said safety Adrian Wilson, the longest-tenured Cardinal. "This being my eighth year, and to be in this organization at this time with these players and these coaches, it's a great moment."
A stunning moment that nearly didn't happen. Donovan McNabb was superb in leading Philadelphia's second-half rally from 18 points down to a 25-24 lead. But, after High-tower's score, he misfired from midfield four times in the final moments.
If the Cardinals, the first No. 4 seed to host a conference title game, were supposed to be thunderstruck by their surroundings, they instead responded like playoff veterans.
Sure, they blew that 24-6 halftime lead. But then the 37-year-old Warner, a Super Bowl Most Valuable Player from almost a decade ago with the St. Louis Rams, engineered a 72-yard drive to win it with his fourth TD pass of the day.
He finished the comeback with the 8-yard pass to Hightower and then hit tight end Ben Patrick for the 2-point conversion.
"The demeanor in the huddle didn't change at all," Fitzgerald said. "The guys were focused and ready to go. You could see the look in guys' eyes. Everybody did their job when we needed them to do it."
But the key was the unstoppable Fitzgerald, who had nine receptions for 152 yards, including two big catches on the decisive drive. The All-Pro set a single postseason record with 419 yards receiving, surpassing the great Jerry Rice.
The Cardinals never looked this good before in the Phoenix area, or their previous homes in Chicago and St. Louis.
"I want to say thanks to all of you guys," Warner told the crowd during postgame celebrations. "When nobody else believed in us, when nobody else believed in me, you guys did, and we're going to the Super Bowl."
Blown out by the Eagles 48-20 on Thanksgiving, coach Ken Whisenhunt's team looked completely different in its first title game since 1948.
"And it was appropriate we had a bunch of different people make those plays, and it was a great team win for us," said Whisenhunt, who in two seasons as coach as turned a losing culture into a championship environment.
With playoff victories over Atlanta, Carolina and the Eagles (11-7-1), this is the Cardinals' winningest season. They've surpassed their total of postseason wins dating to when the playoffs began in 1933.
The most attention paid to the Cardinals since moving here in 1988 came on a sad note — when star safety Pat Tillman suddenly retired in 2002 to join the Army Rangers and later was killed in Afghanistan.
The last NFC team since the 1970 merger to make it this far, Arizona also is the first team with nine wins in the regular season to make the Super Bowl since the 1979 Rams lost to the Steelers.
For the favored Eagles, it was another disappointing end. Coach Andy Reid's team reached the NFC title game five times in the last eight seasons, losing four. They lost to New England in their only Super Bowl appearance during that run.
"You never want anything to end," McNabb said. "To end this way, it's tough."
This one looked like a romp through the Valley of the Sun for the hosts at halftime. The Eagles knew Fitzgerald was Arizona's most dangerous player, but they couldn't slow him.
In the second half, though, Philadelphia brought more pressure on Warner. The Cardinals gained only 8 yards in the third quarter, while McNabb hit tight end Brent Celek on touchdown passes of 6 and 31 yards.
McNabb, who once this season got benched after a terrible opening half, had come alive with a fury, even silencing the crowd for a while. His 62-yard heave to rookie wide receiver DeSean Jackson was tipped by cornerback Dominique Rodgers-Cromartie into Jackson's hands near the goal line with 10:45 to go.
Shockingly, Philadelphia was on top, 25-24.
Time for Warner to show his pedigree on a drive that took nearly eight minutes and carried the Cardinals to victory.
For Warner, the win was his third in as many NFC title contests. He led the 1999 and 2001 Rams to the Super Bowl — he was league MVP both years, and St. Louis went 1-1 in those Super Bowls — before his career faded.
But Warner has been sensational this season, and now he's led the Cardinals far beyond any previous success since moving to Arizona.
He finished 21-for-28 for 279 yards and the four touchdowns. McNabb was 27-for-46 for 375 yards and three TDs.
NFC CHAMPION Arizona Cardinals AFC CHAMPION Pittsburgh Steelers SUPER BOWL WHEN: Feb. 1, 3 p.m. WHERE: Tampa, Fla. TV: NBC (3) LINE: Steelers -7 TOTAL: 47