How CBS 'NFL Today' hosts see Raiders, Super Bowl in Las Vegas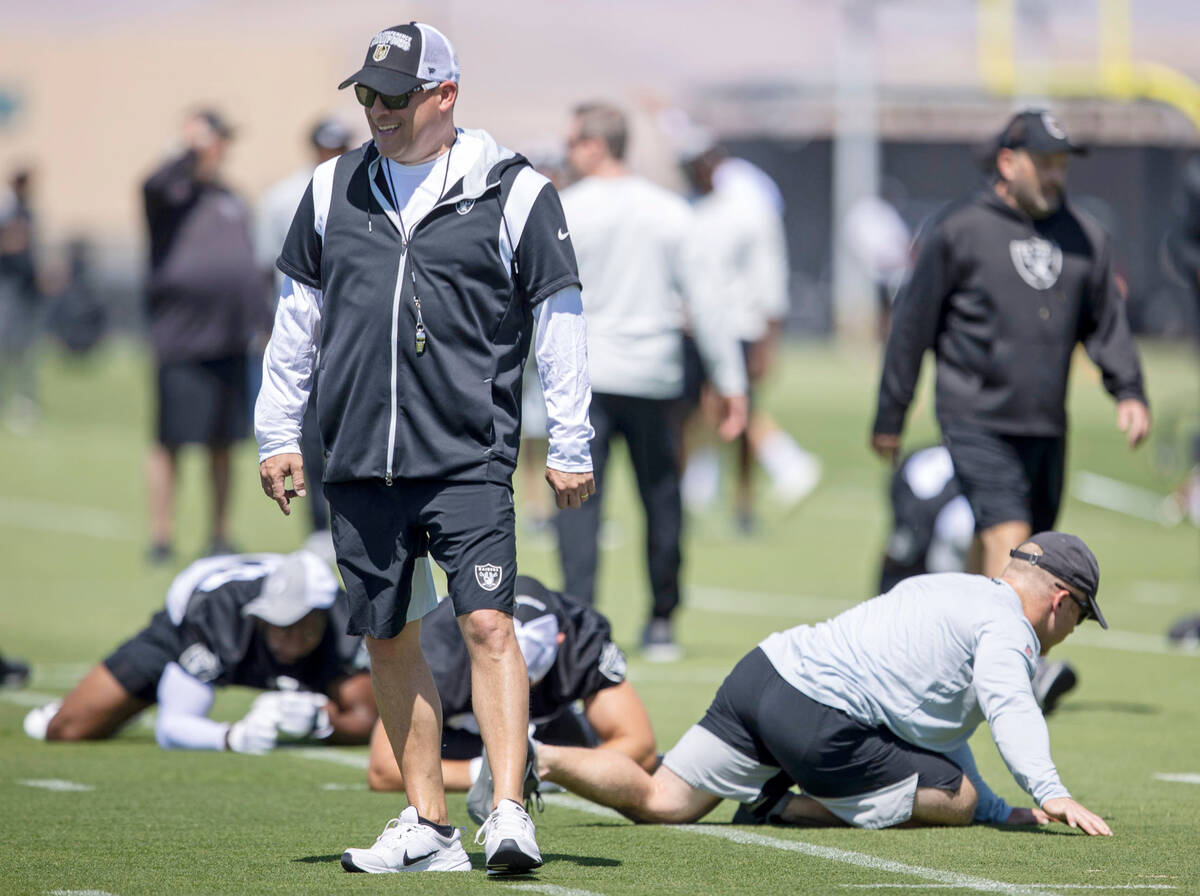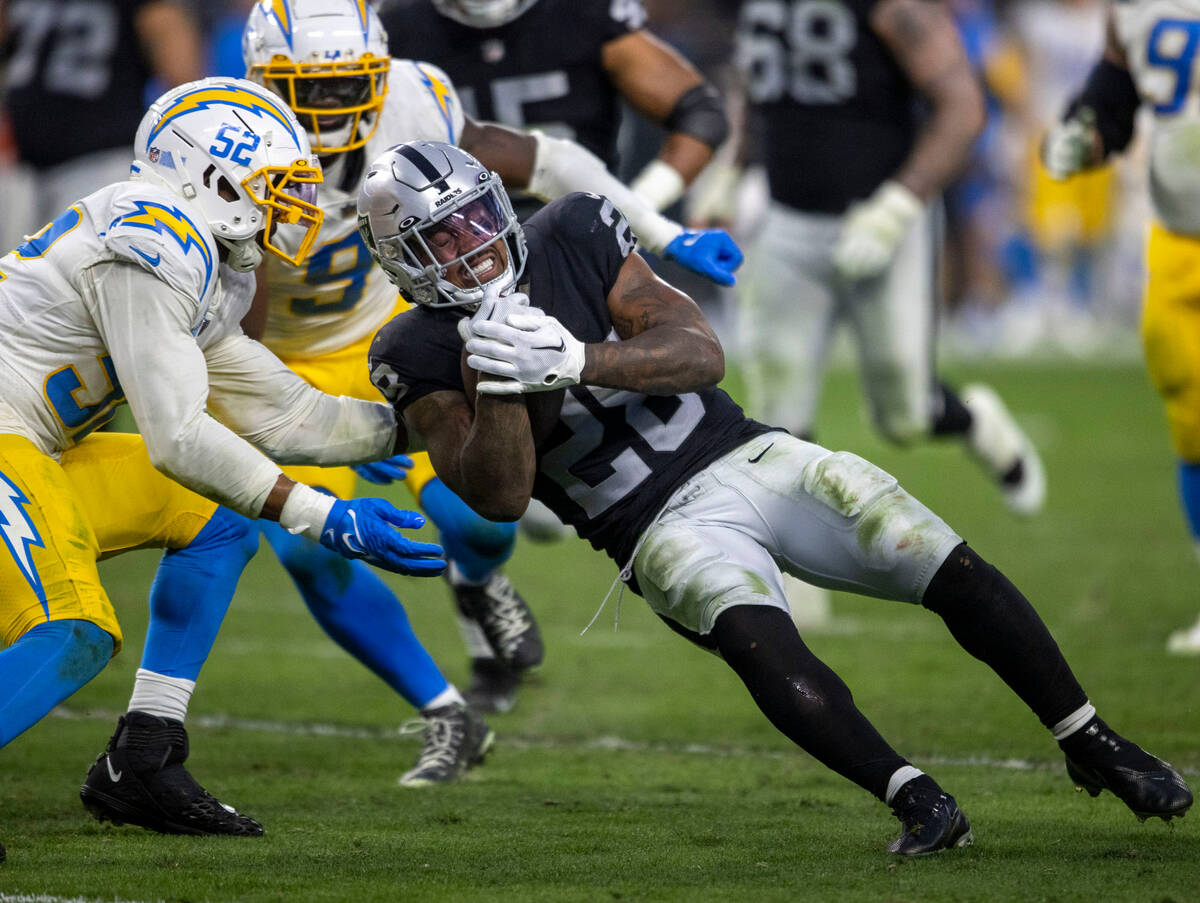 The CBS "NFL Today" hosts Phil Simms, Bill Cowher and Boomer Esiason recently visited Las Vegas as part of a promotional tour for Super Bowl LVIII, taking place at Allegiant Stadium on Feb. 11, 2024. Here are excerpts from their interview with Review-Journal sports multimedia journalist Heidi Fang.
On Las Vegas as a Super Bowl host city:
Phil Simms: This is the greatest place to have a Super Bowl. It is. Entertainment, weather, whatever, you know? A lot of people love to come to the Super Bowl and play golf and do that sort of thing. It has everything they want. And this I think this is going to be one of the hardest tickets ever to get in Super Bowl history. I believe it will be the hardest.
On the Raiders and their prospects in the AFC West:
Simms: It's the second year with Josh McDaniels. That's the one thing that I think that's a big deal. Jimmy Garoppolo is a very capable quarterback. They got better on defense. Get a little more pass rush. Maxx Crosby can't be the only guy that plays defense for you. And, you know, so I think the Raiders can compete in it.
But the AFC … it's ridiculous. It is. And I look at it like if you go 10-7, that's a hell of a year, because there's just so much great competition and so many good quarterbacks.
Bill Cowher: Josh McDaniels … I love what he's done. I know he wants to run the football. Jimmy G's comes out of a system with Kyle Shanahan with play action. And I know that's what Josh wants to do, which will take the pressure off the defense. I know he's trying to build a defense. He went out and got another rusher in the first round of the draft.
So he knows what he has to build on and what he has to build with. And I think that's the thing I like about Josh. And I think that, again, you know, he's building something here. I think you've got to give people some time. Not for him to understand what he has, but for the players to understand him. And I think that it's a process that has to evolve. And I think that he's in the process of doing that.
Boomer Esiason: Jimmy Garoppolo knows Josh McDaniels' systems from their days in New England, so that's a good thing for him. I just think that the AFC is loaded. When you look at all 16 teams, it's the first time I can remember in a long time where there isn't a doubt as to who the starter is. Maybe in Houston because of the rookie. Indianapolis a rookie.
But when you think about it, I mean, all 16 teams know who their starting quarterback is. And some of the best quarterbacks in the league, starting with Patrick Mahomes, then Josh Allen, then Joe Burrow, Lamar Jackson, Deshaun Watson, Russell Wilson, Jimmy Garoppolo. Justin Herbert. I mean, it goes on and on and on and we haven't even talked about Aaron Rodgers and Mac Jones and Tua Tagovailoa.
I mean, it's just an amazing AFC just ledger of quarterbacks. And I don't know where Jimmy's going to end up on that list come the end of this year. But I know one thing: they are in a very difficult division and in the better of the two conferences without question. When I look at it from just from the quarterback perspective.
Simms: Josh McDaniels – one thing I liked about him last year was I thought he managed the games really well. That's always a big start for any team. But it's not like we're looking at the Denver Broncos going, "Oh my gosh, they're just there's no way we can beat them." It's one thing to say that about the Chiefs, but you got the Broncos out there and then the Chargers.
Well, the Chargers, they did make the playoffs last year, but I wouldn't call it a year. You know, it was so up and down. So the Raiders have a chance. In this league, you hear all these stats every year: Teams that make the playoff don't the following year. Who thought the Giants were going to the playoffs last year? So turnarounds, the league is so close, turnarounds and getting to the playoffs, I think is much more feasible now than it was in the past, for sure.
Cowher: Yeah, I just would agree. It's a tough division to begin with. I think the one thing about Jimmy G is that no one's ever questioned when he's played. The question is: Can he finish the season. Right? I mean, his health. If he can do so in this offense, which I think is still going to center around Josh Jacobs, I still think he's one of the best running backs in the National Football League. Davante Adams — one of the best receivers. And I think they're trying to build that defense, which has got to be an integral part of them winning games. And a lot of times winning games – and Josh knows this — is the best way you can help your defense is: keep them off the field, control the clock, run the football and work to play action game off of that.
So I think the health is going to be the biggest thing. Can Jimmy G stay healthy in this? He's not been able to do it the last few years, and they've got to run through Josh Jacobs.
Esiason: You know, what's interesting is that we talked about Las Vegas and how great this place is. Well, it's also a lot of distractions for the players who play on the Raiders, I'm sure, on a weekly basis. I mean, there's just so many things going on out here.
You know, they couldn't finish games last year. They couldn't put games away. They had leads. And that's one of the reasons why Derek Carr is not here. They had to go get another quarterback. They had to get somebody that they felt like could finish a game. I don't know if Jimmy G's that guy or not. All I know is that he's probably the third-best quarterback in the division behind Patrick Mahomes and Justin Herbert.
So the AFC's tough. It's going to be a tough sledding. I don't see the Raiders right now making the playoffs. But as Phil said, you know, it's early and so many, so many things can happen. So many injuries can happen around the league. You never know how that's going to impact the team, but I just don't see them right now, preseason, as a playoff team. Sorry about that.
VEGAS SUPER BOWL PREDICTIONS
Simms: I wanted to pick this team last year and I chickened out because I wanted to be clever. But I'm going to say, right now, I say the Philadelphia Eagles. They didn't get worse, that's for sure. And the other one's the Baltimore Ravens. I can't wait to see this Baltimore Ravens team.
Esiason: Well, I'll tell you one thing. I'm hoping for the New York Jets to make it because this place would be insane if they actually make it with Aaron Rodgers. It'll be crazy. And those of us at CBS that have this game, I would love that for Super Bowl 58. If you have the Jets-Eagles, Jets-Cowboys, Jets-49ers, it would be ridiculous.
And, you know, that's what we can hope for. But I still think that the Bengals with Joe Burrow are going to be the team to beat in the AFC. I still think Joe Burrow and Patrick Mahomes are gonna fight it out in the AFC championship game. If I had to make a guess right now, I'm just keeping my fingers crossed for the Jets.
Cowher: I think when you look at the AFC, I'm going to go with the Cincinnati Bengals. I think they just keep knocking on the door. I think they're getting there. They really haven't lost anything.
I think Jalen Hurts played maybe one of the best games I've seen him play in the Super Bowl. The Eagles didn't win the football game. But he took another step in one of the biggest stages. And to me, they did not lose anything. And the only other star-crossed team I think you got to keep an eye on is the Detroit Lions. … And I agree with the New York Jets, too. The Jets are very, very good.