Mahomes carries Chiefs to first Super Bowl title in 50 years
Updated February 2, 2020 - 9:56 pm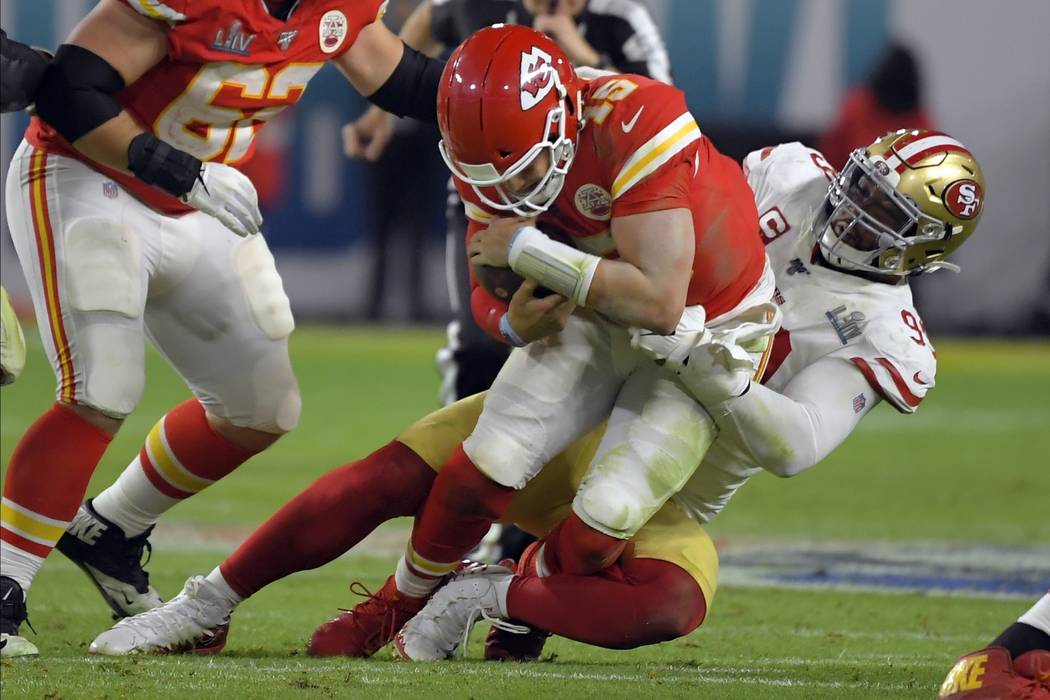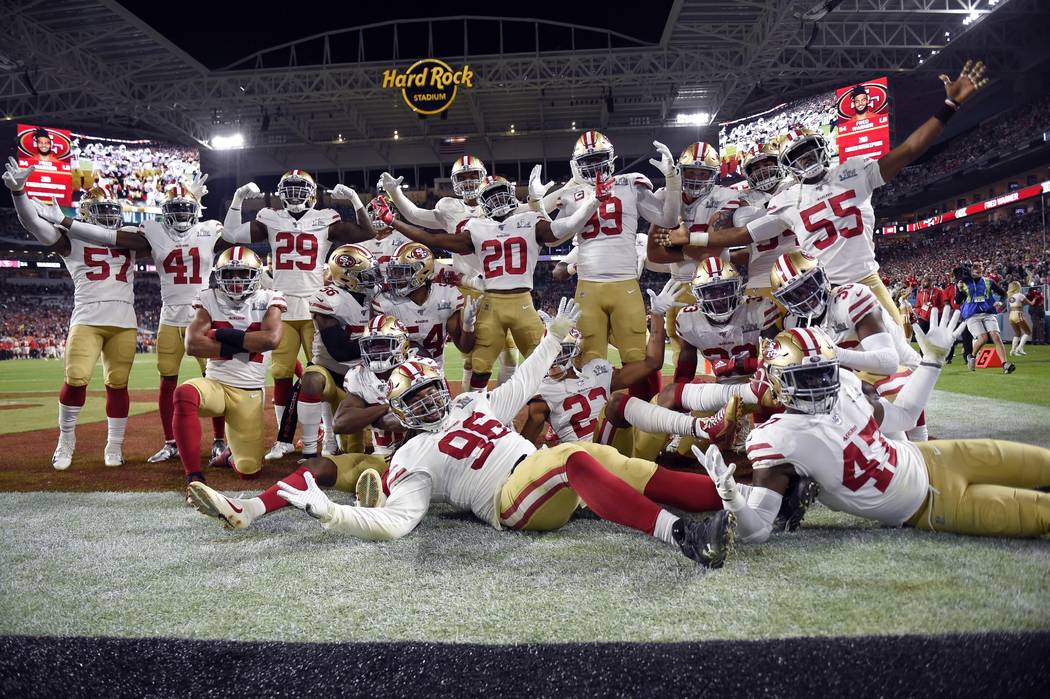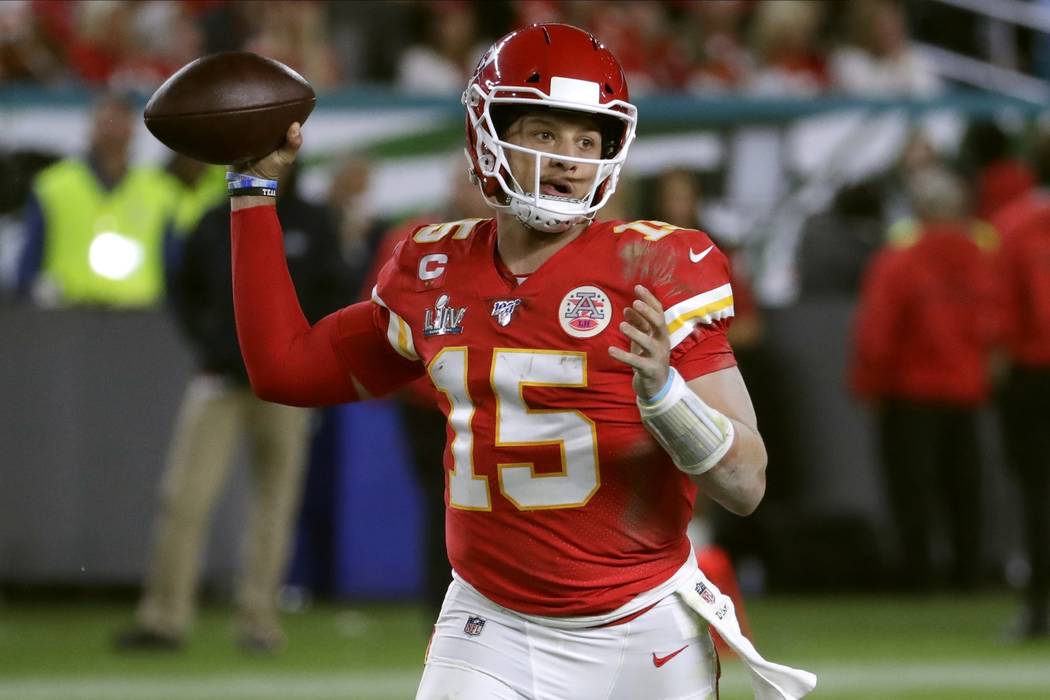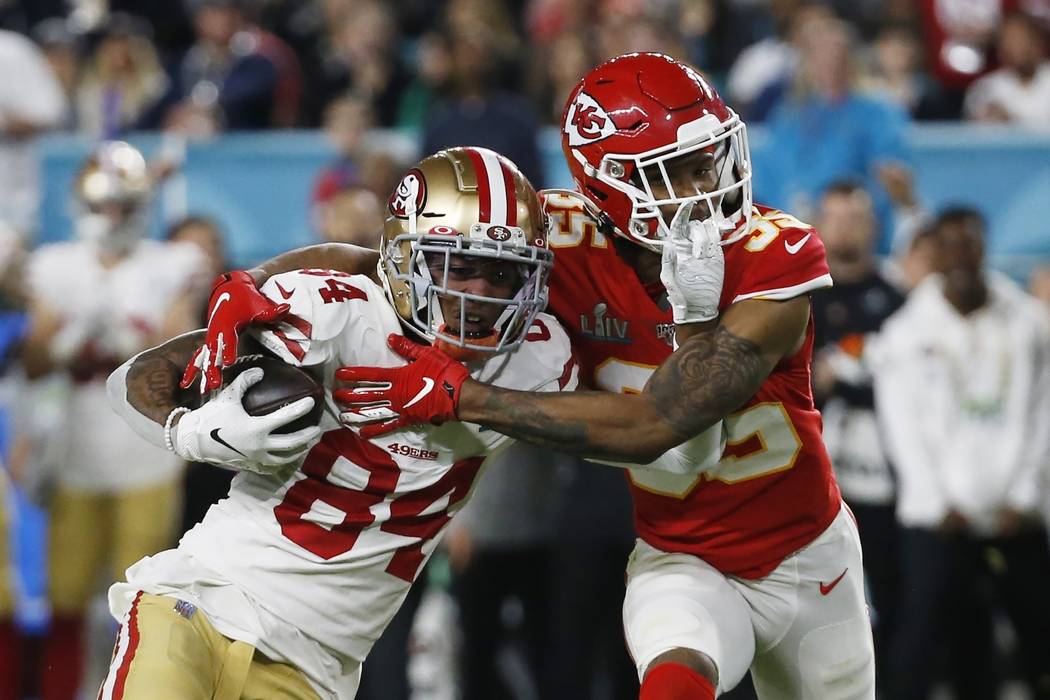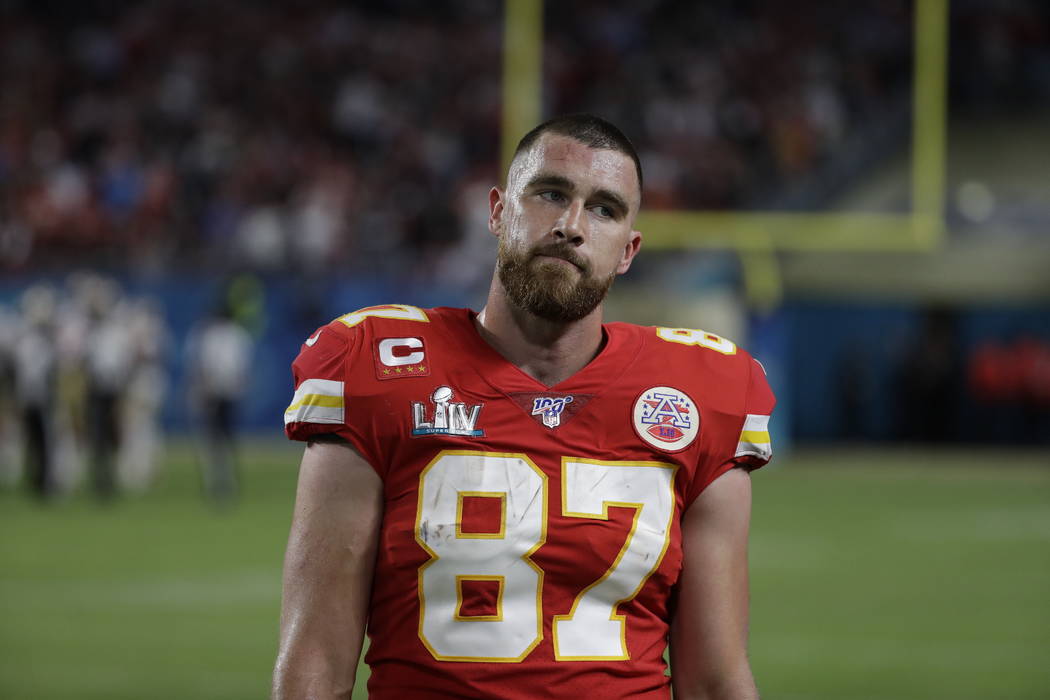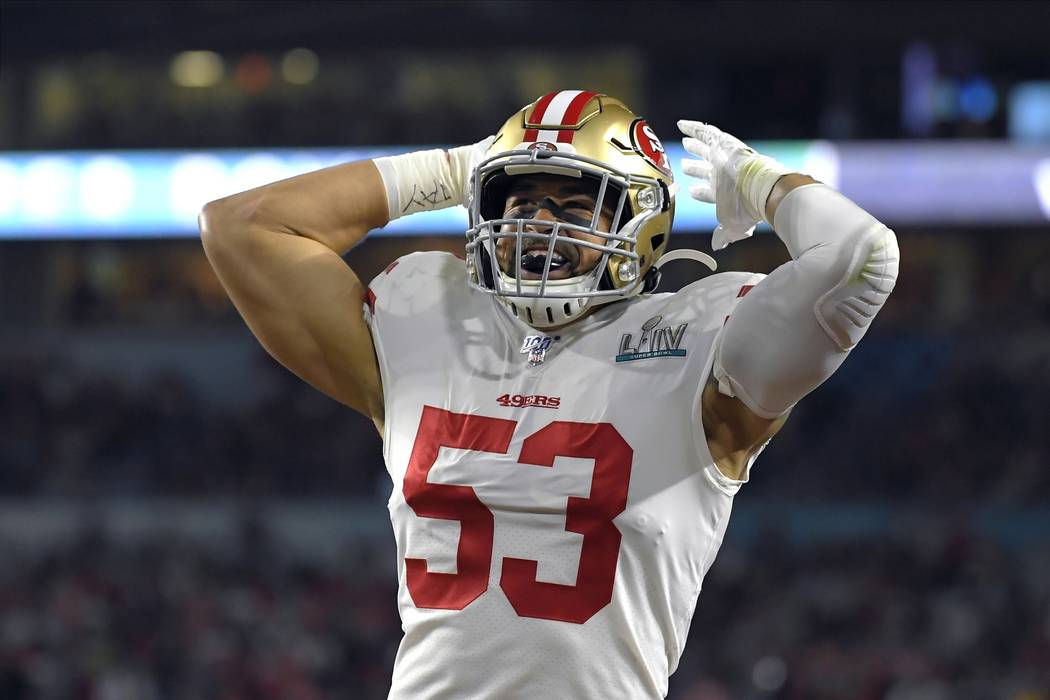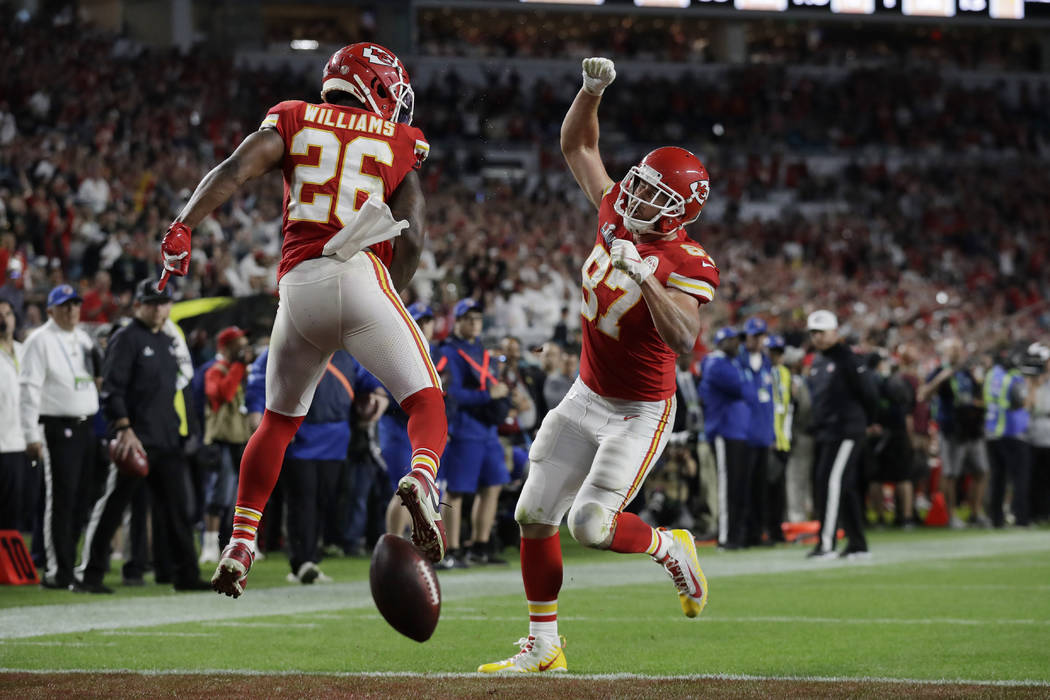 MIAMI — Trailing by 10 points with just over eight minutes remaining in Super Bowl LIV, the Kansas City Chiefs turned things over to Patrick Mahomes.
He did not disappoint.
The 24-year-old quarterback directed the Chiefs on three touchdown drives in the fourth quarter to lead the Chiefs to a 31-20 win over the San Francisco 49ers. It was Kansas City's first Super Bowl championship in 50 years.
Mahomes finished with 286 yards on 26-of-41 passes and two touchdowns. He overcame two uncharacteristic interceptions — his first two-pick game since 2018 — on his way to the comeback win and MVP honors.
Mahomes completed 10 of his 16 fourth-quarter passes for 141 yards and two touchdowns, including the game-clincher, a 5-yard pass to Damien Williams to go up 24-20.
Mahomes Magic
The Chiefs QB was not having his best night. That was obvious by the two interceptions he'd thrown — the second a seeming back-breaker early in the fourth quarter at the San Francisco 23-yard line while trailing 20-10.
But even at that point, he wasn't deterred.
"I just have the mindset that I am going to keep firing and coach Reid, he tells me that every single time I throw an interception, just keep firing." he said of head coach Andy Reid, who won his first Super Bowl at the age of 61.
Thanks to the 49ers, who stopped doing everything offensively that helped to build the 10-point lead, Mahomes got two more chances to redeem himself. And that is exactly what he did.
The first of the Chiefs' three fourth-quarter TDs was set up by a purely Mahomes play. He dropped back on third and 15 from his own 35 and trusted that Tyreek Hill would be exactly where he was supposed to be before heaving a pass downfield for a 44-yard gain.
"We were in a bad situation," Mahomes said. "You knew those guys had their ears pinned back and they were going to be rushing. I think the offensive line gave me enough time to throw a really deep route. I just put it out there and Tyreek made a really good play. That got us going."
Four plays later, the Chiefs were in the end zone on a Mahomes to Travis Kelce 1-yard pass to cut the lead to 20-17.
The 49ers' three-and-out on their next drive immediately gave Mahomes another shot. He responded with a 7-play, 65-yard drive and a 5-yard touchdown pass to Damien Williams. The Chiefs were up 24-20. Damien Williams added a 38-yard insurance touchdown run and the 49ers were done.
"It's Magic Mahomes. It's Showtime Mahomes," said Kelce, "He's going to be himself no matter what the scenario is, and you know what? I love him. I love him. He willed this team back into the game."
And now he is a Super Bowl MVP.
The 49ers did everything but win
The 49ers' mindset all week was to contain Mahomes with a four-man pass rush, not let him break containment and keep seven defenders in pass coverage. The combination of the pressure, the disciplined rush and the blanket pass coverage, they believed, could slow down the 2018 NFL MVP.
For three quarters and six minutes, they were correct while building a 20-10 lead, picking off Mahomes twice and slowing the Chiefs' high-octane offense to a trot.
But two things happened. The balanced, efficient offense that they featured throughout the game abandoned them., and their defense suddenly could not stop Mahomes and the Chiefs after doing so up to that point.
Just like that, the game slipped from the 49ers' grasp.
Chiefs defense stepped up late
Kansas City gave up just 28 yards to the 49ers in the fourth quarter. For a group that has previously been looked on as a weak link, making a positive difference was beyond satisfying.
"Fourth quarter, we called on the defense and we got the job done," said Chiefs defensive end Frank Clark. "I believe that's the third consecutive week where we called on the defense to bounce back."
Said safety Tyrann Mathieu: "Our defensive line came alive at the right time."
Contact Vincent Bonsignore at vbonsignore@reviewjournal.com. Follow @VinnyBonsignore onTwitter.