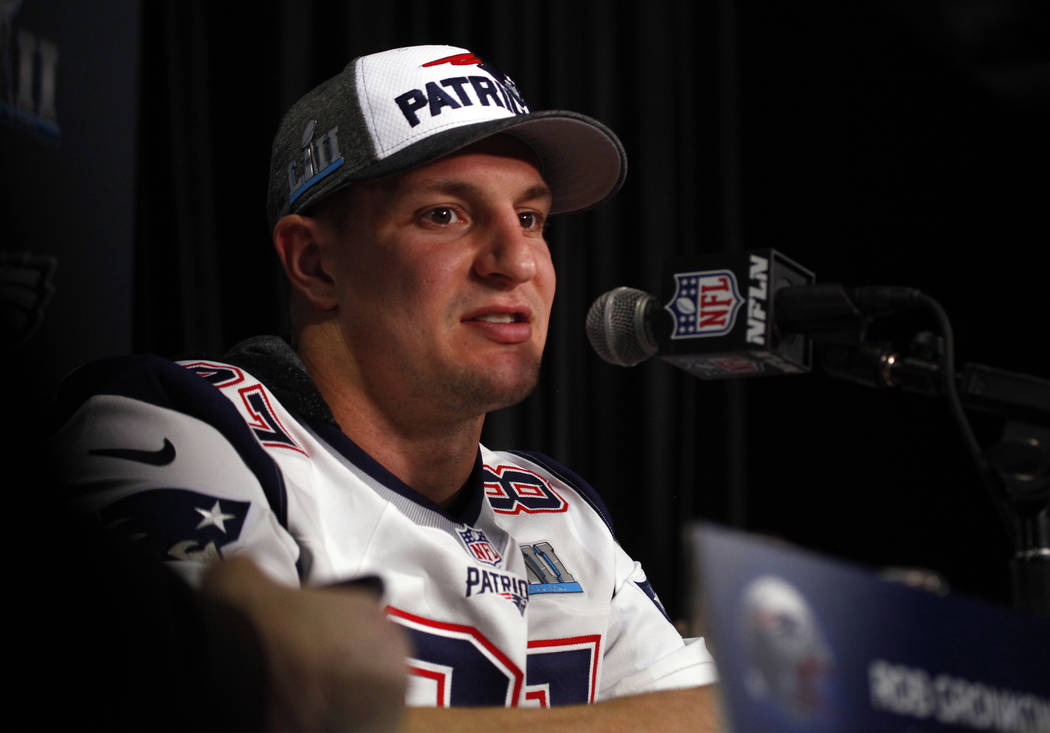 BLOOMINGTON, Minn. — New England Patriots tight end Rob Gronkowski grabbed a cellphone from a reporter Thursday and used its camera to take selfies with the droves of TV cameras behind him.
Gronkowski has never had a problem playing around with the media.
And he won't have any problem playing in Super Bowl LII on Sunday, either.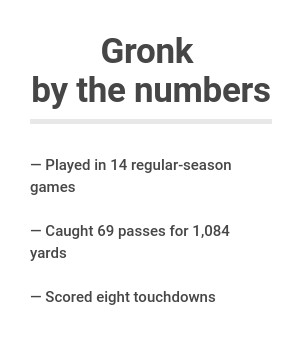 Gronkowski made his first public appearance in the Twin Cities area Thursday after clearing the league's concussion protocol and completing a full practice earlier in the day.
About 100 reporters awaited his arrival at the Mall of America so they could pepper him with questions, mostly about his health, as Gronkowski, 28, confidently affirmed that he is 100 percent healthy and "ready to roll" Sunday.
Patriots quarterback Tom Brady sat a few feet away fielding questions and gushed about the return of his favorite 6-foot-6-inch, 265-pound target.
"He's a big weapon for us," Brady said. "He's a guy that always shows up with a great attitude. He's just an incredible player. Hopefully, he can go out there and play his best game of the year."
Gronkowski, oft-injured during his esteemed eight-year professional career, evaded serious injury during the regular season to finish with 69 receptions for 1,084 yards, eight touchdowns and his third first-team All-Pro selection.
He caught a touchdown pass against the Tennessee Titans in New England's first playoff game, but was concussed the following week in the AFC championship game when Jacksonville Jaguars safety Barry Church slammed him with a helmet-to-helment hit.
"It's football. It is what it is," Gronkowski said. "It's a split second to make a decision. (He's) running full speed one way, I'm going the other way. It's just part of the game. It happens, and just got to move on."
Gronkowski didn't delve into his symptoms, instead noting that the extra week between games helped his recovery.
He didn't play in New England's dramatic victory over the Atlanta Falcons in Super Bowl LI, and after briefly acknowledging some retroactive disappointment, said he's ready to return to the sport's biggest stage.
"It's a year-to-year game," he said. "It doesn't matter how well we played in Super Bowls in years before. It only matters how you play Sunday coming up."
After shrugging off more concussion-related questions, Gronkowski showcased fragments of his fun-loving personality. He recalled the joy of draft day, joked about attracting girls as an eighth-grader and even spoke a little Spanish.
Key word: little.
"Hopefully we can fiesta after the game," he said with a smile.
Contact reporter Sam Gordon at sgordon@reviewjournal.com. Follow @BySamGordon on Twitter.