Raiders' Jylan Ware makes impact play before Super Bowl
February 1, 2018 - 3:50 pm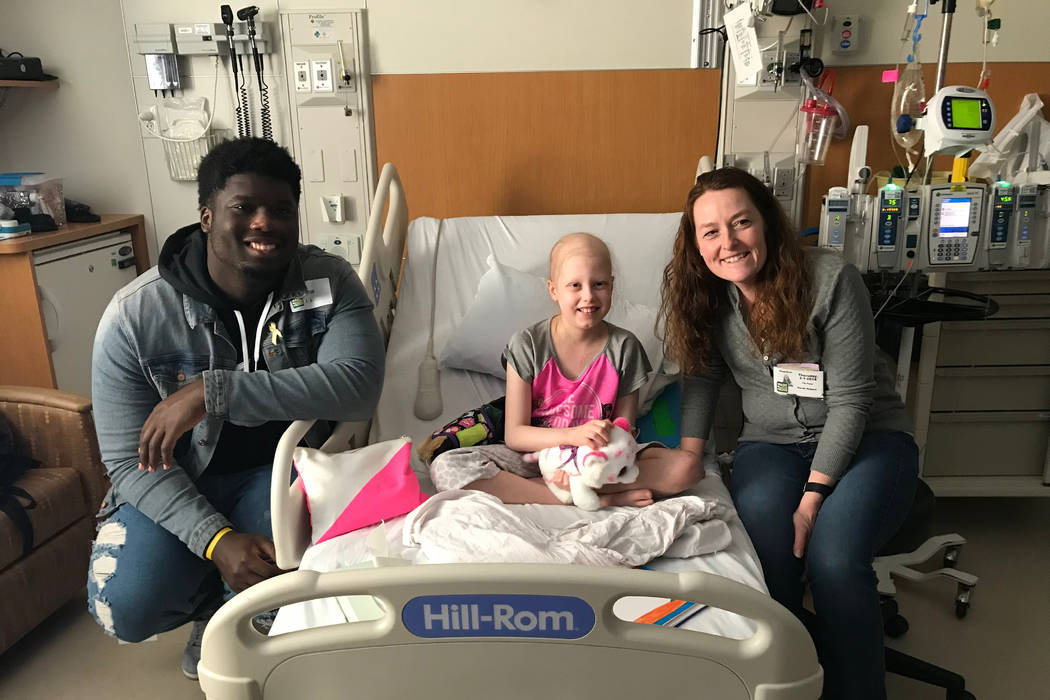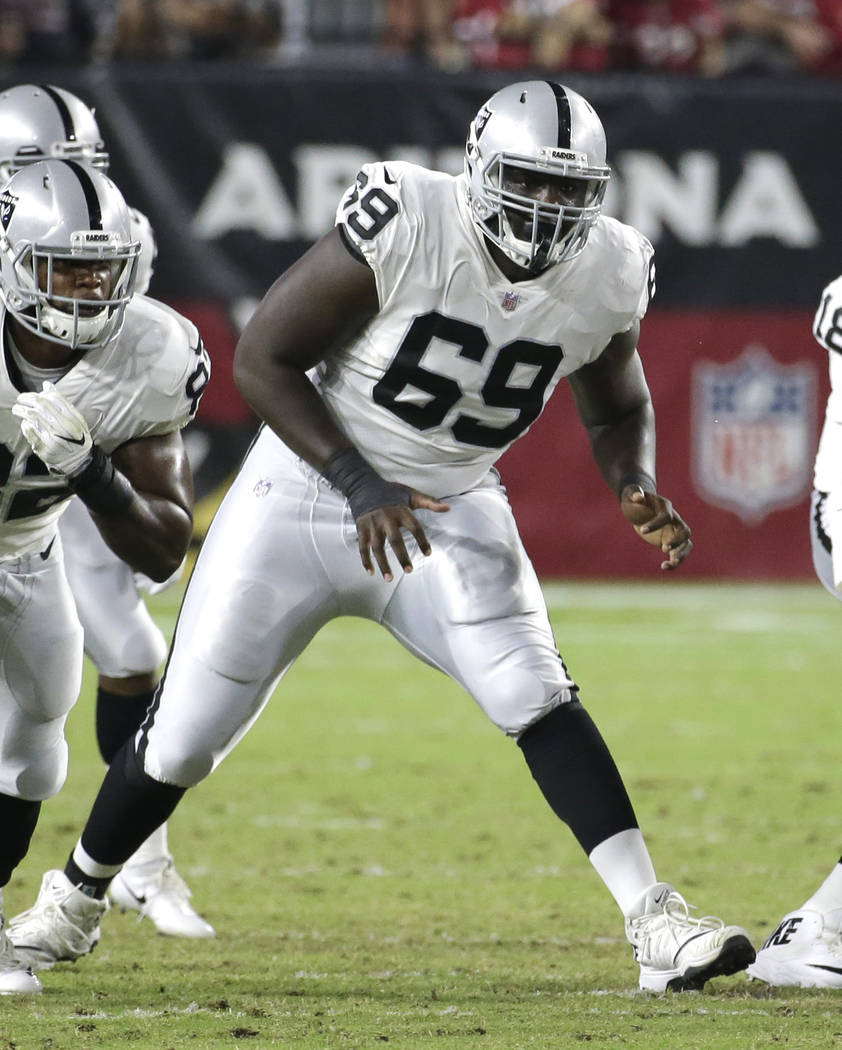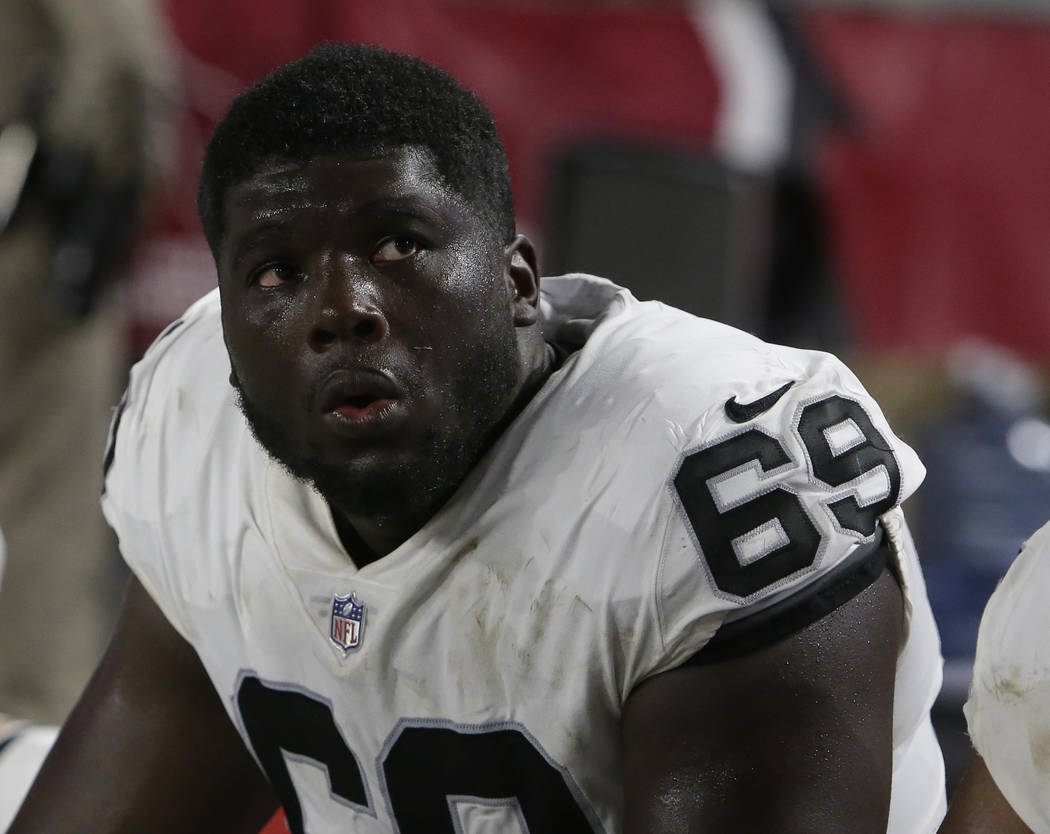 BLOOMINGTON, Minn. — Jylan Ware made an impact play as a rookie.
It did not come in pass protection or run blocking. The Raiders offensive tackle never took the field on offense as a seventh-round pick from Alabama State. It did not come on special teams, though his debut occurred there on two snaps during the Dec. 31 season finale.
Ware boarded a flight Wednesday evening from Atlanta to the Minnesota area.
On Thursday, he visited the hospital.
Ware purchased two Super Bowl tickets for Sunday's game between the New England Patriots and Philadelphia Eagles. Citing his son as inspiration, he donated those tickets to the Pediatric Cancer Research Foundation. They sold for $13,500 at an online charity auction. Ware then visited patients in the oncology unit at Children's Minnesota Minneapolis Hospital.
Ware, 24, has a son, Jayden, who turns 2 next month.
Jayden is too young to grasp his father is an NFL player. When he's older, Ware wants his son to understand that football — however a true passion for Dad — also does not define him.
"Two things I want my son to grow up knowing," Ware said. "If he works hard, he can do anything. Just like how when I grew up, I told people that I wanted to be in the NFL. Everybody was like, 'That doesn't happen,' especially in the area I'm from (Valley, Alabama). … I want my son to grow up knowing if he wants to, he can. If he wants to grow up to be a football player, basketball player, a scientist, a lawyer, an artist, as long as he works for it, he can do it just like how I worked to get to where I am.
"Another thing I want him to know is, once he's there, give unto others. You'll never go wrong investing in people. Even though people have a stigma that people are selfish, people are this, people are that, there's no telling what you do for somebody may have for their lives. I'm going to the cancer hospital today. Maybe me just going to say hi to one of those kids will inspire and motivate them."
Ware never dealt with illness as a child, he said. Neither has his son.
He described his interest in children's health as rooted in empathy for those experiencing medical hardship and respect for the enduring spirit and strength those children possess. Further, he looks to work in physical therapy after his NFL career. He is now taking classes in his final semester at Alabama State to complete his bachelor's degree. Earlier in college, he interned at Lanier Health Services, working with his hometown hospital's occupational and physical therapy services.
Ware wants to be prepared for the next career step. But he's not ready for it yet.
He looks to develop into someone upon whom the Raiders can rely moving forward. That starts with continued strides with the finer detailed aspects of blocking. Ware said that the extent of his college blocking technique was to "out-athlete" defenders, something not feasible at the NFL level. He is encouraged with his strides but not satisfied.
He also must prove himself to a new staff. It includes offensive-minded head coach Jon Gruden and a new offensive line coach in Tom Cable.
Ware seeks to make an impact on the field in 2018.
He already has started off it.
More Raiders: Follow all of our Raiders coverage online at reviewjournal.com/Raiders and @NFLinVegas on Twitter.
Contact reporter Michael Gehlken at mgehlken@reviewjournal.com. Follow @GehlkenNFL on Twitter.