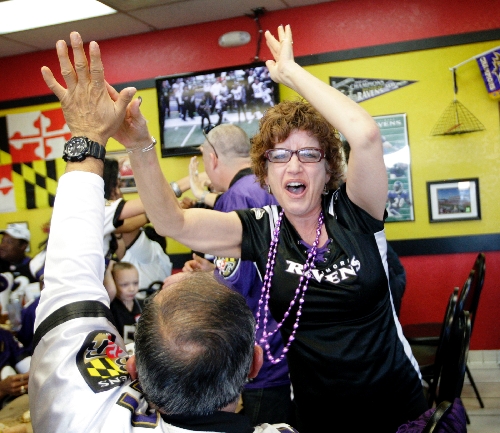 Other than being in Baltimore or New Orleans for the Super Bowl, Ravens fans would've been hard-pressed to find a better place to watch the game Sunday than at Crab Corner in Las Vegas.
All you can eat crab and shrimp. All you can drink beer and wine. And, of course, all the excitement and joy you can garner from sharing Baltimore's thrilling Super Bowl victory with about 50 other Maryland transplants.
"If you're not back in Baltimore, this is the only place you can go to where you feel like you're at home," said Stephanie Peck, a Baltimore native who was wearing a Ravens' bandana, necklace and earrings and a Ray Lewis jersey. "This is the only place you can go and see Maryland stuff everywhere."
Mark Smolen and his younger brother John – natives of Bowie, Md., located just outside of Baltimore – owned Nevada Seafood Wholesalers when, because of customer demand, they opened an authentic Maryland-style crab shack in October 2010 at the corner of Flamingo and Eastern Avenues.
The seafood is flown in daily and when you order blue crab, a member of the staff wearing an "I Got Crabs In Vegas!" T-shirt will put down a sheet of brown paper, hand you a mallet and a bucket, and slide some seasoned hot crabs on the table.
"It really is a taste of Maryland," owner Mark Smolen said. "We laugh about it because it is in the middle of Las Vegas. The only thing better is if it was on Maryland Parkway."
David Pardo has made the six-hour round-trip drive from his home in Victorville, Calif., solely to purchase crabs for him and his wife, Diana, a Maryland native, so they were happy to travel here for Sunday's feast.
"We're having a good time. It's like what (Ravens coach) John Harbaugh said, 'Where else would you rather be?' Right here watching the Ravens game," said David Pardo, who was wearing a Raven head and a Ray Rice jersey.
Aimee Floresta was sporting a pink Rice jersey and eye black, while her boyfriend, assistant manager Mike Gardner, wore Ray Lewis-style face paint.
"Ray Lewis painted his face the same way I painted mine," he said. "Let's go to battle."
Several people flew in from Baltimore for the party, including Jane Riley and her husband Mike, who prepared for the game by sprinkling some Old Bay spice on his French fries.
"I'm making Maryland French fries," he said. "You put this spice on everything, on crabs, on ice cream, corn flakes, popcorn."
Jane Riley had her own theory about why she thought the Ravens would win: "We have the cuter Harbaugh," she said. "I'm really glad it's the Harbaugh brothers and not the Ryan brothers. It would be tough to look at them."
The diverse crowd, which good-naturedly booed a female 49ers fan who came in to pick up some crab legs, featured fans from ages 8 to 87.
Former Baltimore residents Stan Broselow, 87, and his wife Bernyce, 84, have frequented Crab Corner for Ravens games since it opened and were there Sunday in matching Joe Flacco T-shirts, eating crabs, drinking beer and exchanging high fives with fans during the game.
"There's no other place to get Baltimore-style crabs," Stan said.
Said Bernyce: "They're incredible."
The game looked like it would be a piece of crabcake for Baltimore until the power outage sucked the life out of the Ravens and the party. Gardner livened things up during the outage when he turned off the lights for a few seconds.
Diana Pardo anxiously paced back and forth as the 49ers mounted their potential game-winning drive.
"I can't sit down," she said. "I get too nervous."
When the Ravens finally sealed their second Super Bowl title, Pardo dashed outside to celebrate over the phone with her 82-year-old mother, who was in Baltimore.
"She was screaming," Pardo said. "I am so excited. It's been a long time coming."
Former University of Maryland classmates Sam Ahn, Jae Kim and Joy Wycliffe traveled to Las Vegas for a reunion at Crab Corner.
"We didn't know this was a Ravens haven until we called," Wycliffe said. "This is cool. It feels like you're home."
While the crowd clapped and chanted "dee-fense" down the stretch, Wycliffe said larger forces were at work.
"It was beer power," he said. "We stopped drinking and the momentum changed, so we all started drinking again."
Sounds good to us.
Contact reporter Todd Dewey at tdewey@reviewjournal.com or 702-383-0354.