Respected as a Rebel: Eagles OC left trail of believers at UNLV
Updated February 9, 2023 - 9:16 am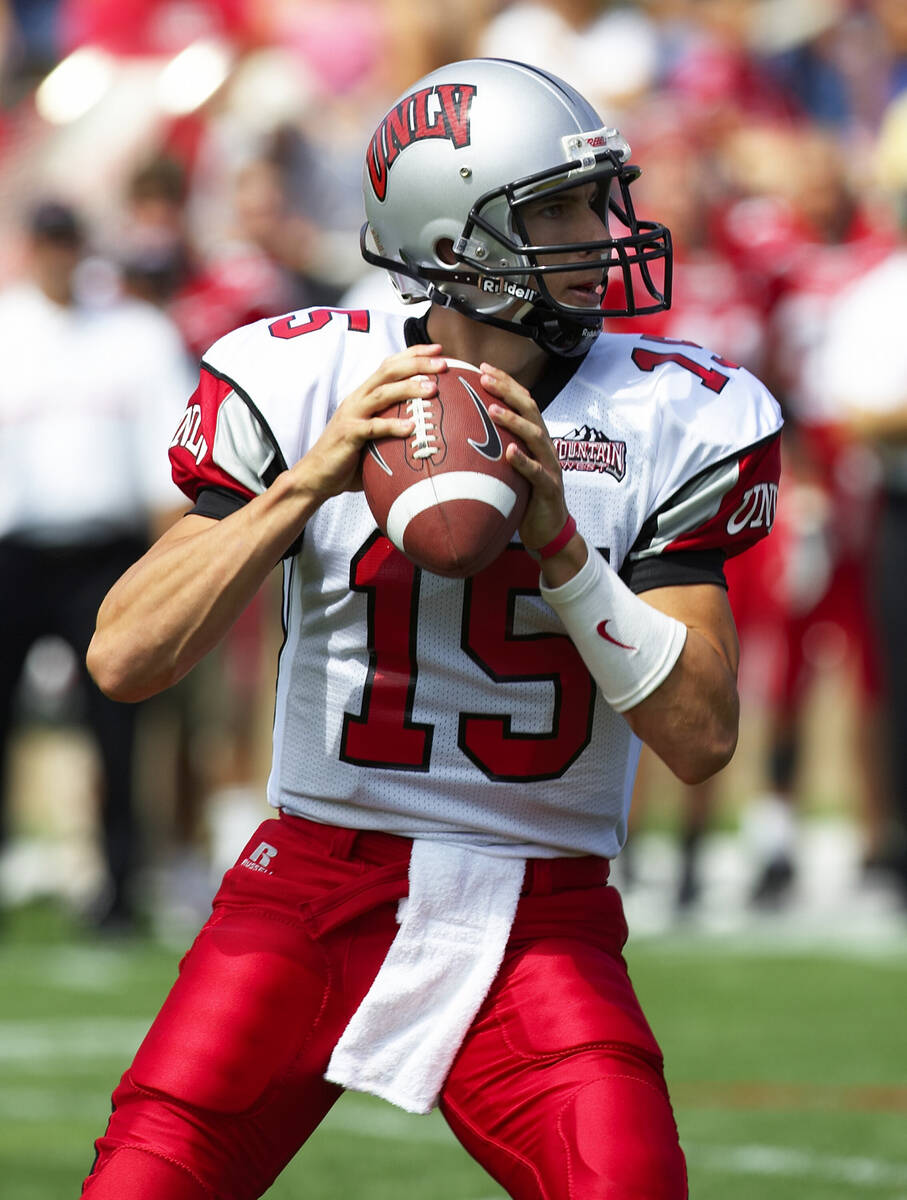 Work.
It's what each talked about. How much time Shane Steichen offers his craft.
How those past experiences football provided delivered him to this moment, this place.
Steichen is a former UNLV quarterback (2003 to 2006) and now the Eagles' offensive coordinator preparing to coach in Super Bowl LVII against the Chiefs on Sunday.
He's one of those hot commodities on a list of next-in-line to receive a head-coaching job in the NFL, a talented play-caller who at age 37 has already worked with some of the game's best quarterbacks, past and present.
Steichen, who threw for 2,755 yards during his UNLV career, has had NFL jobs ranging from defensive assistant to quality control to quarterbacks coach to offensive coordinator.
He has worked for the Browns and Chargers and now the Eagles.
Here are some thoughts about him from those who knew him best during his time at UNLV.
Mike Sanford
The former UNLV coach hired Steichen after his playing days with the Rebels as a graduate assistant.
He then took Steichen with him to Louisville — as an offensive assistant — when Sanford became that team's offensive coordinator. Then as head coach at Indiana State, he offered Steichen a job, but he chose to stay with the Chargers as a quality control coach.
Sanford, you can see, thinks a lot of Steichen.
"A really insightful guy, student of the game, really good with the technology and computer software and all things that apply to football," Sanford said. "Really excited and happy for him with how things worked out. Not at all surprised."
Sanford believes Steichen's time working with former Chargers quarterback Philip Rivers might be what has led to the former being such an adept play-caller.
That when you climb inside the head of someone as experienced and talented as Rivers was, ideas and concepts are sure to translate.
"Shane has been around a lot of good people in his career," Sanford said. "Shane listens and works well with people. It was really good for him to be in that process with Rivers."
Sanford says he roots for two things in any game — people he knows and style of offense. He enjoys how the Eagles and Chiefs attack a defense, but will be cheering for one side Sunday.
"Absolutely, no question," he said. "Because of Shane, I'll be pulling for the Eagles."
Scott Turner
Turner, hired last week as a passing game coordinator for the Raiders, also played quarterback for UNLV and was a teammate of Steichen. The two have remained close friends ever since.
They were also NFL offensive coordinators at the same time, Steichen with the Chargers and Turner with the now Washington Commanders. You don't have to ask the latter twice about what makes Steichen so special.
"It's a combination of a lot of things," Turner said. "He's an incredibly generous person, full of energy, loves football, is committed to the game. His enthusiasm rubs off on people. He does a good job getting the best out of them. On top of all that, he really knows football."
Turner said one of Steichen's greatest strengths is understanding what a player does best and then putting him in a position to succeed. That tutoring the likes of young quarterbacks in Justin Herbert with the Chargers and now Jalen Hurts with the Eagles proves such ability.
"He's a great (play-caller) because he's able to build an offense around what a quarterback does best," Turner said. "It's the same with a (wide receiver) like A.J. Brown and how the Eagles added him this season. Shane has been around some good players — which always helps — but there's a reason he has had so much success.
"He's a great person, a great guy. What you see is what you get with Shane. He wants the best for people closest to him."
Kris Cinkovich
The wide receivers coach at UNLV from 2004 to 2009, Cinkovich has a different take on what makes Steichen such an all-around good coordinator.
"He got an opportunity that he created for himself," Cinkovich said. "I thought that when he coached defense (with the Chargers in 2011) early in his career, that was huge. You just get immersed in the whole game.
"I did the same thing as a graduate assistant in my career, and it really helped. And he did it at the NFL level. In talking with (Steichen), he thought that really helped him."
Cinkovich also remembers Steichen's personality. He was the one who would do his best impression of the coach during the team's annual talent show at training camp.
"I laughed my ass off and had tears in my eyes," Cinkovich said. "He was just a football dude, man. And that came from loving time around his teammates. I would think that sense of humor is still a little part of his coaching personality, even now."
Steichen has interviewed for NFL head coaching jobs — he recently made the second round of such talks with the Colts — and it's a position Cinkovich is convinced the coordinator will soon hold.
"He's a grounded guy who can handle that position in the NFL," he said. "There is a calmness to him, a confidence that is rare for guys in this business who are recognized and then become head coaches. This isn't by accident that he put himself in this position."
Cinkovich's mother, by the way, happens to be a faithful fan of Chiefs quarterback Patrick Mahomes.
"But she remembers Shane," Cinkovich said, "so she has excused me to root for the Eagles. I'll be doing that."
Casey Flair
Once a 2004 walk-on at UNLV, Flair became one of the most consistent pass catchers in Mountain West history. His first career reception also came via a pass from Steichen.
Here's what he remembers most: How it was that Steichen treated others. That he was a football guy. Knew where everyone on the field should be at all times.
"I could always imagine him as a player's coach," said Flair, president of UNLV's Football Foundation. "It didn't matter what walk of life you were from or who you were, he was able to relate to you. He always brought out the best in you.
"He held everyone accountable, but made sure you were always in the correct spot. You rally around guys like that. Just a really talented guy."
Flair recalls that Steichen would often speak up during film study, always knowing which play should be called next. Sometimes called his own during games.
He also championed the competitive spirit of Steichen, who would lose his job as a senior to Southern California transfer Rocky Hinds.
"You look at college athletics nowadays, if something like that happens, it's about, 'I'm going into the transfer portal,'" Flair said. "Shane, though, stayed and competed and never backed down. He was a team guy and knew that when his number was called, he'd be ready. It really spoke to his character."
Zach Bell
The first of three Bell brothers to play defense at UNLV, Zach was on the other side of the ball from Steichen at daily practices. It gave him a different perspective about the quarterback.
What he saw: "A lanky guy who was full of life," Bell said. "Someone who talked to everyone. Just an overall fun guy. A football guy. He had a quirkiness to him."
Bell said there was also this part: When he made a mistake, Steichen corrected it and rarely committed the same miscue twice. He didn't just fix it — he then excelled at the particular skill. He grew from it.
"He was a student of the game," Bell said. "He had this ability to process things faster than anyone. He just continued to learn and got out there and made things happen. I'm not surprised one bit what has happened. You just knew great things were going to happen for Shane."
And now, Steichen prepares for the biggest game of his season.
His career.
His life.
Ed Graney is a Sigma Delta Chi Award winner for sports column writing and can be reached at egraney@reviewjournal.com. He can be heard on "The Press Box," ESPN Radio 100.9 FM and 1100 AM, from 7 a.m. to 10 a.m. Monday through Friday. Follow @edgraney on Twitter.