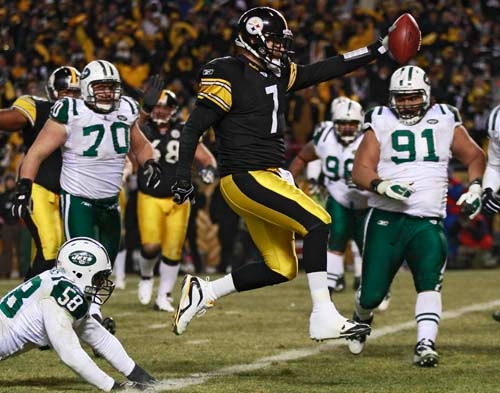 PITTSBURGH — Ben Roethlisberger knelt on the turf and buried his head in an AFC championship shirt.
"I'm going to enjoy this," he later said.
No one had to ask what he meant.
A season that began with a four-game suspension is one win away from giving him a third Super Bowl victory.
His Pittsburgh Steelers hung on Sunday and won their third AFC championship in six years, 24-19 over the New York Jets.
Terrible Towels will wave again at the Super Bowl, where the Steelers will meet Green Bay after silencing Rex Ryan's wild bunch.
Look out Dallas, here comes another Big D — in black and gold, and with an unmatched history of carrying off the Lombardi Trophy.
And here comes a quarterback with a history of winning the big ones.
"Shoot, any time you get to the Super Bowl, it feels good," he said. "I don't care what you're going through or what's going on. We put a lot of stuff behind us early and found a way."
They clearly found a way to shut down the Jets' season, ending it the way it began: with hard knocks. And not the kind on the HBO show of the same name.
The Steelers (14-4) will challenge the Packers, who are 2½-point favorites, with a versatile attack led by their quarterback and running back Rashard Mendenhall.
And with a defense, led by James Harrison, that had a fumble return for a touchdown and a goal-line stand that shut down the Jets' rally in the fourth quarter. It will certainly test Aaron Rodgers in the title game at Cowboys Stadium on Feb. 6.
Pittsburgh's smothering defense set the tone for most of a frigid night at Heinz Field to end the Jets' stunning postseason run. Ryan slammed down his headset when Antonio Brown caught a pass for a first down that let the Steelers hang on and run out the clock.
"It's not always pretty with us," Roethlisberger said, "but we do the job. We have a lot of tenacity. We have a don't-quit attitude and mentality. Everybody is just always there for each other."
The Steelers ended the Jets' season with a dominant first half for a 24-3 lead. Mendenhall had 95 of his 121 yards and a touchdown.
"We played a good half. We never played a good game, and that was the difference," Ryan told CBS. "You get to this point, you've got to play a great game against a great opponent and we played a good half and that was it."
One more great game by Roethlisberger and his teammates and the season will end in a way hardly anyone could foresee back in September.
Roethlisberger sat out the first four games for violating the NFL's personal conduct policy — an outgrowth of a college student's accusations that he sexually assaulted her in Georgia last March. He was not prosecuted for the second such set of allegations against him.
Now he will lead the Steelers into their eighth Super Bowl, a game they handle pretty well — and have a record six titles to show for it.
The cocky Jets seemed to have left everything they had in New England last Sunday. There was little trash talking all week and even less fire early in their biggest game since winning the championship 42 years ago. They haven't been back to the Super Bowl.
The Steelers are regulars, including Super Bowl titles for the 2005 and 2008 teams, both led by Roethlisberger and a fierce defense sparked by playmaking safety Troy Polamalu.
Polamalu, his long hair flowing from under his helmet, didn't have to do a whole lot this time. Not with the way his teammates whipped the Jets at the line of scrimmage before New York's spirited surge in the second half.
New York (13-6) failed for the fourth time in the AFC title game since 1969, when the Jets won perhaps the most significant of all Super Bowls. It was a devastating finish, particularly after the Jets ousted Peyton Manning and the Colts, then Tom Brady and the Patriots on the road to get to Pittsburgh.
Asked if he would change anything about the season, Ryan said, "I would change the outcome of this game and that's the only thing I would change. We don't need to apologize to anybody. We'll be back, you'll see."
The Steelers snapped New York's hopes of making the Super Bowl a sixth-seed spectacular; the Packers are the NFC's No. 6 seed.
Coach Mike Tomlin's team was eager for the fight from the outset, while Ryan's guys were flat until it was too late. The Jets did get a 45-yard touchdown pass from Mark Sanchez to Santonio Holmes — the hero of Pittsburgh's Super Bowl victory two years ago — and a safety after Pittsburgh's goal-line stand.
But the early hole was too deep, even after a 4-yard TD pass to Jerricho Cotchery made it 24-19 with 3:06 remaining.
Pittsburgh set the early tone with a 66-yard march that took up the first nine minutes, with Roethlisberger displaying his scrambling skills on several plays, including a key 12-yard run on third-and-12. Mendenhall reached the ball over the goal line from the 1, capping a 15-play drive in which the Steelers pushed around Ryan's pride and joy.
Mendenhall's 35-yard sprint in the second quarter led to Shaun Suisham's 20-yard field goal, and it became 17-0 when Roethlisberger scooted into the end zone from the 2. Only 47 seconds later, Ike Taylor sacked Sanchez, forcing a fumble that William Gay returned 22 yards for a 24-0 lead.
PITTSBURGH — 24
N.Y. JETS — 19
KEY: The Steelers took a 24-0 lead in the second quarter, then had to hold on in the second half to win their third AFC championship in six years.
SUPER BOWL XLV
GREEN BAY PACKERS vs. PITTSBURGH STEELERS
WHEN: Feb. 6, 3:30 p.m.
WHERE: Cowboys Stadium, Arlington, Texas
TV/RADIO: Fox (5), KWWN (1100 AM, 98.9 FM)
LINE: Packers -2-1/2; total 45-1/2