Western High grad Lawrence Guy embraces Super Bowl stage with Patriots
January 31, 2018 - 6:45 pm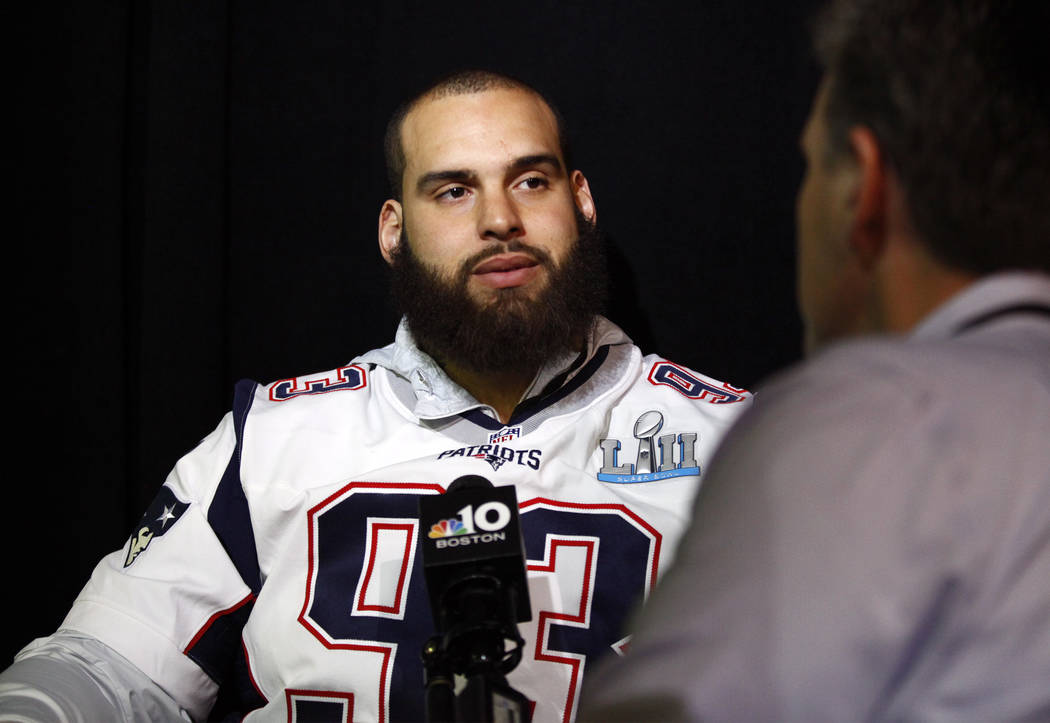 ST. PAUL, Minn. — Lawrence Guy has a version of the "Welcome to Fabulous Las Vegas sign" tattooed on his right arm alongside a pair of playing cards — the ace and jack of spades — ensuring his hometown metaphorically accompanies him everywhere he goes.
Even to the Super Bowl.
Guy, a Western High School graduate, is a starting defensive lineman for the New England Patriots, and is preparing to play against the Philadelphia Eagles in Super Bowl LII on Sunday.
The 27-year-old stood triumphantly on the floor of the Xcel Energy Center during Super Bowl Opening Night, and downplayed his success, crediting the blue-collar work ethic he developed growing up in the Las Vegas Valley.
"You grow up in that area and it builds your character," he said. "It built my character into who I am today."
Guy spent his childhood the way many kids do with school and sports and playing outside with friends.
He began football as a ninth-grader, per his brother's request, and earned the affectionate nickname "Baby Huey" from Western players and coaches because "he was so big, but he still had baby fat," former Warriors coach Brian Murray said.
But Baby Huey soon became the best high school football player in the state, and by sophomore year he was a one-man wrecking crew. Guy recorded 30.5 sacks during his varsity career, 15.5 as a senior, and committed to Arizona State.
After three strong seasons with the Sun Devils, Guy declared for the 2011 draft and went to the Green Bay Packers in the seventh round.
He got his Las Vegas tattoos in Green Bay his rookie year but didn't play a snap for the Packers and was cut before the 2012 season. He then went through the Indianapolis Colts, San Diego Chargers and Baltimore Ravens.
He signed a four-year, $20 million contract with the Patriots in March and quickly became a key cog in the league's fifth-ranked defense.
"Since day one, he's been an unbelievable professional," New England defensive coordinator Matt Patricia said. "Really easy-going guy from the standpoint of learning a different system, having to come in and learn new terminology and things like that."
Guy is indeed embracing his first trip to the Super Bowl. "This is everybody's dream in the league. People play for 15 years and never get to touch this stage."
Contact reporter Sam Gordon sgordon@reviewjournal.com. Follow @BySamGordon on Twitter.