Trestman reportedly benching Cutler for Clausen
December 17, 2014 - 6:07 pm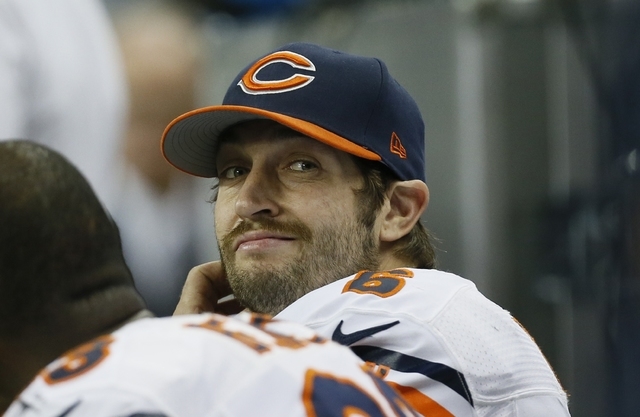 With his second season as Chicago Bears coach collapsing on all sides, Marc Trestman realizes reports saying he'll be fired are inevitable.
The goal, until it actually becomes official one way or the other, is to ignore them and prepare for a rematch against the Detroit Lions in the final home game Sunday.
It's easier said than done, and the struggles of quarterback Jay Cutler seem to validate all criticism of the coaching regime. Even with a defense ranked 30th in the league for the second straight year, it's all about Cutler's failures.
Trestman seems to realize that and reportedly is going to bench Cutler for Jimmy Clausen.
Cutler has been a chief flash point in the Bears' collapse. His passer rating of 89.5 is the best of his career but is inflated by garbage-time yardage and touchdown passes.
If the Bears had been 5-9 with Cutler leading the way to anything close to last year's status as second-best scoring offense, Trestman might not be under fire. However, one of his chief goals is getting the most he can out of Cutler, and he realizes it's not happening.
"I think that's evident I haven't, up to this point," he said before word emerged of Cutler's benching. "Am I working at it? Yes. We've seen moments, but we haven't done it on a consistent basis. I can't hide from that.
"I haven't been able and we haven't been able to do the thing that we want to get done. We're working towards that. … We've seen moments of it, but it's not where we need to go."
As for his own future, Trestman said, "We're aware that there's noise out there. I wouldn't have to know what's going on out there. I've been around the NFL long enough to know that when you're 5-9 there's going to be a lot going on outside the building.
"The only thing I can control and the right things to control and to focus on are the team, and that's what I've done."
If the Bears had merely lost nine games, the furor over their collapse might be lessened and it might be easier for Trestman to escape to a third year of his four-year deal.
However, the season has become a soap opera of sorts, from Lance Briggs' missing practice to open a restaurant, to Brandon Marshall's various problems, to one of the worst defenses in team history, to Cutler's complete regression and last week's Aaron Kromer confession. Adding to the frustration, they've lost four out of five on national TV and looked bad in most, which only fuels the fires of speculation nationally about Trestman being the first Bears coach fired by the McCaskey family with more than a year left on his contract.
The report by WSCR-AM radio, citing an anonymous source, said team chairman George McCaskey met with an unspecified number of his brothers before the loss to New Orleans on Monday and decided Trestman would be fired. The reports said general manager Phil Emery's fate still is undecided.
Trestman said he feels he's supported within Halas Hall and doesn't see his relationship with McCaskey as being poor.
"We converse with each other. We have cordial conversations with each other. We have business conversations as well," he said. "That's the extent of it at this point."
Teams that quit often get their coaches fired, and it's easy to view the Bears as a team that has quit, although Trestman said he's not seeing this.
"There are certainly times when you watch the tape and you say, 'He's not playing with full effort,'" Trestman said. "I cannot say that about the guys on Monday night."
Players aren't so sure. Tight end Martellus Bennett said he's seen evidence of some players quitting, although he didn't name names.
"Passion comes from certain places," he said. "I don't think the passion is always there all the time. So overall it just hasn't been there."
SERIES HISTORY: 170th regular-season meeting. Bears lead series, 96-68-5. Detroit has won the last three, including 34-17 on Thanksgiving in Detroit.