Tuesday night's ESPN documentary returns memories for Rancho grad Mike Pritchard
November 2, 2015 - 6:55 pm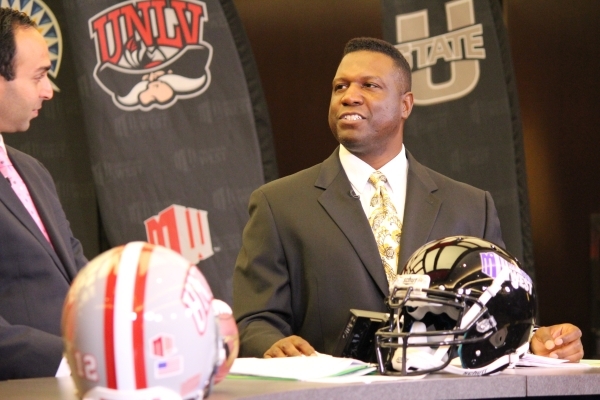 Mike Pritchard will share his emotions with the public as part of his past plays itself out on TV tonight.
He will be at a viewing party beginning at 5 p.m. at Hi Scores Bar-Arcade in Henderson for the newest "30 for 30," ESPN's outstanding documentary series.
This documentary, titled "The Gospel According to Mac," focuses on the Colorado football program under former coach Bill McCartney. It details the 1990 national championship as well as controversies that included clashes between largely African-American players and police and the coach's daughter becoming impregnated by Buffaloes quarterback Sal Aunese, who died of cancer in 1989 at the age of 21.
Pritchard, who is UNLV's radio analyst and co-hosts a daily sports talk show on KWWN (1100 AM, 100.9 FM), was a star wide receiver for the Buffaloes. He was Most Valuable Player of the 1990 team, and on Thursday will be inducted into the school's Athletic Hall of Fame.
Pritchard was interviewed for the documentary earlier this year. The interview was scheduled for 20 minutes, but lasted nearly an hour for part of the two-hour documentary that airs at 6 p.m.
He remains in touch with many of his former teammates, so for Pritchard the subject matter was still familiar.
"It's rare when we talk or we get together that we don't rehash some moments and some experiences that we had at the University of Colorado," he said. "But (the interview) was emotional.
"Dealing with a teammate who has inoperable stomach cancer. How do you deal with that? So you look to focus on school and focus on playing football. He just had a son, and now his son is going to be without his father. And then some of the racial tensions that were going on when I first got there in the late '80s. Some of those things you forget about because you get older and wiser in life."
Pritchard, a Rancho High School graduate who played in the NFL for nine seasons and is a member of the Southern Nevada Sports Hall of Fame, said he was excited and nervous about watching the documentary.
"They do such a great job with the "30 for 30s," Pritchard said. "Everything's going to be accurate, so it's reliving that moment and that time in life.
"I don't know how I'm going to react, but it'll be real. Some people I know have previewed it already. They've laughed and cried at the same time, so it's going to be interesting."
AROUND THE NATION — The first College Football Playoff poll of the season will be released at 4 p.m. today on ESPN. … Ohio State took away summer financial aid for quarterback J.T. Barrett after he was arrested early Saturday for driving under the influence. He also was suspended for Saturday's game against Minnesota. … According to CBSSports.com, four of the nation's five oldest coaches either walked away or were fired in a 19-day span. The one still standing is 76-year-old Bill Snyder at Kansas State.
AROUND THE MOUNTAIN WEST — Cisco (Texas) Community College quarterback Richard Lagow moved up his visit to UNLV from Dec. 4 to this weekend when the Rebels host Hawaii. … Firing coach Norm Chow was the easy part for Hawaii. The more difficult and important part is properly supporting the program. The Rainbow Warriors are no closer to providing the proper financial backing than they were before letting Chow go on Sunday. … Fresno State freshman walk-on wide receiver Christian Pryor was arrested Monday in connection of a social media threat to spray gunfire on campus, according to The Fresno (Calif.) Bee.
LAS VEGAS BOWL UPDATE — Las Vegas Bowl executive director John Saccenti talks the game's current picture. The bowl, which will be played Dec. 19 at Sam Boyd Stadium, has the first choice of the Mountain West or Brigham Young against the sixth selection of the Pac-12 Conference.
"In the Mountain West's West Division, San Diego State is undefeated while no one else has less than two losses. However, the Mountain Division has a trio all sitting at 4-1 — Boise State, Utah State and Air Force. Over in the Pac-12, it is Stanford with a big lead at 6-0 in the North Division while Utah, UCLA and USC are all battling it out in the South Division. There are a couple of big games in the Pac-12 this week as far as our bowl is concerned as Arizona State travels to Washington State and Arizona is at USC. Three of those four teams are just a victory away from getting to the six-win mark and all of them are definitely on our committee's radar as we head into the key month of November."
MY FINAL FOUR — I vote in the Sweet 16 Poll organized by the Football Writers Association of America and the National Football Foundation.
Here is my top four:
1. Baylor. The Bears will play at Kansas State on Thursday with freshman quarterback Jarrett Stidham.
2. Ohio State. The Buckeyes should prevail this weekend even without J.T. Barrett.
3. Texas Christian. Big test at Oklahoma State on Saturday.
4. Louisiana State. Game at Alabama on Saturday will shape Southeastern Conference and national races.
HEISMAN ODDS — Handicapper Bruce Marshall (goldsheet.com) provides Heisman Trophy odds each week:
Leonard Fournette, LSU 4-5
Trevone Boykin, TCU 5-2
Deshaun Watson, Clemson 7-2
Ezekiel Elliott, Ohio State 8-1
Baker Mayfield, Oklahoma 12-1
Christian McCaffrey, Stanford 12-1
Contact Mark Anderson at manderson@reviewjournal.com or 702-387-2914. Follow him on Twitter: @markanderson65. He is first vice president of the Football Writers Association of America.