Utah wins Pac-12 title at Allegiant; USC likely out of playoff
Updated December 3, 2022 - 12:22 am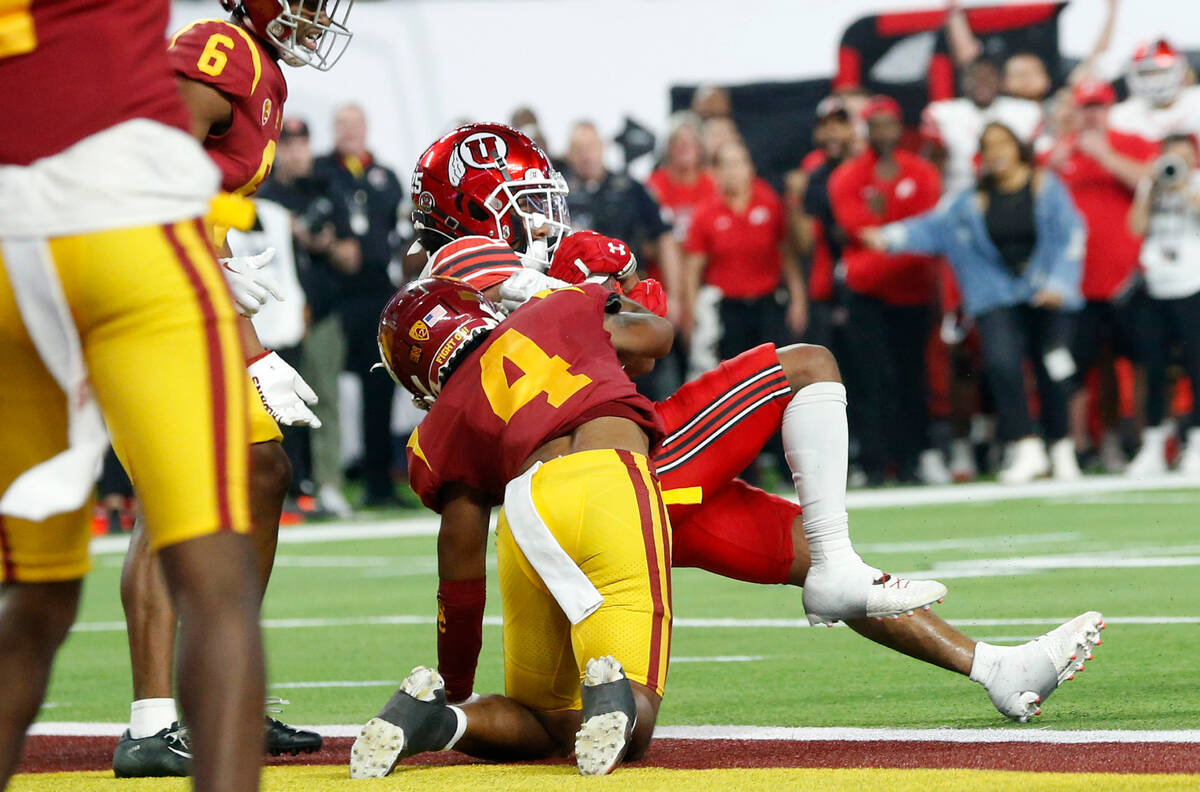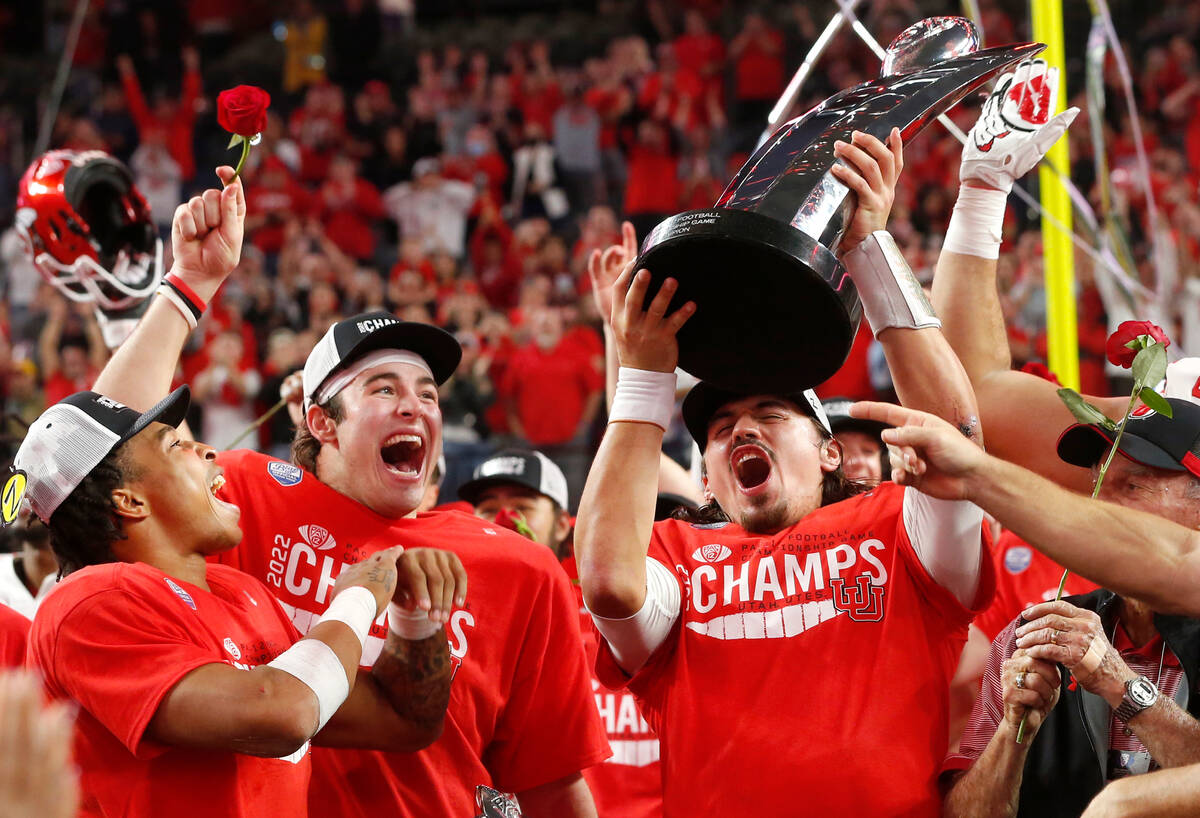 When Southern California quarterback and Heisman Trophy candidate Caleb Williams was asked how to describe what the injury to his hamstring felt like, he paused for a second before giving a rueful smile.
"You ever have an old rubber band?" he said. "That's kind of what it felt like."
With Williams limited by an early injury, the No. 4-ranked Trojans were crushed 47-24 by No. 12 Utah in the Pac-12 championship game Friday at Allegiant Stadium in front of 61,195 fans — the first neutral-site sellout in the game's history.
The consequences of USC's loss will reverberate throughout the college football landscape. The Trojans (11-2) will likely miss the four-team College Football Playoff, extending the Pac-12's appearance drought dating to 2016 and postponing USC's inaugural appearance in the event for at least another season.
The loss appears to open the door for Ohio State to grab a playoff spot despite losing 45-23 last week to rival Michigan.
Both of USC's defeats this season came against Utah (10-3). The Utes beat the Trojans 43-42 on Oct. 15 in Salt Lake City.
"Obviously a disappointing night for us," USC coach Lincoln Riley said. "You come as far as this team and this program has come in the last 12 months, you get that close to winning a championship and possibly much more, and obviously to not get it done, is a tough pill to swallow."
It's Utah's second straight Pac-12 title. Junior quarterback Cameron Rising was named the Pac-12 championship game MVP, and coach Kyle Whittingham joked that his players took a vote before the game about whether they should even show up since everyone assumed USC was going to cruise to an easy win.
"We took it a little personal, kind of saw all that disrespect," Rising said. "Just wanted to go out and prove a point."
The Trojans got off to a quick start. Williams looked near his Heisman-quality best, using his legs and his arm to torment the Utes. His short passing prevented Utah from packing the box, and his mobility, in and outside of the pocket, gave the Utes fits. Williams capped USC's first drive with a 2-yard touchdown pass to junior Tahj Washington.
Williams was dynamic again during USC's second drive, which included the sophomore breaking off a 59-yard run with a spin move and several broken tackles to set up a second touchdown. After USC tacked on a field goal early in the second quarter to take a 17-3 lead, it looked like the Utes were buried.
But the long run cost Williams in the long term. Riley said his quarterback injured a hamstring during the rush, but refused to come out of the game. However, Williams was severely limited, and without the threat of his rushing ability, USC abandoned its run game.
Utah's pass rush also began disrupting Williams. He was sacked seven times by the Utes, led by senior linebacker Mohamoud Diabate and senior edge rusher Gabe Reid, who each had two.
While the USC offense sputtered, Utah's offense grew into the game. Rising was 22 of 34 for 310 yards and three touchdowns. His 4-yard touchdown to senior wideout Jaylen Dixon with two seconds remaining in the first half tied the game at 17.
"The players never stopped believing," Whittingham said. "They had a great attitude going into this game. They were not going to be denied."
Rising made his MVP statement early in the third quarter, connecting with sophomore Money Parks for a 59-yard touchdown. Utah never gave the lead back.
Williams tried to will USC to a victory. He finished 28 of 41 for 363 yards, though he did have a late interception. He tossed his third and final touchdown, a 12-yard completion to sophomore Mario Williams, with 10:52 remaining to pull USC within three points.
Riley called it one of the gutsiest performances he'd ever seen.
"Most guys wouldn't have even played," Riley said. "He still gave us a chance. We had to change the game plan, had to change a lot of things on the fly. He just kind of kept battling and willed us."
It wasn't enough to overcome USC's defensive collapse. Rising threw his third touchdown, a 60-yard strike to tight end Thomas Yassmin, who ran over several Trojans in the process. USC then gave up two long rushing touchdowns to redshirt freshman Ja'Quinden Jackson and sophomore Micah Bernard to put the game out of reach.
Utah had 233 rushing yards compared to USC's 56.
"We talked about imposing our will tonight, and that's really what we just wanted to go out and do," Rising said.
Contact reporter Andy Yamashita at ayamashita@reviewjournal.com. Follow @ANYamashita on Twitter.