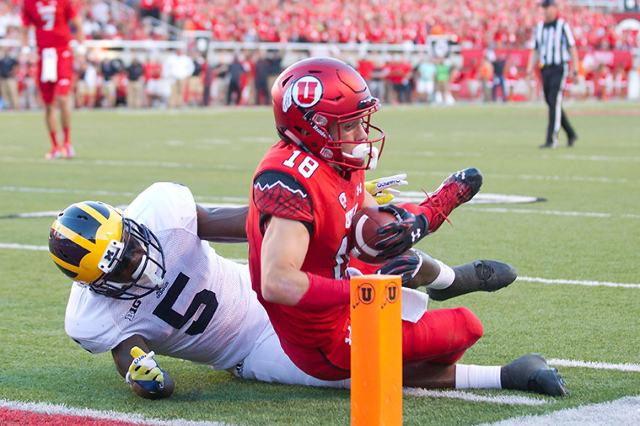 Quarterback Travis Wilson was 24-of-33 for 208 yards and added 53 yards and a touchdown on the ground to lead Utah to a 24-17 victory over Michigan in the season opener for both teams Thursday in Salt Lake City.
Devontae Booker added 69 yards and a touchdown for the Utes, who beat the Wolverines for the second straight year and notched their third consecutive victory in the series.
Quarterback Jake Rudock was 27-of-43 for 279 yards and a pair of touchdowns in his Michigan debut. The senior also threw three interceptions – including one in the fourth quarter that led to a game clinching touchdown for Utah.
The Utes held the Wolverines to 119 total yards and six first downs in the first half.
Andy Phillips made a 30-yard field goal to put Utah ahead 3-0 in the first quarter and Kenny Allen answered from 29 yards out to even the score at 3-3 early in the second. The Utes quickly jumped back in front 10-3 when Booker punched the ball in from 1 yard out with 10:33 left before halftime.
Utah extended its lead to 17-3 in the third quarter after Wilson capped off 10-play, 74-yard drive with a 14 yard scamper up the middle. Michigan scored its first touchdown after Rudock connected with Jake Butt on a 19-yard throw, making it 17-10 with 46 seconds left in the quarter. The Wolverines kept the drive alive after a late hit by Gionni Paul gave them a first down at the Utes' 19.
Justin Thomas erased the mistake on the next defensive series by returning Rudock's third interception 55 yards to give Utah a two-touchdown lead with 7:58 remaining.
The Utes have won eight consecutive season openers dating back to a 25-23 victory over Michigan in 2008.