Zyrus Fiaseu, pass rush lead Liberty over Desert Pines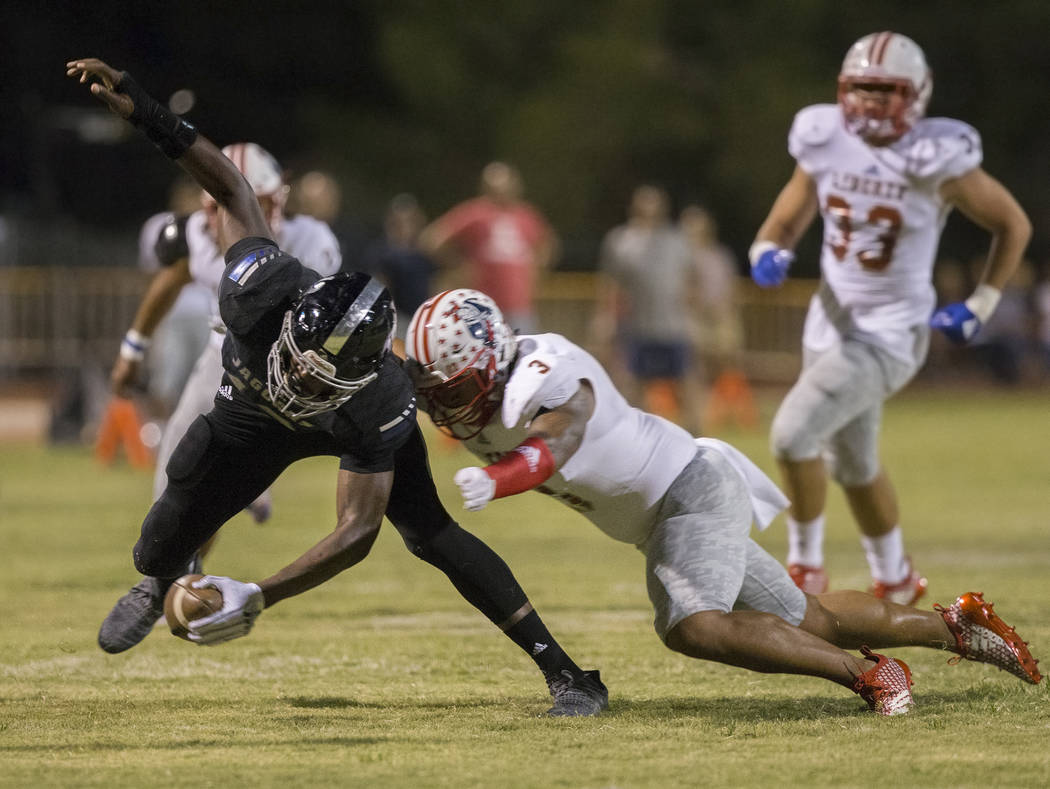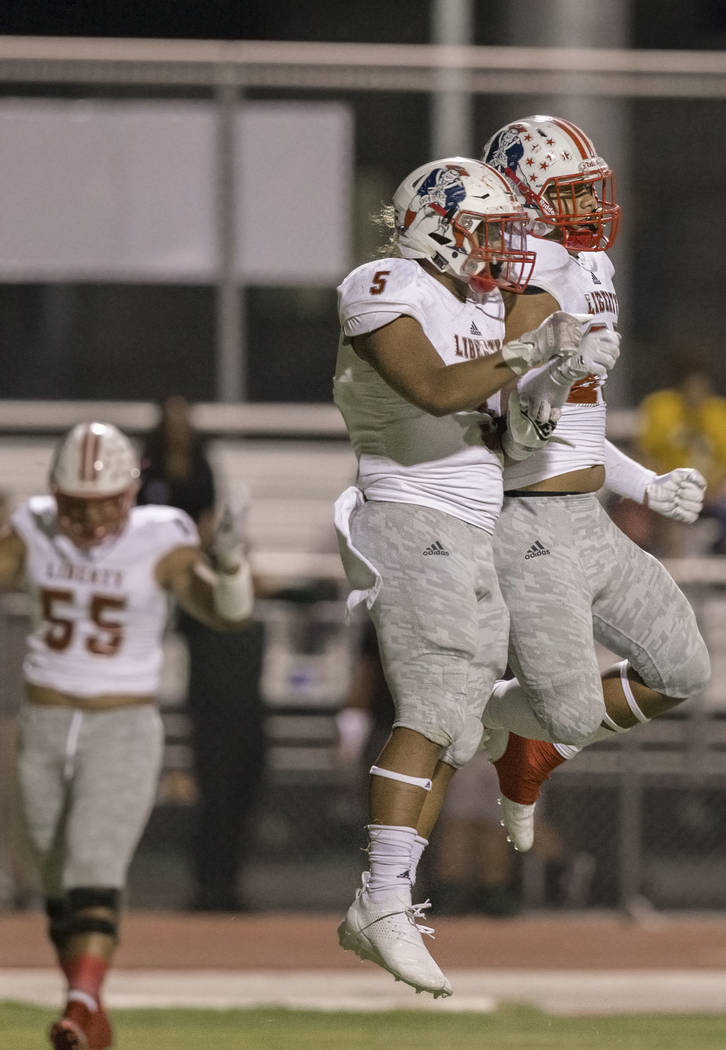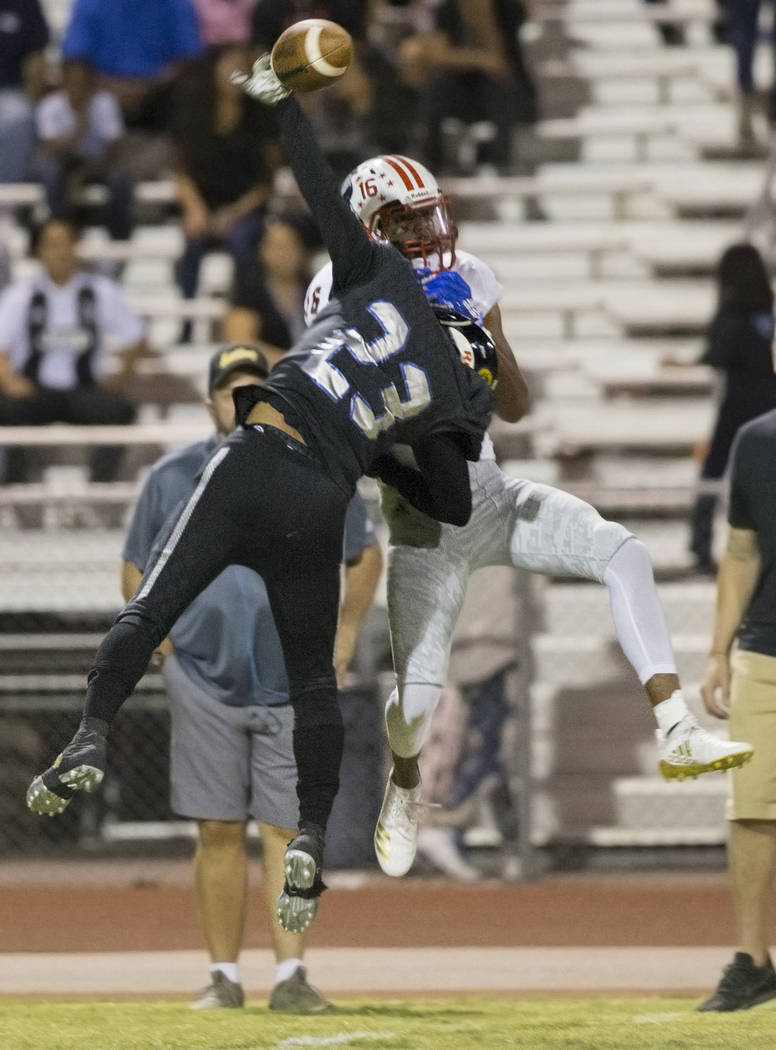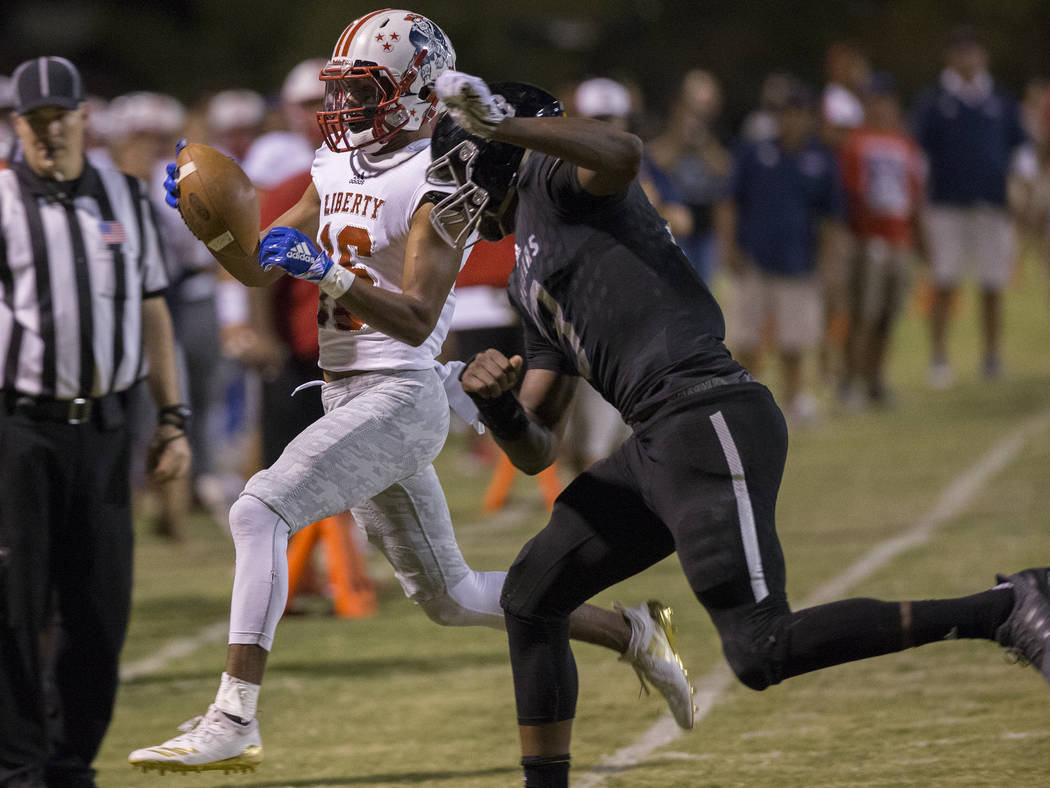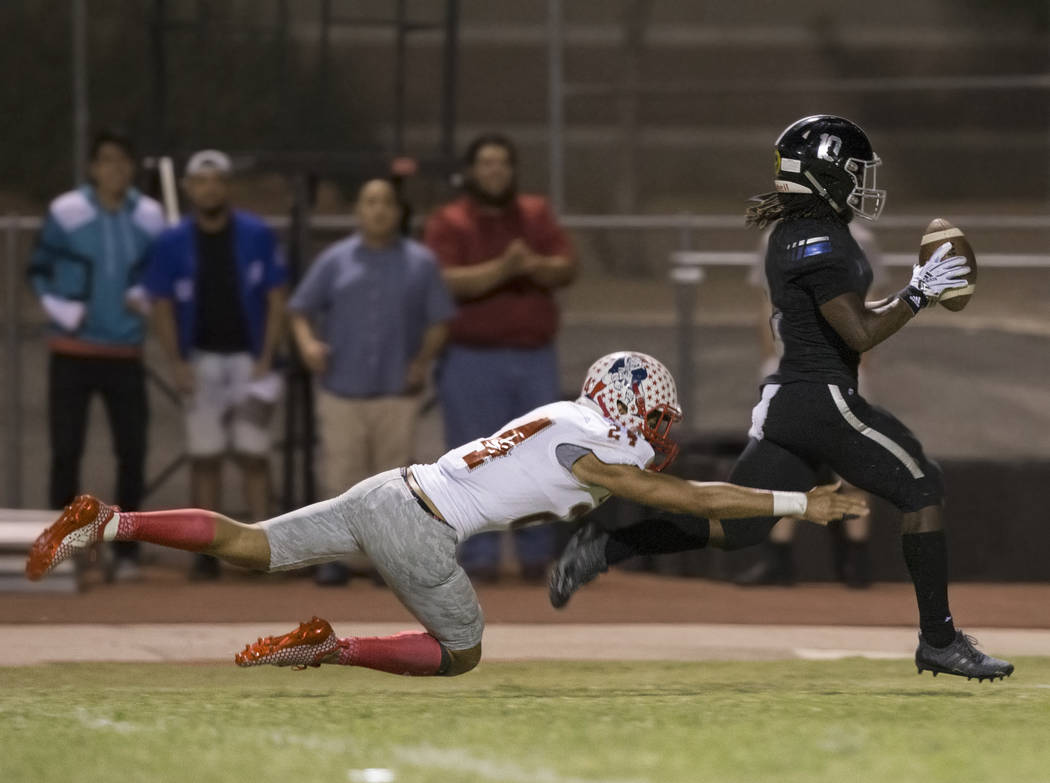 A third-quarter skirmish took some of the steam out of Friday's football game between Liberty and Desert Pines.
But sophomore Zyrus Fiaseu and a relentless Liberty pass rush already had sapped any chances for the Jaguars.
Fiaseu rushed for 191 yards and a pair of touchdowns and the third-ranked Patriots recorded eight sacks en route to a 33-6 road win over fourth-ranked Desert Pines.
"I feel like they had no solution all night," said Liberty defensive lineman Luke Toomalatai, who had three sacks. "From shutting down the run game early in the first quarter and shutting the pass game down all game."
Liberty (2-2) limited Desert Pines to 5 rushing yards and had Jaguars quarterback Tyler Williamson running for his life all night.
"Our D-line, led by Luke Toomalatai, it's a great D-line," Liberty coach Rich Muraco said. "I was proud of the way they came out today and really put the pressure on the quarterback to where he didn't have time to read. All their plays were him scrambling around and making a big play on his own."
The defense also set up the game's biggest offensive play when Gabriel Nickels intercepted a pass inside the Liberty 10.
On the first play of the ensuing drive, Fiaseu ripped off a 90-yard touchdown run to push the lead to 17-6 with 4:34 to go in the third quarter.
"That's a backbreaker for a team when that happens, so it was great for us," Muraco said.
Things deteriorated on the field after that. A scuffle between two players on the ensuing kickoff devolved into a fight that lasted more than a minute before order finally was restored.
Players on both sides were ejected.
"Football's an emotional game, and you want your kids to play on that edge between playing real nasty but playing clean," Muraco said. "Sometimes, they're high school kids and emotions get the best of them, and that line gets a little blurred and sometimes kids cross the line."
Muraco conceded that the scuffle drained much of the game's emotion.
"When you've got to yell at the team and tell them to clam down, it does take a little bit of energy out of your, the spirit, I guess of the team," Muraco said.
Fiaseu added a 1-yard TD run in the fourth quarter and managed 191 yards on 12 carries while wearing a cast on his broken right hand.
Muraco said the team didn't take full advantage of Fiaseu on offense the first three weeks as they used him at linebacker. Friday was a different story.
"The kid is a natural freak," Muraco said. "He looks like he's a senior already. He looked like that as a freshman. The first three weeks, we didn't get to use him anywhere like we wanted to. Now we're like, our offense is struggling, we've got to put Zyrus on offense. So he's primarily going to be an offensive guy now."
Williamson had a 46-yard TD pass to Devin McGee in the second quarter for Desert Pines (3-1).
More preps: Follow all of our Nevada Preps coverage online at nevadapreps.com and @NevadaPreps on Twitter.
Contact prep sports editor Damon Seiters at dseiters@reviewjournal.com or 702-380-4587. Follow @DamonSeiters on Twitter.
Box score: