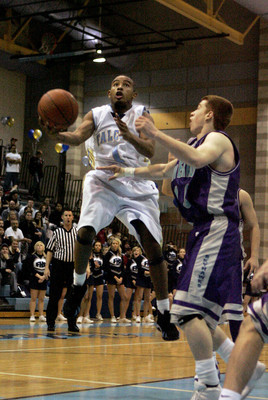 Earl Jones is generously listed at 5 feet 8 inches in the game program. But his lack of height doesn't stop the Foothill senior from finishing around the basket.
Three times in overtime Friday, Jones finished a drive by hanging in the air and muscling a shot off the glass, and those baskets helped the Falcons to a 72-69 victory over visiting Silverado.
"He's gotten to the point where he knows his size is a little bit of a disadvantage for him," Foothill coach Kevin Soares said. "But he's figured out ways to score, especially around the basket. He's our guy."
The win left the Falcons tied with Liberty atop the Southeast Division at 12-2. Liberty earned the league's top playoff seed on a tiebreaker.
"We've got a home game no matter what, and that's what we were shooting for," Soares said. "First or second seed, it doesn't matter."
With the Falcons' other top senior, Ben Green, having fouled out with 2:56 left in overtime, Jones took over. He scored on consecutive layups to push Foothill's lead to 68-63 with 1:44 left.
"When he wants to play, he can play," Soares said. "He just doesn't always come to play some nights. The other night against Liberty, he didn't play, and tonight he was totally different."
The Falcons needed Jones to be assertive, as they struggled to do much else in overtime. Foothill turned the ball over four times and was 3-for-10 from the foul line in the extra period.
Defense was the difference as Silverado shot 2-for-10 from the field in overtime and 0-for-7 on 3-point attempts.
"A couple of our kids stepped up tonight, especially in the overtime," Soares said. "And those guys (from Silverado) were tired. Ali (Sabra) and Wade (Collie) never came out of the game."
While Silverado played just eight players, Foothill went 15 deep and wore down the Skyhawks.
Jones finished with 23 points, and Green had 21 points and 10 rebounds.
Sabra led Silverado with 28 points and Collie had 24 points and 15 rebounds.
• Liberty 66, Green Valley 55 — At Green Valley, Justin King's 28 points helped the Patriots defeat the Gators.
Milos Knezevic added 14 points for Liberty.
Cody Aughney led the Gators with 21 points. Julian Franklin scored 13.
• Cimarron-Memorial 57, Centennial 52 — At Centennial, Dale Puckett scored 19 points to help the Spartans hang on.
The Cimarron victory forced a tie between the teams for the final playoff spot in the Northwest Division. The teams will meet in a playoff at 3 p.m. today at Mojave.
Adam Young scored 14 points to pace the Bulldogs.
• Durango 66, Bishop Gorman 63 — At Durango, Jamal Crook made 4 of 4 free throws in the final 20 seconds and scored 32 points as the Trailblazers handed the Gaels their only Southwest Division loss.
Crook also had seven rebounds for Durango. He made 11 of 12 free throws.
Marcus Falley added 12 points and six steals for the Trailblazers, and he gave them the lead for good on a free throw with about a minute left, breaking a 59-all tie.
Jordan Hill had 14 points for Gorman (11-1 Southwest).
• Spring Valley 73, Clark 55 — At Clark, Marcus Moore and Tenacious Gibson each scored 17 points to lead the Grizzlies past the Chargers.
Clark's Isidro Garcia had 27 points.
• Basic 68, Tech 45 — At Basic, Josh Ross scored 25 points to help the Wolves beat the Roadrunners.
Shane Allison added 14 points for Basic. Brandon Tiffany scored 16 to lead Tech.
• Coronado 90, Del Sol 77 — At Del Sol, Cory Ford scored 31 points and Christian Hatch 19 to carry the Cougars.
Maurice Lawson led Del Sol with 24 points.
• Legacy 68, Arbor View 63 — At Legacy, Walter Chappell scored 21 points, including the final nine for Legacy, as the Longhorns beat the Aggies.
Arbor View trailed by eight heading into the fourth quarter, but rallied to take a one-point lead with 2:30 left, setting up Chappell's heroics.
John Kirvin supplied 18 points, 18 rebounds and six blocked shots for Legacy. Darington Banks topped Arbor View with 22 points.
• Cheyenne 78, Shadow Ridge 59 — At Shadow Ridge, Ricky Henry scored 16 points and Christian Lightbourne 14 to spark the Desert Shields.
Joshua Berkley scored 17 points for Shadow Ridge.
• Mojave 63, Palo Verde 57 — At Mojave, Darian Norris scored 19 points to help the Rattlers finish undefeated in the Northwest Division.
Anthony Marshall logged 16 points, seven blocks and seven rebounds to help Mojave, and teammate Kevin James had 12 points and 10 rebounds.
Moses Morgan led Palo Verde with 21 points.
• Moapa Valley 67, Pahrump Valley 49 — At Overton, Shaun Hilton had 25 points to lead the Pirates past the Trojans.
Darius Dolly scored 23 for Pahrump.
• Virgin Valley 51, Boulder City 40 — At Mesquite, Terran Leavitt scored 24 points to lift the Bulldogs over the Eagles.
The win secured a playoff spot for Virgin Valley.
• Henderson International 56, Round Mountain 30 — At Henderson International, E.J. Rudy had 21 points and Tommy Vogel 17 to lead the Wolverines.