Foothill, Liberty and Gorman, Centennial meet for titles
February 20, 2014 - 11:43 pm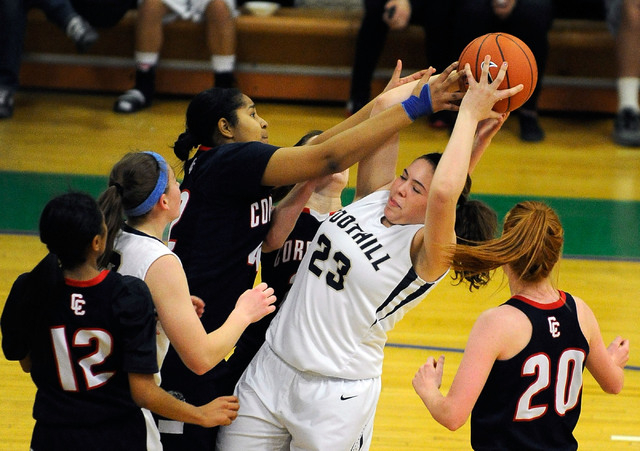 Foothill girls basketball coach Eric Kruger sent his team onto the court Thursday knowing his players were quicker than their opponents.
The strategy was to make the most of that speed, and it worked to perfection. The Falcons needed just more than four minutes to build a double-digit lead, and they never let up in beating Coronado 66-50 in a Sunrise Region semifinal at Green Valley.
Foothill (23-6) will face Liberty (24-4) at 5 p.m. today at Green Valley for the championship.
Taylor Turney led the Falcons with 22 points and seven rebounds, but her teammates made it easy with a running game that led to layup after layup.
"We wanted to run and run some more," Kruger said. "We wanted to push the ball and get it out as quickly as we could on makes and misses."
Katey Roquemore scored 11 points and Kelsey McFarland 10 for the Falcons.
Grace Green had 17 points and Karlie Thorn 11 for Coronado (17-12).
■ Liberty 52, Green Valley 32 — Liberty coach Rich Santigate sent his players onto the floor hoping to make the most of his team's significant height advantage.
Portions of the plan worked better than others, but the game's outcome never was in doubt as the Patriots rolled over host Green Valley in the Sunrise Region semifinals.
Paris Strawther, a 6-foot-2-inch junior, led Liberty with 15 points and eight rebounds, and 6-3 teammate Jazmin O'Bannon added 12 points, eight rebounds and three steals.
Though the Patriots did not enjoy quite the rebounding advantage they expected, they still finished with a 40-32 edge. But the defensive wall created by Strawther, O'Bannon and 6-0 forward Jamellia Clark proved nearly impenetrable for the Gators, who managed just six points in the paint.
"We used our strength, which is our height," Santigate said. "Most teams don't have one 6-footer. We have three."
Maggie Manwarren had 10 points and two steals to lead Green Valley (19-10), which was largely ineffective with its game-long flurry of 3-point shots.
SUNSET REGION
Raychel Stanley and Maddison Washington aren't known for their ability to run up and down the court.
The 6-2 Bishop Gorman sophomores seem much more at home in the low post.
But early in Thursday's Sunset Region semifinal at Durango, the two sprinted up and down the floor, helping the Gaels build a big lead and coast to a 63-46 win over Legacy.
Gorman (21-5) will meet Centennial (23-5) in the regional final at 5 p.m. today at Durango.
"Our posts have had to be guards," Gorman coach Sheryl Krmpotich said. "It works to our advantage."
Stanley had 10 points and nine rebounds, and Washington scored nine as the Gaels built a 21-5 first-quarter lead. Gorman scored five transition baskets in the quarter, four by Washington and Stanley.
Stanley finished with 22 points and 14 rebounds, and Washington added 17 points and eight rebounds.
Sandria Bolden chipped in 14 points and 11 rebounds for the Gaels, who will make their 12th straight region final appearance, all against Centennial.
"It's always the same feeling," Krmpotich said. "We just have to take care of the basketball, play hard, play smart, play together and do what we do well."
Carolina Rahkonen paced Legacy (17-10) with 19 points, and teammate Estella Rodriguez scored 12.
■ Centennial 60, Arbor View 32 — Tramina Jordan made six 3-pointers, and the Bulldogs pressed their way to a win over the Aggies in the second semifinal.
Centennial forced 40 turnovers as Arbor View (20-9) occasionally struggled just to get the ball beyond the half-court line.
"Like the old saying goes, we think defense wins games," Centennial coach Karen Weitz said. "We're going to try to defensively do the things we are supposed to do and hopefully make the rotations that are right."
Jordan scored 24 points and Karina Brandon 14 for Centennial.
Janae Strode had seven points and 12 rebounds, and Dana Lewis scored seven for Arbor View, which was making its first region semifinal appearance.
Centennial will appear in its 15th straight region final. The Bulldogs split their regular-season meetings with Gorman, each team winning by 15 points on the other's home floor.
"I prepare for every game the same, and that's the hard part with region and state is that you play back-to-back games," Weitz said. "You can't look past one game."