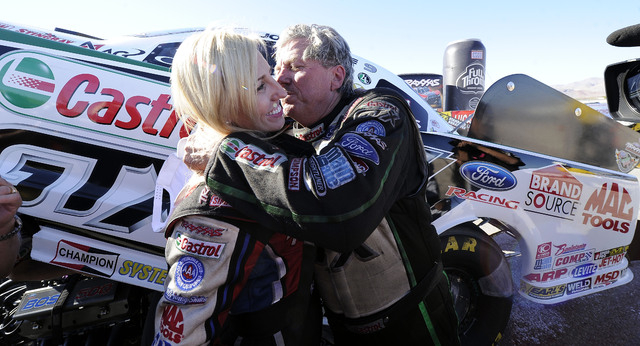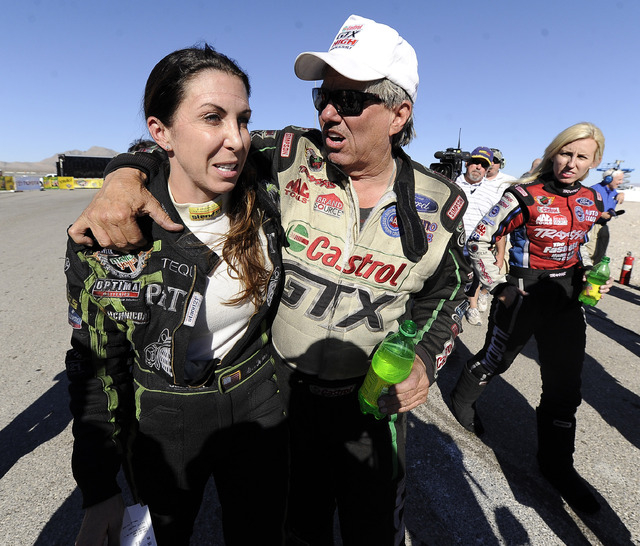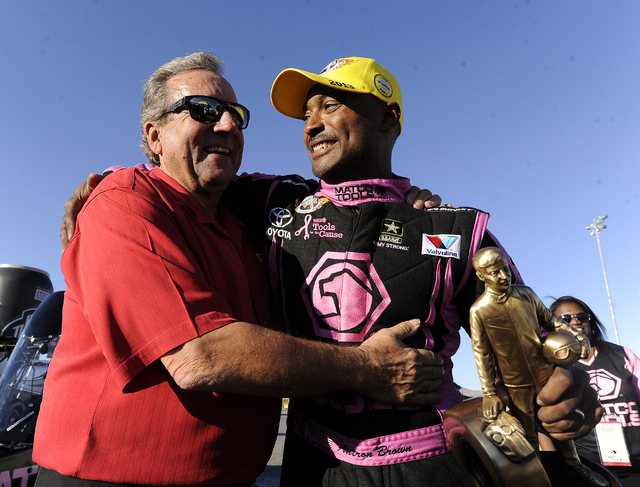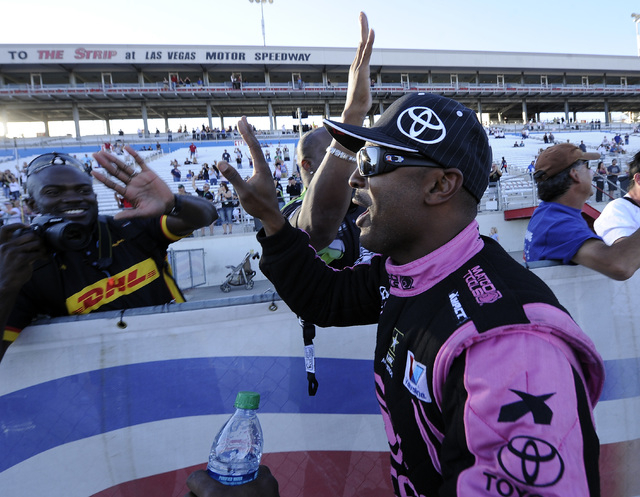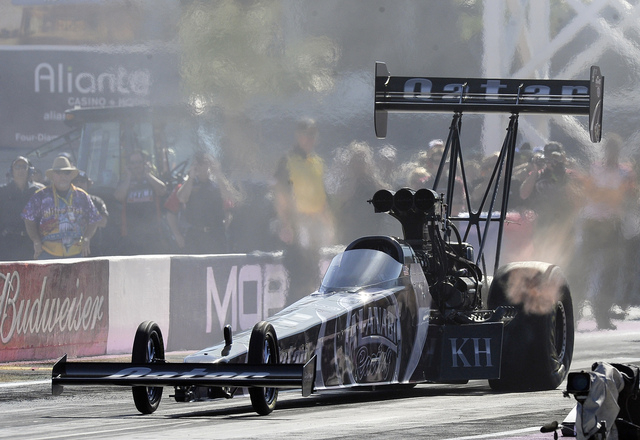 Who says a 64-year-old man can't have a Sweet 16?
It has been quite a season for John Force. The drag racing icon from Bell Gardens, Calif., apparently hasn't lost his touch and even his daughter Courtney couldn't get the best of him Sunday at Las Vegas Motor Speedway as he defeated his kid in the Funny Car final at the NHRA Nationals and captured his 16th world championship.
Force covered the quarter-mile distance at The Strip in 4.062 seconds while 25-year-old Courtney had to settle for second in 4.085.
"I wanted to prove I can still race and I can still win," said Force, who locked things up with 2,581 points and one race remaining. "That's what you're paid to do. If you don't win, you buy a ticket and you go sit in the stands."
Force wasn't the only one to wrap up an overall title Sunday. Matt Smith clinched the Pro Stock Motorcycle championship, defeating Jerry Savoie in the final with a time of 6.991 seconds. It was Smith's second title, matching the one he captured in 2007.
The other two divisions will be settled in two weeks at Pomona, Calif., after Antron Brown won the Top Fuel final over Clay Millican. Shawn Langdon still leads in Top Fuel with 2,530 points but was defeated in the semifinals by Millican, preventing him from clinching the overall. Langdon leads Brown, currently No. 2, by 102 points.
In the Pro Stock division, Jeg Coughlin remains in the lead with 2,512 points. But he was unable to lock up the title as he lost in the semifinals and Shane Gray defeated V. Gaines in Sunday's final. Coughlin leads Jason Line by 71 points. Gray is now in fourth place, 84 points behind Coughlin.
But this was John Force's day. He last won an overall title in 2010, coming from behind to do it. This time, he was the man to catch and nobody, not even his own kid, was going to stop him. He ran fast all weekend and his lone scary moment came in the semifinals when he lost traction leaving the starting line against Alexis DeJoria. However, DeJoria had a similar problem and Force was able to keep things together and get his car across first to get a spot in the final.
"I almost hit the wall twice," Force said. "I was going sideways but I was able to hold it together and I guess (DeJoria) couldn't. But she's a great kid and she, my daughters (Courtney and Brittany), they're the future of this sport."
He also caught a huge break when Matt Hagan, his closer competitor, failed to advance in the first elimination heat. Force came into the weekend with a 65-point lead over Hagan.
But with the pressure building and the money on the line, Force showed why experience counts. It was his 138th career win and his third straight event championship (St. Louis, Reading, Pa., and Las Vegas), something he last did in 2005.
His daughter had nothing to be ashamed of. Courtney Force also had a fast car all weekend, qualifying second overall behind her dad. Heading into the final, she had the top speed of the day, going 319.98 mph in her first elimination round.
While the Force family was happy, so were the Smiths. Matt's dad Rickie had locked up the Pro Mod overall title a couple of weeks ago and they are the first father-son team to win overall titles in the same year, albeit in different categories.
"We made a big tuning move for the final and it paid off," said Smith, who qualified fourth but took care of business Sunday. "I outrode people when my bike was slow in the second and third rounds and I got away with it."
Contact reporter Steve Carp at scarp@reviewjournal.com or 702-387-2913. Follow him on Twitter @stevecarprj.