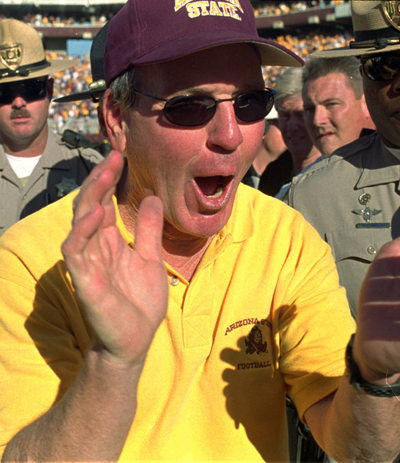 PHOENIX — Bruce Snyder, whose 20-year career as a college football coach included an unbeaten regular season at Arizona State, has died after a 10-month fight against cancer.
Snyder, who was 69, died at his Phoenix home Monday, the university said. He coached the Sun Devils from 1992 to 2000. His 1996 team went 11-0 in the regular season before a last-minute 20-17 loss to Ohio State in the Rose Bowl.
Snyder also was the coach at Utah State from 1976 to 1982 and California from 1987 to 1991. His overall record was 126-105-5. At Arizona State, Snyder was 58-47, second only to Frank Kush for victories with the Sun Devils.
He was an assistant coach for the NFL's Los Angeles Rams from 1983 to 1986 and at UNLV from 2003 to 2004.
"He was a guy that helped a lot of us kids grow up, especially myself," said Keith Poole, a wide receiver on that 1996 ASU team. "It was my first time away from home, and he basically took over as a father. He taught you how to be tough. He didn't have any soft love. You learned to respect him for that."
Snyder, whose final coaching job was in 2004 as the Rebels' offensive coordinator under John Robinson, was diagnosed with cancer in June.
He told The Arizona Republic last fall that, "if all of a sudden I'm gone in a year, it's been a damn good life. And I've lived a healthier, longer life than most."
Snyder's 1996 team, which upset two-time defending national champion and then-No. 1 Nebraska 19-0, had Jake Plummer at quarterback and Pat Tillman at linebacker.
Plummer went on to quarterback the NFL's Arizona Cardinals and Denver Broncos. Tillman played safety for the Cardinals, then quit the sport to join the Army Rangers. He was killed by friendly fire in Afghanistan in 2004.
Other players on that squad who went on to play in the NFL included Poole, Juan Roque, Lenzie Jackson, Grey Ruegamer, Steve Bush, Derrick Rodgers, Derek Smith and Jason Simmons.
Snyder won the Paul "Bear" Bryant Award as national coach of the year for the 1996 season.
His 1997 team was 9-3 and beat Iowa in the Sun Bowl, the Sun Devils' first bowl victory in a decade.
Seven of his Arizona State players were first-round draft picks — Shante Carver, Craig Newsome, Erik Flowers, Adam Archuleta, Todd Heap, Levi Jones and Terrell Suggs.
Snyder was 39-37-1 at Utah State, coaching the Aggies to two conference titles. At Cal, he was 29-24-4.
He is survived by his wife, three daughters, a son-in-law, two grandchildren, four sisters, two brothers and — in his family's words — his "beloved" dog Ella.