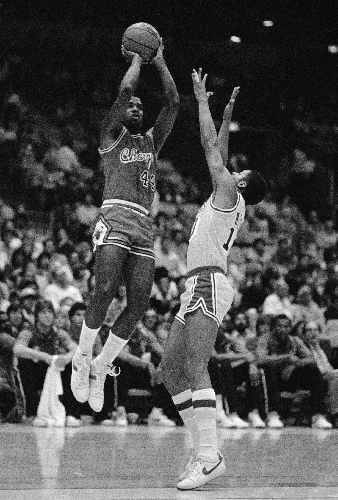 Quintin Dailey, part of the University of San Francisco's basketball resurgence during the late 1970s and early 1980s who battled off-court problems in college and during his 10-year NBA career, died Monday in his North Las Vegas home. He was 49.
The Clark County Coroner's Office confirmed Tuesday that Dailey died from hypertensive cardiovascular disease. At the time of his death, Dailey had been helping at-risk kids as a supervisor at the Parkdale Community Center in Las Vegas. He also had been officiating high school basketball and was preparing to work the upcoming season.
In a statement released by USF, his former coach, Dan Belluomini, said: "Not only was Quintin a tremendous player, he was a terrific worker. When the ball went up, nobody competed harder than he did. I always appreciated his hard work and his ability to rise to the occasion. It's a shame that he passed so early."
Known as "Q," Dailey was born Jan. 22, 1961, in Baltimore. He became a prep All-America shooting guard at Cardinal Gibbons High School and decided to play at San Francisco, which was a Top 10 team before his arrival in 1979. He averaged 13.6 points as a freshman and was one of the nation's top scorers in 1982 with a 25.2 average.
Off the court, however, Dailey encountered problems.
He was arrested in February 1982, accused of raping a USF nursing student. Dailey pleaded guilty to attempted assault and received three years' probation. Later, he admitted accepting money from USF coaches that ultimately led to the school suspending its program from 1982 to 1986.
Dailey was selected in the first round of the 1982 NBA Draft by the Chicago Bulls with the seventh overall pick. He played four years in Chicago before signing with the Los Angeles Clippers as a free agent. After three years with the Clippers, Dailey joined the Seattle SuperSonics.
During his NBA career, Dailey scored 7,470 points and had a 14.1 scoring average. He was named to the NBA All-Rookie Team in 1983 and had his most productive year in 1984, when he averaged 18.2 points for the Bulls.
While in the NBA, Dailey battled cocaine addiction. In 1985, he was hospitalized and twiced violated the NBA's drug policy.
After retiring in 1992, Dailey made his way to Las Vegas. In February 1996, he was hired by the Clark County Parks and Recreation Department. He eventually became a recreation and cultural program supervisor, a position he maintained until his death. Dailey worked a variety of jobs, including gang intervention, sports and special events.
He also was back in basketball, working as a referee. He began officiating in 2000 and was planning on working this year.
"I was with him Sunday night at our basketball referees meeting," said Marc Ratner, head of the Southern Nevada Officials Association. "He said he had dropped some weight and was excited and looking forward to the season. I'm just shocked."
Dailey was proud of his son, Quintin Jr., who made All-State during his senior year at Bishop Gorman in 2008. Quintin Dailey Jr. is a starting guard at Eastern Michigan University.
On his Twitter account Tuesday, Dailey's son left the following message: "Tomorrow ain't promised … RIP Quintin Dailey Sr. I love you dad …"
Grant Rice, who coached the younger Dailey at Gorman, said he appreciated having the elder Dailey around.
"He was great," Rice said. "Q and I had a great relationship. He was always at all his son's games.
"I remember when we went back to Washington, D.C., in 2006 to play in a tournament and he was there and everyone was coming up to him to say hello. He was a legend in Baltimore, and it was nice to see."
In addition to his son, Dailey is survived by a daughter, Quinci. Funeral arrangements are pending.
Contact reporter Steve Carp at scarp@reviewjournal.com or 702-387-2913.