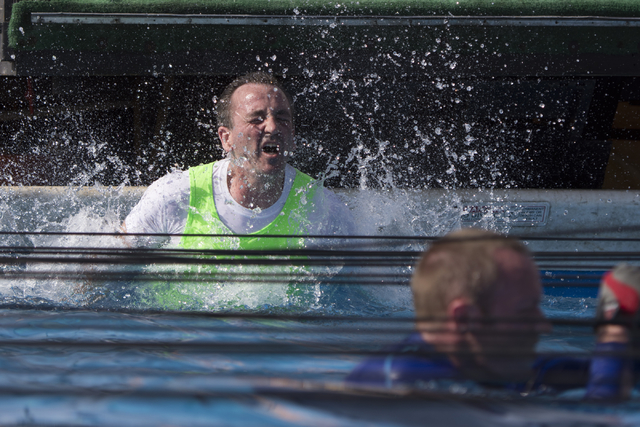 Ken Hudgens had one mission after purchasing the Badass Dash in September: make it bigger.
The 7K race, which first appeared in Las Vegas in 2013, already featured more than 40 obstacles, but the former UNLV athletics director of marketing decided that wasn't enough. His new version of the event will feature more than 50 obstacles when it returns to Sam Boyd Stadium on Saturday as its first stop on a six-event series.
"When people come out this year, I think they'll find a much better event experience," Hudgens said. "(There will be) way more obstacles and new obstacles that they haven't seen."
Hudgens worked at UNLV from 1990 to 1992 before leaving to take a job with FELD Motor Sports, eventually rising to become its chief operating officer. He left the company, which produces and promotes the Monster Jam Series and the Monster Energy Supercross Series, in April 2016 and zeroed in on the Badass Dash almost immediately.
"I've always been a big fan of obstacle course racing," Hudgens said. "It was a natural first target for me."
Upon purchasing the race, his first order of business was to beef up its arsenal. He bought about 15 obstacles from a series called Down and Dirty, which is no longer operating.
He also added a new feature to this year's event: obstacles on the Sam Boyd Stadium field. Parts of the race will take place inside the arena for the first time, and at least 10 obstacles will be placed on the turf.
Hudgens was inspired to make the changes based on his experiences with obstacle racing and how he always wanted more and a greater variety of obstacles.
"I think our sweet spot is a fun variety of a lot of obstacles that people can navigate and do," Hudgens said. "We want people to get through the course and feel a sense of achievement once they finish."
Hudgens has come back to Las Vegas before with FELD, but this return carries extra significance. He was still working at UNLV when his daughter was born, and the first sporting event she went to was a UNLV football game. Now she'll be at his side working with him Saturday at the school's football field.
"My Las Vegas roots run long and deep," Hudgens said. "It's always been a special place to me."
Desert Gray Matters 5K
The third annual Desert Gray Matters 5K will be Sunday at Sunset Park as part of National Brain Tumor Awareness Month. The event is looking to raise $50,000 this year for the national and local effort to help victims of brain tumors.
To register, go to WalkToEndBrainTumors.org/nv. The cost is $40 per person.
The recreation notebook appears Wednesdays. Ben Gotz can be reached at bgotz@reviewjournal.com. Follow@BenSGotz on Twitter.
Calendar
Saturday: Badass Dash, Las Vegas
Saturday: Dirty Vert, Boulder City
Saturday: Las Vegas Free to Breathe 5K, Las Vegas
Saturday: Red, White & Blue 5K, North Las Vegas
Sunday: Desert Gray Matters 5K, Las Vegas