Four-time LVMS winner Johnson favored in Kobalt 400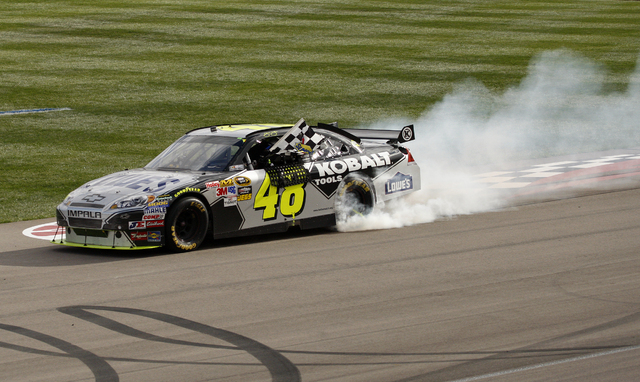 Here are the top 10 driver ratings for the Sprint Cup Kobalt 400 before practice begins Thursday:
1. No. 48 Jimmie Johnson (5-1): His 9.5 average finish is the best among all drivers, as well as his track-record four wins. His rise to the top of NASCAR has happened through Las Vegas, as he has won the championship in three of the same seasons he won at Las Vegas. The 1.5-mile tracks usually have been Johnson's bread and butter, but in 2013, he won only one of the 11 events. That win came late in the year at Las Vegas' sister track in Texas. It has been four years since he last won in Las Vegas, his longest drought, so let's just say he's hungry.
2. No. 17 Matt Kenseth (7-1): Last year's winner took his third Las Vegas checkered flag home and has averaged an 11.6 finish since 2000, third-best. Based on 2013, when he won four times on the 1.5-mile tracks, he should be considered the favorite. The biggest question for Kenseth and all the teams will be whether those setup notes from 2013 still will be applicable this season with the minor aerodynamic changes.
3. No. 2 Brad Keselowski (10-1): The 2012 champ didn't win a race last season until race 31 at Charlotte, but then he fared well the rest of the way on the final two 1.5-mile tracks. He had a career-best third-place finish last year at Las Vegas and has momentum after a strong Phoenix run Sunday. He could offer some of the best odds-to-win value.
4. No. 4 Kevin Harvick (10-1): After dominating at Phoenix in practice and during the race, leading 224 of 312 laps, he immediately answered any questions about how his new Stewart-Haas car would perform. There were questions about the SHR cars entering the season after they ran poor in 2013. Las Vegas will be a major test for them and will be reflective of how their season may be on the 1.5-mile tracks this season. If he looks fast in testing and practice this week, a season championship bet at 8-1 odds might not be a bad idea.
5. No. 88 Dale Earnhardt Jr. (10-1): He never has won at Las Vegas and never has won a championship. There have been two races on two different kinds of tracks, and he won one and was second in the other. Chances are we can expect him to be good Sunday as well, because his momentum into 2014 started at the end of last season, when he finished second at Texas and third at Homestead. The eventual Cup champion has won at Las Vegas five times.
6. No. 99 Carl Edwards (15-1): He always has been ready for Las Vegas, where his 9.7 average finish is second to Mr. Vegas, Jimmie Johnson. Edwards is a two-time Las Vegas winner and has finished fifth in each of the past two years. His two wins last season on were on the smaller tracks at Phoenix and Richmond, and his best 1.5-mile track performance was a third place at Texas in April.
7. No. 11 Denny Hamlin (10-1): The last time the drivers raced on a 1.5-mile track, Hamlin took the checkered flag to close out the season at Homestead. He carried that momentum into Daytona Speedweeks with Sprint Unlimited and Bud Duel wins, then finished second in the Daytona 500. But he struggled last week at Phoenix. Is that just a one-race, bad-day deal? We'll find out more Thursday during testing, but the betting man would have the edge to wager that he'll be fast with Joe Gibbs power.
8. No. 18 Kyle Busch (7-1): For the same reasons to expect Hamlin to be fast, Busch should be considered as well, and maybe even more because he had success on the big horsepower tracks last season, winning at Texas, Atlanta and Fontana. He won at Las Vegas in 2009 and finished fourth in 2013. He is our hometown favorite.
9. No. 5 Kasey Kahne (8-1): He has won the pole three times and been runner-up twice, but in 10 Las Vegas starts, he has yet to win, which is surprising because he always has been one of the better drivers on 1.5-mile tracks. Last season he was runner-up on four of the 1.5-mile tracks. One thing we probably can count on is that he'll be fast, and, sometimes, that's all you can ask for.
10. No. 24 Jeff Gordon (15-1): He parlayed his only Las Vegas win in 2001 into his fourth and final Cup Championship. On Sunday, without Mark Martin and Jeff Burton, only he and Bobby Labonte will have started every Las Vegas Cup race since 1998. He has a 15.4 average finish in those 16 starts, but has had poor finishes the past three seasons. Like his teammates Kahne, Junior and Johnson, he should be fast off the hauler.
Note: Thursday's test session at Las Vegas Motor Speedway will be a huge indicator of who is the driver to beat, and then the speeds from the final practice on Saturday should paint the picture even more clearly. Everything the teams learn in Las Vegas will have a major effect in how they run on the 1.5-mile tracks for the rest of the season, which consist of 11 of 36 races. Do well on these tracks, five of which are in the Chase, and a birth to the championship game at Homestead is likely.
Follow Micah Roberts, a former race and sports book director in Las Vegas, at MicahRoberts7 on Twitter.