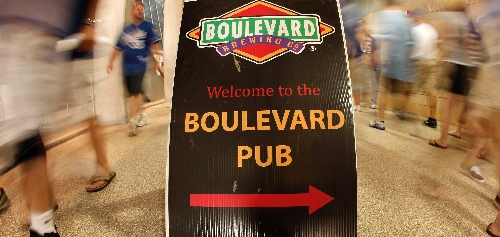 KANSAS CITY, Mo. – It used to be that baseball fans would head for the concourse to grab a beer between innings, a cold one as much a part of America's pastime as hotdogs and Cracker Jack.
Now they stream into the aisles in search of Belgian-style pale ale.
During a period of decline in overall beer consumption, the market for craft brews is rapidly expanding, and the trend is evident at ballparks nationwide. Many stadiums offer upward of 60 varieties, everything from Budweiser and Coors Light to Henry Weinhard's IPA.
In the mood for a porter, with a hint of chocolate and caramel? Ask for a Great Lakes Edmund Fitzgerald at the Irish pub inside Citizens Bank Park in Philadelphia.
Taste trending toward Scottish ale? Order up Erie Brewing Company's Railbender Ale at PNC Park in Pittsburgh, one of the most beer-friendly ballparks in baseball.
Looking for something with a cloudy appearance and citrusy flavor? You can find Boulevard's Unfiltered Wheat at stands throughout Kauffman Stadium in Kansas City.
"Every market is different," said Bob Sullivan, vice president of sales and marketing for Boulevard Brewing Company. "But what you're seeing now is that stadiums are saying, 'We really need to carry the local beers.' People pay a lot of money for their season tickets, and there's some obligation to give them what they want."
The big breweries still rule the ballpark – Miller Park and Busch Stadium, anyone? They have the unique ability to spend lavishly on marketing: billboards inside and outside the gates, subway cars on the way to Yankee Stadium, TV and radio spots during a broadcast.
Smaller brewers simply can't compete.
Then there's the fact that Anheuser-Busch and Major League Baseball renewed their exclusive sponsorship deal in 2010, making Budweiser the league's official beer.
Yet the groundswell of support for premium, often-kitschy, sometimes expensive and usually irreverent brands has been heard loud and clear by baseball's establishment.
"There's been a shift, a cultural shift, in the beer culture in the U.S. No longer does a light American lager satisfy every occasion," said Julia Herz, craft beer program director for the Brewers Association, an organization made up of more than 1,400 brewery members.
The Brewers Association documents 140 beer styles worldwide, Herz said, and the United States is the most diverse destination globally, with 13,000-plus beer labels in the marketplace.
In the past, the Royals limited their beer category to two sponsors, and they went with the highest bidders. Companies such as Boulevard couldn't compete with heavyweights such as MillerCoors and Anheuser-Busch, so even though Boulevard was able to offer its brews at the ballpark, it became a scavenger hunt for fans trying to locate the taps.
That changed this year, when the Royals decided to extend to more than two partners.
"I'd say in the last six or seven years, the overall concessions business has become much more sophisticated than in the early days, when it was a hotdog, a beer and popcorn," said Mike Bucek, the Royals' vice president in charge of marketing and business development.
Earlier this season, when the Royals announced the branding of the new "Budweiser Patio," they also announced the new Boulevard Pub and Boulevard Grill, where fans in Kansas City can grab a seat and catch the game while also enjoying their local beer.
It doesn't take long to notice Boulevard's expanded presence, either. While there's a big sign for Budweiser in right field at Kauffman Stadium, and a large sign for Coors Light in center, Boulevard's new sponsorship means it has its own sign beyond the left-field wall.
"We've seen a growth in craft beer sales, there's no question," Bucek said. "It's pretty broad-based compared to what it was back in the day, and it's definitely evolving and continuing to grow."
Large-scaled brewers such as MillerCoors have noticed the shift, too, and that's in part why it offers Leinenkugel's Summer Shandy, Sunset Wheat and Berry Weiss at Kauffman Stadium.
Premium products, of course, demand premium prices. At Safeco Field in Seattle, a beer from the mainstream brewers will set you back about $7.75, but tack on another couple of bucks for one of several dozen microbrews.
"I'd rather enjoy a couple good beers than drink the watered-down domestics that just fill you up without much flavor," said Larissa Jackson, a credit analyst from Shawnee, Kan., who heads to the ballpark about half a dozen times each summer.